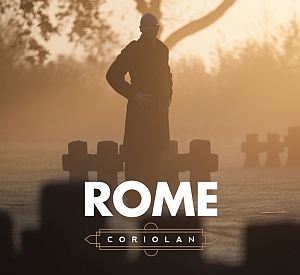 Artist: Rome
Title: Coriolan
Genre: Folk / Chanson
Release Date: 1st April 2016
Label: Trisol Music Group
Album Review

ROME came as a sensation about ten years ago. And every new album every year is just a new spectacular sensation. Even a mini-album, like 'Coriolan', is able to become the big news. And even such a short work contains the whole world inside. Starting with the inspiration (JeRome finally recorded something Roman), through Shakespeare's original and Beethoven's musical interpretation, to another amazing atmospheric story of ROME's.
'Coriolan' is traditionally based on beautiful acoustic guitar, poetic lyrics and military drumming and horns. And yet it's a new work. As JeRome himself said it was like revisiting 'Berlin' after ten years and ten albums. Just like 'Berlin' it is made of various tracks of different styles. The format of a mini-album also gives a lot of freedom to try out something new: it contains the ROME's first song in German, 'Der Krieg', which provides its authentic charm to the whole record. Another surprise is a very post-punk track 'Fragments'. The idea came from a new band member's guitar riff, which he tried out during the rehearsal. How controversial it could be, but it naturally became a thread in ROME's as well as 'Coriolan's canvas.
Coriolan was a misfortune legendary figure in the Roman story. After his military victories he was seeking for the political leadership, but was absolutely unable to play this role. Deposed and betrayed he died. No wonder this story found its interpretation of ROME's. So many feelings to discover and express with music. Just like classical poets, JeRome brings up the old stories of force and strength, of love and passions, of wars and shocks and presents them to us. Just like Shakespeare and Beethoven he's using the past to create our present.
Tracklist

01. Investiture
02. Make You A Sword Of Me
03. Broken
04. Fragments
05. This Light Shall Undress All
06. Coriolan
07. Der Krieg
08. Funeratio
Line-up

JeRome Reuter and friends
Website

http://rome.lu
/
https://www.facebook.com/romeproject
Cover Picture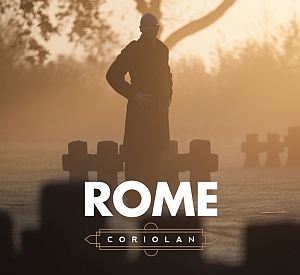 Rating

Music: 10
Sound: 10
Total: 10 / 10
See also (all categories):