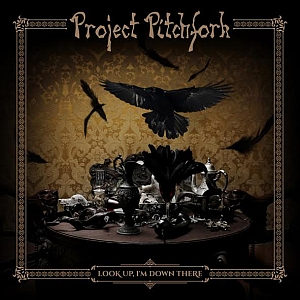 Artist: Project Pitchfork
Title: Look Up, I'm Down There
Genre: Dark Electro / Industrial
Release Date: 28th October 2016
Label: Trisol
Album Review

Not only PROJECT PITCHFORK keep their fans in suspense for twenty five years, but even after releasing a two volumes anthology they might release the new album the very same year and still have the attention. The dedication of the band's fan base is amazing: people pre-ordered the new album half a year before the release. Nevertheless is PROJECT PITCHFORK a quite influential phenomenon for the modern musicians, first of all the scene colleagues. A lot of them look up to the mastermind Peter Spilles, many mention him and his music as inspiration. But yet nobody was able to crack the secret of his talent. In this sense 'Look Up, I'm Down There' may be for somebody another hint, for the others - long awaited musical treasure.
Through quarter of the sanctuary PROJECT PITCHFORK manages to balance on the edge of its own trends and keep the sound fresh and somehow new. On the 'Look Up, I'm Down There' the tender keyboard's melodies come through the wall of familiar synthetic noises and distorted vocals. And the milky way of space synths is a never-ending motif, which is possible to hear in every piece at every point in time. But it's not only the music that hypnotizes. Peter Spilles is also famous for his sharp lyrics - always supporting the agenda and pretty accurate. Critical of the modern society ('Propaganda Child', 'Open With Caution'), but also always suggesting the ways of making things better. The opening track 'Into Orbit' rushes straight to the point
"never stop to ask why, never stop to care, never stop to look around, we implore in all despair"
. Also intimacy strongly comes through. While a farewell title song 'Look Up, I'm Down There' tells quite a personal story, it might be a consolation for oh so many people. In the conclusion it will be fair to say that PROJECT PITCHFORK are the real flagman of the German underground scene. In its music it is possible to find the answers, support and approval, inspiration and bliss: truth that might pierce and lullabies that will console and heal.
Watch the official 'Titânes' video at
https://youtu.be/dEF5GHh1PbM
Tracklist

01. Into Orbit
02. Titânes
03. Propaganda Child
04. Blind Eye
05. Pandora
06. Look up, I'm Down There
07. Volcano
08. Sunset Devastation
09. Open with Caution
10. Furious Numbers
11. Exile
12. Sky Eye
Line-up

Peter Spilles
Dirk Scheuber
Jürgen Jansen
Additional Live Musicians: Achim Färber, Nook, Leo
Website

http://www.project-pitchfork.eu
/
https://www.facebook.com/Project-Pitchfork-Official-65663206412
Cover Picture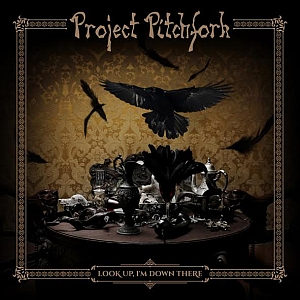 Rating

Music: 10
Sound: 10
Total: 10 / 10