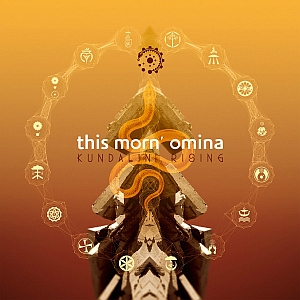 Artist: This Morn' Omina
Title: Kundalini Rising
Genre: Industrial
Release Date: 17th March 2017
Label: Dependent
Album Review

THIS MORN' OMINA is quite a mysterious project. Since 1996 Mika Goedrijk provides ritual industrial compositions, which were labelled as "tribal industrial". Their music is the combination of ethnic rhythms and classical industrial beats. In 2010 the project became a duo, together with Karolus Lerocq. The same year THIS MORN' OMINA made a breakthrough with their previous record 'L'Unification Des Forces Opposantes', followed by a global tour and voodoo-esque frenzy stage shows.
If you haven't heard THIS MORN' OMINA before, their ninth studio album 'Kundalini Rising' is a good start. It will surely shake up your Kundalini and make it rise. Be prepared to a lot of strange words and terms, especially if you never did yoga or not familiar with any kind of spiritual practices. According to Wikipedia, kundalini is a form primal energy (or Shakti - this word you will also find on this album), often depicted as a snake. "Awakening" of kundalini can cause reaching spiritual enlightenment and a range of supernormal powers. Since Mika Goedrijk obviously has a lot of interest in such themes, THIS MORN' OMINA makes a lot more sense, than you might think. Maybe you even would be interested in yoga after all, in that case take a look at the special art book edition with liner notes and detailed description of the various myths on which the tracks on 'Kundalini Rising' are based.
Of course ethnic tribal rhythms make this project and 'Kundalini Rising' in particular, very special and outstanding. But THIS MORN' OMINA celebrates not only spiritual, but also industrial traditions. The most simple edition of the album consists of two CDs. The first one contains club EBM-tracks with strong techno beats, distorted samples and massive synths, which makes 'Kundalini Rising' is absolutely the must-listen-to among the other new releases in this scene. The second part of the album is calmer, but not less powerful. The sound is deeper, the drum-machines' patterns are more hypnotizing and create an atmosphere of a temple. Sounds like this record might easily find a lot of fans with very different interests. Don't be afraid to open yourself to an amazing adventure, where possible raising of your kundalini and an enlightenment as a nice bonus.
VIDEO: https://youtu.be/PXm3UgO88UQ
Audio preview: https://youtu.be/zoDY4ihO6qs
Tracklist

CD1

01. Ayahuasca (Lets Shift Together)
02. Tir Na Nog
03. Hadji Hadja
04. Yugan (Feat. Catastrophe Noise)
05. Garuda Vimana
06. (The) Waters Of Duat
07. Earthwalk
08. Maenad
CD2

01. God's Zoo (Original)
02. The Apotheosis Of Eckhart
03. Graveheart
04. Mohenjo Daro
05. Kachina Blue (The Watcher)
06. Kachina Red (The End Of The World)
07. Shakti
08. Moksha
Line-up

Mika Goedrijk
Karolus Lerocq
Bavo Jipla
Jelle Mattez
Peter Morningstar
Website

http://www.thismornomina.com / https://www.facebook.com/thismornomina
Cover Picture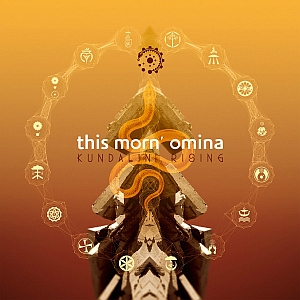 Rating

Music: 10
Sound: 10
Total: 10 / 10