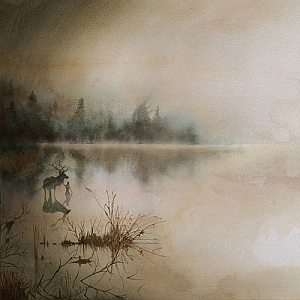 Artist: Sólstafir
Title: Berdreyminn
Genre: Post Metal
Release Date: 26th May 2017
Label: Season Of Mist
Album Review

For more than twenty years of existence, SÓLSTAFIR hardly repeated themselves. Some of their albums are so different, as if each record was done by another band. Starting in the 1995 with black metal the band went a great way through psychedelic rock and tones of experiments, until they came to kind of post-rock with their previous album 'Ótta'. Luckily, they changed their direction again and came up with a brilliant 'Berdreyminn,' which is faster and tougher. Anyway, each SÓLSTAFIR's album you should listen to, as if you never knew them before, with no expectations and no clues.
SÓLSTAFIR is a life-time way to go, and every album is another foot trace on blinding white Icelandic snow. The title of the current album 'Berdreyminn' means "a dreamer of forthcoming events". It starts with Ennio Morricone-like introduction. This innocent and pure exposition is in fact a cruel trap. A crack on the thin ice is hidden in a false calm. The bottom breaks up under your feet the same moment as the ringing voice of Aðalbjörn Tryggvason rips the mystical canvas of the opening song. And through the whole album you just fall and fall down. SÓLSTAFIR drives the listener into half-hypnotic condition, where you can meet the whole spectrum of one's emotions. And there are tons of emotions, such as suffering, compassion, fears, anger, longing. Aðalbjörn Tryggvason makes rock-n-roll epic, this is one of the aims, and this would be the best description, as no labels stick to the band. The ethnic choirs, melodic guitars, mystical motifs, pianos and operas fragments, lyrics in Icelandic are combined here with psychedelic riffs, high and piercing rock vocals, dirty guitars and crushing drums. The wonder of SÓLSTAFIR is how they manage to mix these things together in heavenly harmonic rock-n-roll sagas.
Another reason to think about SÓLSTAFIR as one of the greatest bands in our time is that they keep singing in Icelandic and touring all over the world. In the end we speak about music language, which is accessible for every listener, who pays attention. But here is a couple of hints, just for your interest. 'Dýrafjörður' is a fjord in Iceland, a metaphor for a no-return point - nothing can be undone. 'Ambátt' is the most intriguing song on the album about very sensitive topic - domestic violence. Tryggvason tells for a female slave. She suffers, but no one can see or know what's happening to her. It's not always about physical, but also psychological abuse. Sad truth is that it is common in Iceland, according to the singer. Other songs on the album touch such issues as narcissism, depression, addiction, suicide attempt. The final track, which is most beloved among the critics, 'Bláfjall' is about inner battle of a person. For Tryggvason it's struggling with alcoholism, however, it may be any other demon. Everybody can get lost on a black mountain (Bláfjall), but there's always a way to get out, to escape. And whatever album or song of this band you'd listen to, will be built up in that manner - dirty loud heavy wall of sound with hope shining throughout. SÓLSTAFIR is the best evidence of an old axiom: "Beauty saves the world."
VIDEO: https://youtu.be/QX0UaXd4Yis
Tracklist

01. Silfur-Refur
02. Ísafold
03. Hula
04. Nárós
05. Hvít Sæng
06. Dýrafjörður
07. Ambátt
08. Bláfjall
Line-up

Aðalbjörn Tryggvason - Guitar, vocals
Svavar Austmann - Bass
Sæþór Maríus Sæþórsson - Guitar
Hallgrímur Jón Hallgrímsson - Drums, backing vocals
Guest musicians - Brass, strings, and piano across the tracks
Website

http://solstafir.net / https://www.facebook.com/solstafirice
Cover Picture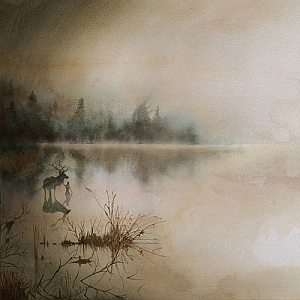 Rating

Music: 10
Sound: 10
Total: 10 / 10