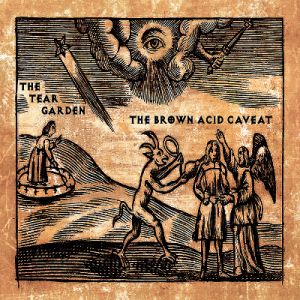 Artist: The Tear Garden
Title: The Brown Acid Caveat
Genre: Electronica / Psychedelia / Experimental
Release Date: 7th July 2017
Label: Metropolis Records
Album Review

All around 30 years have passed ever since THE TEAR GARDEN made its debut as the quirky, twisted mash-up of disparate musical styles that both of the band's protagonists cultivated separately through decades with projects as SKINNY PUPPY or THE LEGENDARY PINK DOTS. The 'Brown Acid' caveat even dates a couple years more back. Even though I'm absolutely certain that none of that substance was involved in the making of this album, that new collection of songs from the duo still is quite the strange trip, and it literally starts by venturing off into a 'Strange Land' with Edward. That song exemplifies perfectly how you should not have any expectations as to how a new TEAR GARDEN album might sound like. I could literally see Edward wandering through yet unseen lands strumming the acoustic guitar and thumping to a beat of ominous origin. Change of scenery for us on 'Stars on the Sidewalk' as a veil of sublime darkness descends upon a city that never sleeps and where people are alone despite ever-crowded streets. Here, the narrator's voice assumes an orderly role as in keeping the chaos at bay in these sinister alleys.
Once that element is gone, sonic anarchy reigns and sound bites appear and vanish in radical fashion along the way. 'On With The Show' kind of disconnects us from reality for just a little while, wrapping our troubled minds in stretched-out, ominous pads while simultaneously pointing out that at some point we would have to return, because "This is what you paid for / This is what you get". Following 'Sinister Science' skips the expansive waves of dark ambient elements and instead goes on to evoke a feeling of drifting about underground through muddy tunnels drenched in deepest darkness. What I love most about it though is the use of a little chamber orchestra to add a classical edge to the otherwise slowly pulsating electronics underneath. Upon listening to 'Kiss Don't Tell' for the first time, I felt a strong reminiscence to very early Edward Ka-Spel solo material surrounding the China Doll. It's got that early synth pop-ish feeling to it coupled with a lo-fi electronics vibe. All of it combined makes this the nightmarish lullaby that is this song.
One of my favourite songs on the entire album comes close to the end with 'Seven Veils' that starts off as an acoustic guitar is shining through muffled electronics underneath a sea of melancholic ambience. All of a sudden, like a flower opening up in spring, the song grows to become a fully-fledged poppy affair with hints to classical music. The closing 'Object' on the other hand is the pure contradiction to that song, being almost stripped down to the bare bones of quirky strumming mingled with disturbing noises from the abyss which leaves you with quite an uneasy feeling in your gut. Well, as I was saying earlier already, expectations should be thrown overboard when it comes to a new album of THE TEAR GARDEN. With the only common musical element being the electronics, nothing else stays the same throughout 'The Brown Acid Caveat' as styles warp and shift at the will of the duo whose strange way of storytelling once again will keep their fans guessing about the deeper meaning of Edward Ka-Spel's lyrics for months and months to come.
This is really not for everyone, but if you are the least bit interested in stories and music taking strange paths you're just at the right place.
Tracklist

01. Strange Land
02. Stars On The Sidewalk
03. Amy's Personality
04. Calling Time
05. On With The Show
06. Sinister Science
07. Lola's Rock
08. Kiss Don't Tell
09. A Private Parade
10. The Sound of Space Escaping
11. Seven Veils
12. Object
Line-up

Edward Ka-Spel
cEvin Key
Website


https://www.facebook.com/TheofficialTearGarden
Cover Picture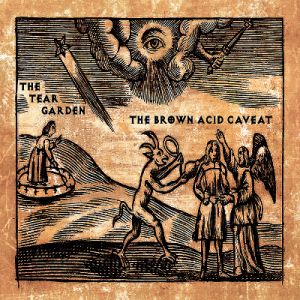 Rating

Music: 9
Sound: 9
Total: 9 / 10