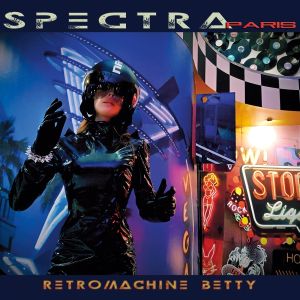 Artist: SPECTRA*Paris
Title: Retromachine Betty
Genre: Electro Pop
Release Date: 12th May 2017
Label: Dependent
Album Review

SPECTRA*PARIS is the most feminine, the most feminist and one of the most beautiful Electro Pop projects, as well as quite successful one. The mastermind and basically the only real member of the band is Elena Alice Fossi, first known as a lead singer, co-composer and front woman of KIRLIAN CAMERA. However SPECTRA*PARIS became much more than just a side-project. Now Elena Fossi is back with the fourth solo-release to break more hearts and push more limits.
'Retromachine Betty' is a worm whole, connecting the retro electro-pop and modern tendencies and technologies. Elena Fossi is truly dedicated to the good old Italo Disco, the origins of German and other European disco traditions. Her current album is a chrestomathy of Electro Pop, from Giorgio Moroder through ERASURE to Elena Fossi. The variety of her vocals alone is something incredible: here are playful, seductive, robotic, Italian vocals, all of them belong to one and only Elena. It is amazing that most of the work is done by the singer herself: lead and backing vocals, electronics, programming, treatments, engineering, keyboards, piano, additional electric and acoustic guitars, moog Theremin, arp odyssey, microkorg 1, waldorf blofeld, predator, vecto, quad, sub boom bass, antidote, lyrics, music, arrangements, production. But SPECTRA*PARIS isn't a tyranny of one woman. Production is executed by legendary John Fryer, known for producing DEPECHE MODE, NINE INCH NAILS, PARADISE LOST, NITZER EBB, FAD GADGET, YAZOO, CLAN OF XYMOX, THIS MORTAL COIL, SWANS, DIE KRUPPS and oh so many more! Together with Elena Fossi they decided to resurrect the forgotten vibe of bands like VISAGE or DESIRELESS throughout 'Retromachine Betty'. And God knows, they did it!
But 'Retromachine Betty' is not restricted to the sugary pop and wave of the 80s. Another collaborator is Angelo Bergamini (KIRLIAN CAMERA). So "Betty" is not a simple sexy android, she also has a darker self. Hypnotic and atmospheric melodies, harsh vocals and nasty lyrics are another side of SPECTRA*PARIS' visit card. And in contrast to the single and opening track 'Star Bubbles' there is, for example, '(Girl), You Really Got Me' with its dirty guitars, synths from B-Movies and lower pitch. And against mystical, calm and hypnotic 'Lux Industries' there is 'Metrolynx' or 'E-Girl Song' with its rhythmic pattern which reminds rather of an industrial track. Fossi has such a wide spectre and such a huge talent, that it is impossible to limit with just one record. But there will be no exaggeration to name 'Retromachine Betty' one of the best Electro Pop albums. It's not a tribute and not a result of inspiration by the legends of the genre. 'Retromachine Betty' is a unique record, precious and one of a kind essence of everything we love about synthetic pop music.
VIDEO: https://youtu.be/5uqeF8nRpGc
Tracklist

01. Star Bubbles
02. Alice (Geistersterne)
03. Ludovico Technique
04. Machinedream
05. Universal
06. Lux Industries
07. (Girl) You Really Got Me
08. Metrolynx
09. E-Girl Song
10. E-Kitsch Souvenir Of Italy
Line-up

Elena Alice Fossi - Vocals, electronics, music, lyrics, arrangements, production
Hal Bergmann - Coproduction, synthetix, additional electronics
John Fryer - Treatments, additional electronics
S*P 2 - Synth on stage
S*P 3 - Synth and e-guitar on stage
Website

https://www.facebook.com/spectraparis.official / https://spectraparis.bandcamp.com
Cover Picture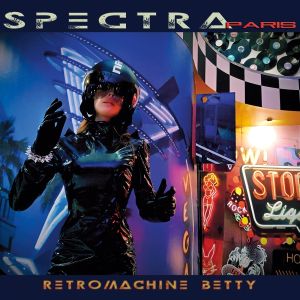 Rating

Music: 10
Sound: 10
Total: 10 / 10