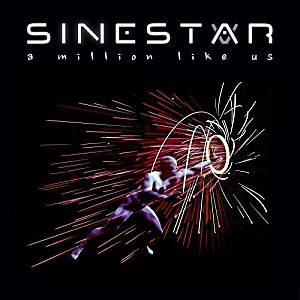 Artist: Sinestar
Album: A million like us
Genre: Synth Pop / Synth Rock
Release Date: 10th February 2018
Label: Conzoom Records
Album Review

That Bristol, UK, has a lot more to offer in the music scene aside the mighty PORTISHEAD, MASSIVE ATTACK, TRICKY and MESH is proofed by this Synth Pop/ Synth Rock project. Founded in 2011, SINESTAR unfortunately hasn't toured much in Europe so that it still has the status of a little gem. But hopefully with this second album it will change. Originally the line-up included the guitarist Steven John but he left the band in 2013 for personal reasons. For this album Peter Steer, who is quite well known in the scene of the Synth Pop lovers by his project TENEK, joined the band by playing the lead guitar, keyboards and singing the background vocals. As many Synth Pop/ Synth Rock bands SINESTAR fuses elements of the eighties with the sound of today and it's kind of trademark with the soaring vocals of Iain. So far the band has launched two EPs and three albums.
Opener of the album is the title track which is quite danceable. And once again you notice the unusual voice of Iain which you rather expect to hear from singers of the Metal genre. How changeable his vocal abilities are, can be heard at 'Lies on lies' where he is singing in the lower range. After the first three more danceable tracks the fourth one is a beautiful ballad. But before it gets to contemplative the tempo goes up again with the following song. 'Smiling on the inside' is a kind of surprise as you will find Reggae/ Ska rhythm elements in it. A favourite track of mine. 'Train of broken dreams' is another song that takes my fancy with its beautiful danceable melody.
Another beautiful balladry song follows. 'The reason' reminds me in some ways of songs from several boy groups in the nineties. Well, actually this band is a kind of boy group as well though with a bit older members. And I don't think you will find these guys putting their instruments aside and do a perfectly choreographed dancing performance. But the end of the song reminded me then of the song 'Wind of Change' by the German Rock band SCORPIONS because of the whistling which is nowadays a quite unusual sound element. With the dance track 'The preacher' the album is finished although you might expect from the title a meditative end.
Comprising the album contains a lot of songs that have the potential to be played on the dance floors of the independent clubs. And hopefully the band gets now a little more attention. However if you have the chance to see them live, go to the shows as SINESTAR shows up with energetic performances.
Tracklist

01. A million like us
02. Recognise me
03. Lie on lie
04. A moment of silence
05. A second in your arms
06. Smiling on the inside
07. Testify
08. Train of broken dreams
09. Sea of dreams
10. Erotic Hypnotica
11. The reason
12. The preacher
Line-up

Iain Brownlie - vocals
Mark Trueman - keyboards
James Skuse - bass
Matt Mohangee - drums
Peter Steer - guitar, keys, backing vocals
Website

http://www.sinestar.co.uk / https://www.facebook.com/Sinestarmusic
Cover Picture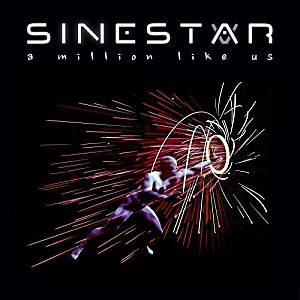 Rating

Music: 7
Sound: 10
Total: 8.5 / 10