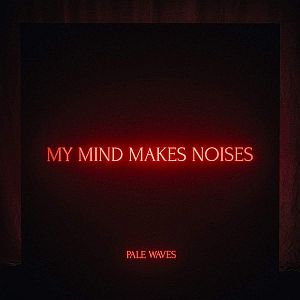 Artist: Pale Waves
Title: My Mind Makes Noises
Genre: Indie Pop / Synth Pop / Goth Pop
Release Date: 14th September 2018
Label: Caroline International
Album Review

After releasing several successful singles and an EPs, the young British Indie-Pop phenomenon PALE WAVES from the city of Manchester has finally released their first studio debut album, 'My Mind Makes Noises' with a new label (Caroline International). It also contains their second single from 2017 'Television Romance' which catchy composition caught my attention back then. One year later the band is listed on BBC's "Sound of 2018" list as one of the most hopeful newcomers.
'My Mind Makes Noises' contains older rerecorded tracks with a better sound and new songs alike. All 14 of them are a genre mix of Indie-Pop-Rock, Synth and Goth-Pop. Mainly starting with impelling synth intros with a strong 80s vibe that lead into paralysing verses and pre-choruses with a certain melancholy which explode into joyful and euphoric choruses full of energy, sometimes followed by a short guitar-solo. An exception from this structure is 'Karl', the last track on the record. Here, Heather Baron-Gracie's vocals are only accompanied by plucked chords she plays on an acoustic guitar. This give the song that is about her grandfather's death a minimalistic purity and stays in deep contrast to the rest of the songs that are vivid dance tracks.
But even though most songs of the PALE WAVES rely on their Pop and catchy melodies, there lies a certain melancholy and sadness not only in the lyrics that show the singers experiences with the ups and downs of love with an in-your-face- mentality. This can be seen as shallow emo teenage angst, but indeed is honest and full of emotion, not only because of the singer's fragile clear voice that seems to be constantly at the edge of crying. Not only concerning the discrepancy of lyrics and music the PALE WAVES show contrast and diversity. Looking at their visual aesthetics and personal style, singer and guitarist Heather Baron-Gracie and drummer Ciara Doran are stuck somewhere between 80s Goth, 90s Grunge and silent film while lead guitarist and keyboarder Hugo Silvani and bassist and keyboarder Charlie Wood go for a more generic Indie look.
What makes 'My Mind Makes Noises' and the PALE WAVES so unique is the balancing act between cheesy and edgy. The strong point of the album is definitely the catchiness of every tune even though they should not sound even more alike, even though they work at once. Despite the somehow gothic Synth sound, style choices and video aesthetics PALE WAVES are of course not the new THE CURE but I think they do not claim it at all.
Tracklist

01. Eighteen
02. There's A Honey
03. Noises
04. Came In Close
05. Loveless Girl
06. Drive
07. When Did I Lose It All
08. She
09. One More Time
10. Television Romance
11. Red
12. Kiss
13. Black
14. Karl
Line-up

Heather Baron-Gracie – vocals, rhythm guitar
Ciara Doran – drums
Hugo Silvani – lead Guitar, keyboards
Charlie Wood – bass, keyboards
Website

http://www.palewaves.co.uk/
Cover Picture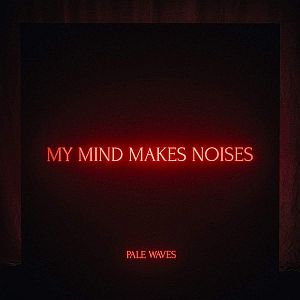 Rating

Music: 8.5
Sound: 9.5
Total: 9 / 10