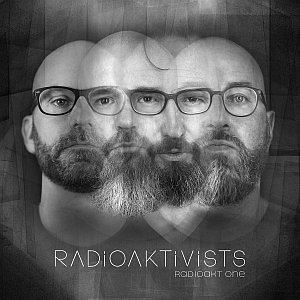 Artist: Radioaktivists
Album: Radioakt One
Genre: Synth Pop / Electronic / Electronic Noire
Release Date: 30th November 2018
Label: Dependent Records
Album Review

It "only" took the members of this new project six years after having made their first appearance on the 'Dependence 2012' sampler with the song 'Pieces of me' to finally launch a full-length album. Well, if you look who the members are you understand why it took such a long time as there are Sascha Lange, author, DJ and member of CHROMOSOME 86, Frank Spinath, psychologist, singer of several projects like SEABOUND, EDGE OF DAWN, LIONHEARTS, Krishan Wesenberg, studio wizard, renowned for his remixes for several musicians and bands and musician in ROTERSAND and FUTURE LIED TO US and then Daniel Myer with his projects HAUJOBB, ARCHITECT, DSTR and LIEBKNECHT, also working and performing with COVENANT, busy as a DJ, remixer and always fiddling around with creating extraordinary sounds. Thus with every one of them being very busy and all living in different parts of Germany (though nowadays distances are not really the problem to work together, exchange ideas and get things done) it took this time to create together an album everyone, with different musical backgrounds and approaches, was happy with.
From the first listening you might find this album probably disappointing and boring. But you should really take your time and listen to it several times like I did when I was driving around (I always listen to new albums while I'm driving). It will grow on you. With every listening you will discover more of the not so obvious delicacies.
The intro of the opening track sounds almost like a classical piece with the sound of horns before a few seconds later it turns out to be a Synth Pop song. And it's the only song on the album where the vocoder is used. On all other tracks Frank is singing with a clear voice. You can clearly hear the influence of Daniel in this piece as the song partly reminds me of some songs of COVENANT when he was working and producing with the band. 'Raiders' is a nice danceable Synth Pop song. The following song is a slower and almost Trance like one. The fourth song quite soon became one of my favourite one after the third listening showing up also as a good dance track.
Song five, also a nice dance track, invites you to go out and enjoy yourself instead of staying alone at home. The following song is a more contemplative one about the conflict in a close relationship. The next song is another beautiful piece a bit spherically. The tempo goes up again with 'Sense of destruction', danceable and I wouldn't be surprised it this song will be released as a single. The second to last song became another favourite song of this album. The song that closes the album has a title in German language 'Leere' (Emptiness) but the lyrics are in English with a hauntingly beautiful melody.
During the whole album the singer's vocals are superbly unagitated. As mentioned before you need several listenings to explore the beauty of the single songs. Actually I couldn't say this or that song is the outstanding hit single. To me this is more a kind of concept album to be enjoyed in whole. However I also cannot state that there is one song that I didn't like. Thus it is definitely a well-made debut album I can recommend full- heartedly.
The album is available as standard CD album, or a limited 48 pages hardcover art book edition with a 10 track bonus CD and a short story by Sascha Lange (in German language), but you can also buy and download the album or single tracks as mp3 version.
Tracklist

01. Radioactive
02. Raiders
03. Skin and bones
04. Sinner
05. Reach out
06. Lovers
07. I want you
08. Sense of destruction
09. Pieces of me
10. Leere
Line-up

Sascha Lange
Daniel Myer
Frank Spinath
Krishan Wesenberg
Website

https://www.facebook.com/Radioaktivists
Cover Picture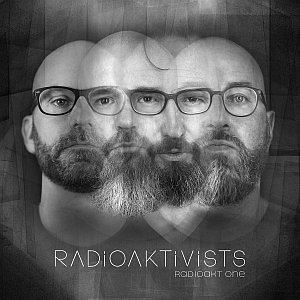 Rating

Music: 9
Sound: 10
Total: 9 / 10