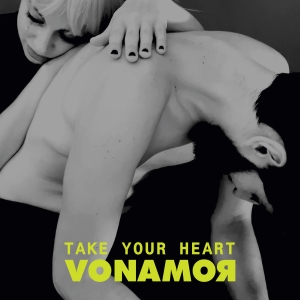 Artist: Vonamor
Title: Take Your Heart
Genre: Electronic / Dark Wave
Release Date: 25th November 2021
Label: Time To Kill Records
Single Review

VONAMOR "is a plant with deep roots and many tongues, growing in the land of avant-garde and contemporary electro music. An urban forest of sounds where male and female voices are tangled to one another, chasing one another" Oh ok then! I'll go with that, for now. VONAMOR has just come into my radar range and on listening to the single 'Take Your Heart'. I am curious about where these roots and tongues will take me when their self-titled new album is released in February next year on Time To Kill Records.
Hailing from Rome and coming into being in 2016, they initially authored scores for short films and these endeavors shifted into the trio that they are today. Consisting of Giulia Bottaro in charge of vocals, bass, and flute, her sister Francesca on drums, sequencers, woodwind, and brass, and finally vocalist Luca Guidobaldi. Other musicians pad out the ensemble with other instruments to create unexpected timbres that create a nexus between darkwave and electro music.
This is an interesting 4-minutes song of Italian New Wave that is both angular and roughly sandpapered. Like a piece of wood that has not been buffed until silky smooth but smooth enough even though you can still feel pits and grains under your fingers. The bass pumps through a female vocal delivered with a slightly robotic digging vocal reminiscent of SIOUXIE SIOUX and with echoes of ROXY MUSIC too! I can see those eyes boring into me like needles sinking into the soft flesh of my cheeks as the line "Don't stare at ME like that". This is very early eighties in its composition and has the attitude to boot. Robotic, strong and imbibed with attitude and glass eyed introspection.
There's a lot of this music about at the moment, it's like my high street, full of coffee shops and raw fish eateries, all with a slight variation on a theme trying to grab your attention and keep it. It takes something unique within this formula to innervate your imagination. This offering by VONAMOR has done that, let's see if the long player keeps that going when it's released in February.
Tracklist

01. Take My Heart
Line-up

Giulia Bottaro - Vocals, Bass, Metal Flute
Francesca Bottaro - Drum Station, Sequencer, Saxophone, Clarinet, Synth
Luca Guidobaldi - Vocals
Francesco Bassoli - Guitars and Loops on LP
Martino Cappelli - Guitars, Mandolin, Bouzouki, Oud, Loops on Live Performances
Website

https://www.vonamor.it
Cover Picture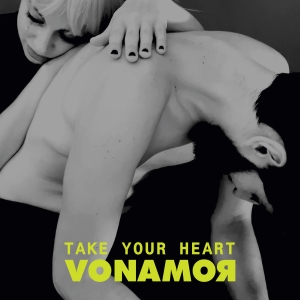 Rating

Music: 7
Sound: 7
Total: 7 / 10