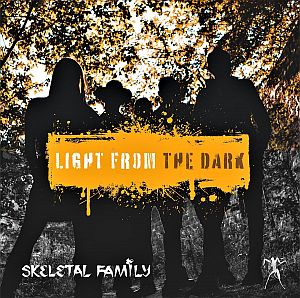 Artist: Skeletal Family
Title: Light From The Dark
Genre: Alternative / Goth / Indie / Rock
Release Date: 22nd April 2023
Label: Chapter 22 Records
Album Review

SKELETAL FAMILY were one of the original Post-Punk / Goth bands to emerge from West Yorkshire in the early 1980s. Originally fronted by Anne-Marie Hurst (GHOST DANCE), the band became well-known on the alternative scene. Anne-Marie left to form GHOST DANCE in 1995 and the band continued with new vocalist Katrina Phillips (THE COLOURFIELD) until they split in 1997. Due to popular demand, SKELETAL FAMILY reformed in 2002 and after several line-up changes, are now fronted by Anneka Latta. They have just released a new album, 'Light from the dark', and in the first eight hours of being released it had been streamed over 40,000 times! It was recorded over the last two years at Paul Weller's Solid Bond / Black Barn studio in Ripley, Yorkshire. Prior to receiving the invitation to review this album. I have only heard one track by the present-day SKELETAL FAMILY. My heart pounding in anticipation, I press play.
The album opens with 'Cry baby', Anneka is pitch perfect. Her voice gives something of an ethereal quality to the album. 'Edge of a dream' will make you feel almost like you are in one. It has - has its name suggests: a dreamy chorus with a bluesy guitar riff. The next track 'Brewing up a storm' brings in a heavier, goth rock vibe. 'What are you waiting for?' is next and the vocals are a little reminiscent of Susannah Hoffs (THE BANGLES). 'Beautiful disaster' is the one track I have heard previously on YouTube. It was my introduction to the band and gave me an indication of what to expect from this album, so far, it's a doozy! 'New horizon' is fast-paced and the most danceable track yet. My head is bobbing along right up to the drop.
'All the same to me' brings it back down with a slower tempo than the previous track, that slowly builds until the heavier guitars kick in. I imagine a few strained vocal chords trying to sing along to the chorus of the next track 'Glorious' - possibly my own as Anneka reaches an astonishing range in this beautiful melody. 'Enough is enough' is more darkwave with a pulsating synth intro. Another dance track, methinks. 'My redemption' is the final track. It is a fitting end to a superb album. I might just play it again.
If you like female fronted Gothic Rock with haunting melodies and memorable chorus, you will love this. SKELETAL FAMILY are currently on tour in the UK.
Tracklist

01. Cry Baby
02. Edge Of A Dream
03. Brewing Up A Storm
04. What Are You Waiting For
05. Beautiful Disaster
06. New Horizon
07. All The Same To Me
08. Glorious
09. Enough Is Enough
10. My Redemption
Line-up

Anneka Latta – vocals
Stan Greenwood – guitar
Roger "Trottwell" Nowell – bass
Ian "Karl Heinz" Taylor – keyboards and saxophone
Adrian "Ozzy" Ozadzenco – drums and percussion
Website

https://skeletalfamily.com/
Cover Picture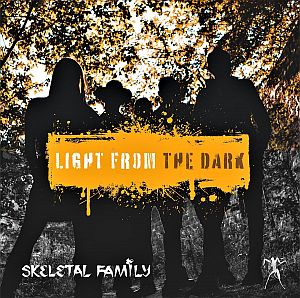 Rating

Music: 10
Sound: 9
Total: 9 / 10
See also (all categories):