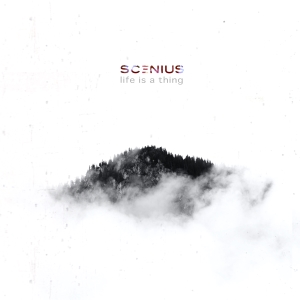 Artist: Scenius
Title: Life Is A Thing
Genre: Electronic / Post Punk / Industrial / Dark Wave / Computer Music
Release Date: 19th May 2023
Label: Self-Released
Album Review

Steve Whitfield, he of KLAMMER and producer of THE CURE, THE MISSION and YANN TIERSEN etc has another project called SCENIUS. The duo has been in existence since 2020 and what we have here is a project that sounds very vintage electronic. Not surprisingly really when one uses vintage synths and channels the energy of the likes of JOHN FOXX, NUMAN and KRAFTWERK but with an added modern twist. Their first album, 'Enough Fears', was released in December 2020 and sets the tone for things to come. 'Enough Fears' is a blinding set up to 'Life Is A Thing' and deserves mentioning here. Go hear it for yourself on Bandcamp and you'll be as impressed as me! Right, let's get back to the matter at hand…
I read the press kit that came with 'Life Is A Thing' and within it were words that had already come out of my subconsciousness and I thought "what the hell else can I contribute here cos that pretty much sums up what I'm thinking". But I'll have a go. For a start the album has a dream like reverie to it that never dissipates throughout. It feels matter of fact in its delivery with no judgements. It just is. As a consequence, it's neither cold nor warm, it's neither and both at the same time.
To open we have a track called 'Life Is A Thing Again'. Minimalistic but heavily groovy with that down in the groin attitude complimented by light headedness. Swoosh and boom, swoosh and boom… whilst 'A Million To Go' starts with me thinking it's going to go all trip hop but nope the simple drum pattern hits heavy whilst the bass line meanders around it. The drums also half retrieve a memory from the mist of time but I can't get a full grip on it so it drifts off, I may come back to this later if I remember. Ahhh, HUMAN LEAGUE, that's it.
I like 'High Low', it's, erm, hmmm, sedimentary. 'La Meme Nuit' comes right out of the Martin Gore playbook, this musically not feeling out of place on DEPECHE MODES earlier tomes. It's all in the bass riff you see. I love the smooth buttery synth line that follows close behind. The female vocal adds another level of glassy eyed inward-looking atmospherics. 'Hindsight' is like water droplets in its commencement. Iciness to the heavy thump of the bass drum, it's bordering on sneering. "I never found love I didn't care It seems in hindsight I wasn't there".
'Chinese Room', a track I have already reviewed and love, is all groin etc but there's also a glassy eyed feel to it as if the interlocutor is flitting between the inner and outer worlds and then having a chat with themselves. 'Escalation' invokes the earlier times when synths were not as sophisticated as now. But that pared down sophistication has its own charm. The rhythmic snaps and keyboard bleeps feeling block-like but also simply fluid.
'Moon Fall' is soporific in tone, I'm currently watching the sci-fi series called 'The Expanse', imagery from that is the video playing out in my head. Final track, 'Hot Dust' slowly but purposefully meanders its way from 0 to 4.44 minutes in the same way I purposefully but slowly spread jam on my toast. Piercing notes sustain then break around the simple bass drum / snare pattern that keeps things together without dominating the mix. It has an early GARY NUMAN feel to it.
All in all, a very good album. Just like the single 'Chinese Room' which I played on a loop, I also looped this. It grows on you the more you listen because it's not over done, it's mixed well, the sound separation is good. And the balance between sound and silence is good too. When I say that I mean that when an actual sound is playing no other sounds are rushing in and saturating the mix so it sounds flat and overwhelming. Trinkets are used like a paintbrush adding a bit of detail here and a bit tone colour there but the silences (or gaps) can still be felt. Also, the vocal does sound a bit like a French Genesis P Orridge or Neil Tennant but with the added Gallic "je ne sais quoi". The other thing I notice is that a 30-year-old way of doing things sounds fresh and it sounds subversive just like 30 years ago when computer music was subverting the norms of the time.
Tracklist

01. Life Is A Thing Again
02. A Million To Go
03. High Low
04. La Meme Nuit
05. Hindsight
06. Chinese Room
07. Escalation
08. Moon Fall
09. Rise Above
10. Hot Dust
Line-up

Fabrice Nau – Vocals
Steve Whitefield – Keyboards / Electronic wizardry and Drum Programming
Website

https://scenius.bandcamp.com/
Cover Picture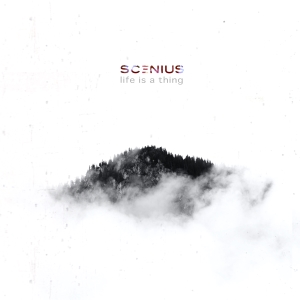 Rating

Music: 8
Sound: 8
Total: 8 / 10