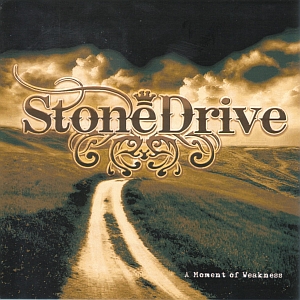 Title: A Moment of Weakness
Artist: Stone Drive
Genre: Rock
Release Date: None
Label: None
Introduction

The story of STONE DRIVE began in 2006 when lead singer David met guitarist Xavier and drummer David. The three of them instantly connected and spent the next year with writing and polishing songs for the debut album and with the quickly recruited bassist Romuald and the completed demos they entered the Saint Marthe studios to produce their first album.
Members

David Adam - Vocals, Guitar
Xavier Guillemet - Guitar
Romuald Luczak - Bass
David Lefebvre - Drums
Fabrice Tedaldi - Guitar
Website

http://stonedrive.free.fr/
/
http://www.myspace.com/stonedrive
Track Review

01. Bulletproof Bones - 3:08

Here we go again with the full power of rock music. A quite nostalgic intro with the clicking of a vinyl leads through the first seconds and then the first guitar chords appear to drag us into an undertow of buzz-saw guitar riffs, top notch drumming and a powerful voice.
02. Breathe - 3:17

…picks up, where the 'Bulletproof Bones' left off and continues the path with driving riffs combined with the diversified drumming, which changes to a march drumming style in the further course of the song and also includes some tempo shifts as well.
03. Falling Down - 4:24

A bit calmer than its predecessor, this song starts with reluctant guitars and bass lines, but the most impressing thing about this song is the amount of emotions put into the vocals, so that you can almost feel the desperation coming through the speakers.
04. Redemption Day - 4:57

Starting with one single guitar, soon more of them appear to create the equivalent of a choir, which is hunted through a distortion filter only seconds before the kick-ass drums appear. I really like that multi-layered guitar parts in the song. The chant is powerful as always.
05. Guilty - 3:44

The song shifts the level of harshness regarding the guitars a bit higher and contrary to other songs there are even more rhythmic and tempo changes. For each part the right rhythm. Everything from slower to faster arrangements is represented.
06. Yesterday Today - 4:57

…comes in the shape of a power ballad and after my first listen, the track reminded me a lot of some songs of NICKELBACK I heard on the radio some time ago. No wonder as the band names NICKELBACK as one of their influences, but they're not copying them. The song has its own unique touch. The first part is entirely acoustic and with some strings in the background, Adam starts with the chant, revealing that he's also able to sing in a rather mellow vocal style.
07. Hide - 3:19

Let's waste no time with long intros and go straight to the core of things. 'Hide is' presenting itself as a straight rock song, that comes along with a subliminal darkness during the verse parts, where Adam's vocals are backed up by wave-esque guitar work. Another surprise follows in the chorus with angry screams contributed by the lead vocalist of French band MEMORIES FOR A DEAD MAN.
08. Handful of Dust - 4:50

The feeling, when a father dies, when he leaves you behind with your hopes, questions and fears and the only thing you can talk to is a stone with his name engraved in it. This feeling is captured within this song as a powerful ballad with halting drumming.
09. Sins that shape our lives - 3:55

A song, where you can constantly bang your head to. I guess it was designed to play it live one day. Demanding guitar work and fast played drums push you forward and that awesome guitar solo will surely please your ears.
10. Save me - 4:03

Can't say anything, what I haven't already said to some of the other ones. It's a rhythmic, rocking piece of music with nice guitar parts, good drum work and a variable voice.
11. Yesterday Today (Alternative Acoustic Mix) - 5:38

This is basically the same song as before but with stripped out E-Guitars, so the melancholy inhabiting this song can truly unfold and you can hear more of the strings used here, which are more detailed and layered than expected but very beautiful.
Cover Picture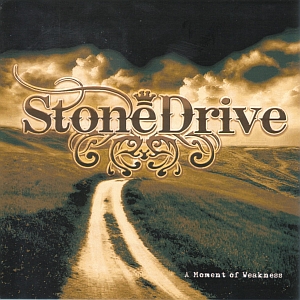 Rating

Music: 7
Sound: 7
Extras: -
Total: 7
Conclusion

For a debut album, the production is first class. The drums are crystal clear and also no complaints about the guitar and vocal recordings, but one thing I recognized when listening to 'A Moment of Weakness' is the enormous amount of that faster rock songs. For the next album, I'd like to hear a bit more variation in the tempo, during the individual songs. 'Breathe' and 'Guilty' are really good at that. More please! The ballads and especially 'Yesterday Today' are incredible songs with big emotions and even greater vocals. 'A Moment of Weakness' is a solid debut from a band; we will surely hear more of in the future.

{jos_sb_discuss:19}