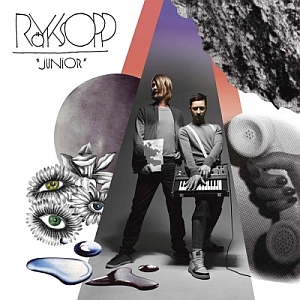 Title: Junior
Artist: Röyksopp

Genre: Synth Pop
Release Date: 20th March 2009
Label: EMI Music
Album Review

Torbjørn Brundtland & Svein Berge aka RÖYSKOPP already got to know each other as children in their hometown Tromse but lost contact for a while. When they met again years later in Bergen again they founded RÖYSKOPP. 'Melody A.M', their first album was called one of the most fascinating downbeat albums of 2001 and became a million-seller followed by 'The Understanding' gaining ambivalent receptions by music critics. But now the time of 'Junior' has come.
The opening title 'Happy Up Here' in most parts brings across just what's already being suggested in the title 'Happiness' only in some parts an ephemeral veil of synth darkness overshadows it. 'Vision One' takes off from the grounds with wonderfully playful organ keys and soft synth washes first to come down again on solid ground with creaking and retro synth support and understated rhythms. Guest singer on this one is renowned artist Anneli Drecker whose vocals are lightly manipulated with a vocoder. Sounds great and not as unnerving as many other vocoded vocal parts you can hear in several electronic compositions nowadays. 'This Must Be It' is a foray into frigid ambience regions while a straight multi-layered beat floats under it unencumbered. That's not the real special thing about this track though. That would be undoubtedly Karin Dreijer-Andersson, one half of Swedish duo THE KNIFE who lends her unique vocal talents. I can't even paint a proper picture of how that sounds but one thing I know for sure. It settles down in your head for a long time.
She'll cross our way once more in 'Tricky, Tricky' evolving from a minimalist-flavoured number to a kittenish pop anthem that brings on display creativeness and skills of Brundtland and Berge. Hitting our spot next is a beautiful instrumental called 'Röyksopp Forever' combining epic strings and as we've gotten used to by now a few electronic gadgets in-between. The strings are the stars here though! 'True to Life' brings a bouncing, fidgety rhythm section into the mix with haunting and dense melodies weightlessly hovering just above it like the vocals of Anneli Drecker joining us for her third take on this album. I was a complete newbie to RÖYKSOPP (Yeah, how can I dare not knowing these guys) before I started listening to 'Junior'. Now I can say: I absolutely and completely missed something. That's Synth Pop music how it should be these days: little playful, with tons of melodies and good vocalists on top! Must Have!!!
Tracklist

01. Happy Up Here
02. The Girl and The Robot
03. Vision One
04. This Must Be It
05. Röyksopp Forever
06. Miss It So Much
07. Tricky Tricky
08. You Don't Have a Clue
09. Silver Cruiser
10. True To Life
11. It's What I Want
Line-up

Torbjørn Brundtland and Svein Berge
Website

http://www.royksopp.com/
/
www.myspace.com/royksopp
Cover Picture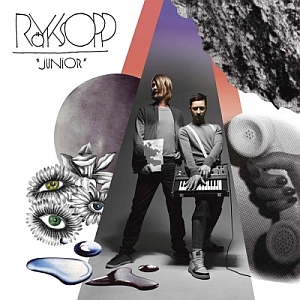 Rating

Music: 9
Sound: 9
Extras: -
Total: 9 / 10