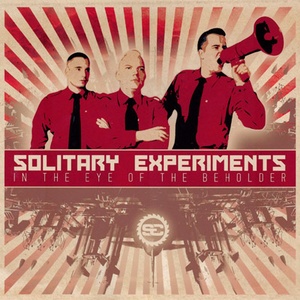 Title: In the Eye of the Beholder
Artist: Solitary Experiments

Genre: Electro
Release Date: 23rd October 2009
Label: Out Of Line
Album Review

After the band's foundation stone had been set in 1992, several contributions to genre-typical compilations and the first tapes followed up. In 1999, SOLITARY EXPERIMENTS released the debut album entitled with `Final Approach´. Meanwhile, the formation has become a long-established representative in the German alternative music scene and has been responsible for sophisticated arrangements connected to melodic electro sounds as heard on previous albums such as `Mind over Matter´ (2005) or `Cause and Effect´ (2004). On 23rd October 2009, SOLITARY EXPERIMENTS delivered their most recent double CD `In the Eye of the Beholder´ including the additional re-mix CD `The Beauty lies...´ which contains re-mixes of well-known artists such as COLONY 5 and LEATHER STRIP. Moreover, the three winners of the re-mix contest can demonstrate their skills. My review is focussed on the regular CD, as I only received this part of the album.
After listening to the 12 tracks, I can confidently recommend `In the Eye of the Beholder´ to everyone who enjoys pop-influenced and varied electro style. Introduced by the orchestral and bombastic instrumental `Words of Wisdom´, that comes up with classical march rhythms, the record leaves no wish unfulfilled with regard to those listeners who appreciate danceable stuff following the tradition of [:SITD:], VNV NATION or COVENANT. The second track `Rise and Fall´ is a dynamic and very rhythmic piece with striking vocals and a highly catchy refrain that has the potential to immediately fill the dance floors. Though `Rise and Fall´ is my most favourite song from the album, the band hasn't already exhausted its resources with regard to the 10 remaining tracks. The pulsating `Immortal´ follows up `Rise and Fall´ in more than one way: Similar to the previous bomb, it combines punchy beats with an amazing synth pop-appeal.
Furthermore, all songs live on the masculine but not too raw vocals I considered to be pleasant and well-suiting. Besides the aforementioned `Rise and Fall´, I would like to highlight the gloomy `Dead and Gone´, an expressive mid-tempo track which develops from adjuring and dark verses to an anthemic refrain that is - regardless of the lyrics - rather optimistic and bright. According to its title the break beats-like `A Rush of Ecstasy´ features a nervous melody and energizing vocals. All in all, the song even reminded me of FAITHLESS. The up-tempo and pushing `No Surrender´ finishes the album in an appropriate way and is a great conclusion to this overall pleasing package of electronic music.
Tracklist

CD 1: `In the Eye of the Beholder´

01. Words of Wisdom (Theme)
02. Rise and Fall
03. Immortal (Album)
04. Road to Horizon
05. Darkness Falls
06. Dead and Gone
07. Point Of View (Deeper)
08. Déjà Vu
09. Seele Bricht V2.0
10. Worst Case Scenario
11. A Rush of Ecstasy
12. No Surrender
CD 2: `The Beauty lies ...´

01. Rise and Fall (Colony 5 RMX)
02. Immortal (Cephalgy RMX)
03. Point Of View (Diskonnekted RMX)
04. Rise and Fall (Final Illusion RMX)
05. Immortal (Heimataerde RMX)
06. Road to Horizon (Millimetric RMX)
07. Darkness Falls (Plastic Noise Experience RMX)
08. Immortal (Miss Peppermint RMX)
09. Rise and Fall (Sinessence/Suessenborn RMX)
10. Darkness Falls (Controlled Collapse RMX)
11. Point Of View (Leather Strip RMX)
12. Rise and Fall (ES23 RMX 1st)
13. Rise and Fall (Pulse State RMX 2nd)
14. Rise and Fall (Reizstrom RMX 3rd)
Line-up

Michael Thielemann - sampling, programming, engineering, recording
Dennis Schober - lyrics, vocals, effects, performance
Steve Graber - programming, sampling
Frank Glassl - live e-drums
Website

http://www.myspace.com/solitaryexperiments
/
http://www.solitaryexperiments.de/
Cover Picture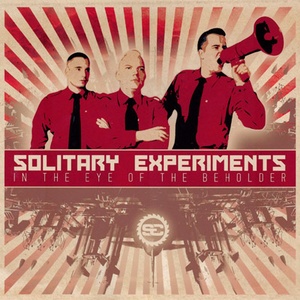 Rating

Music: 9
Sound: 8
Extras: -
Total: 8.5 / 10
{jos_sb_discuss:19}