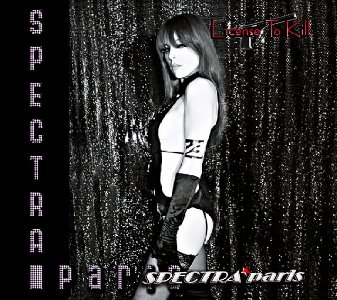 Title: License To Kill
Artist: Spectra*Paris
Genre: Electronic / Rock
Release Date: 2nd July 2010
Label: Out Of Line
Album Review

SPECTRA*PARIS has become the prolific second leg of Elena Fossi besides her work with KIRLIAN CAMERA. The debut album of the project titled 'Dead Models Society' came out initially in late 2007 and was re-issued in early 2008. Live shows further strengthened the reputation, but soon they were headed back into the studio again to record a glamorous follow-up, entitled 'License To Kill' and released in this year's July.
If you think you've heard that opening act of the second SPECTRA*PARIS movie somewhere before, then you're probably one of those who bought the SENSORY GATE album 'Ianus' where it appeared as 'Murder 23'. The track underwent changes however with the guitar being more present than before and most notably Elena's voice, giving the entire composition a different feeling. 'A Clockwork London', referencing Stanley Kubrick's 'A Clockwork Orange' sees a thumping electronic beat merging with sublime noir atmospheres and a grand rocking vibe on top. I've got a penchant for the rather experimental and thus it should be no surprise I found pleasure in those little outbursts inside the spherical 'Movie Ghouls' that however most of all lives on the vocal performance given there. Also it's a song that would've worked greatly on a KIRLIAN CAMERA album in my opinion. A real electronic rock anthem is presented with 'Death Records', also bringing a vocal-related change in sound.
When driving home on a lonely highway at night 'Lost Highway Voices' is a perfect piece to support the mood. Don't get distracted from the road though while the ethereal waves come out of your speakers. The closing score to the album adventure is 'Phantom's Theme', introduced with the intimacy of longing guitar chords with Elena's voice soaring over them for a certain time. Then electronic beats and roaring guitars phase in and take to song to a rocking and rousing peak, before it recedes back to the beginning. 'License To Kill' in a way is like homage to movies having a distinct charm, lost in so many current ones, and accomplishes capturing it within the 10 pieces. So, yeah I like it.
Tracklist
01. License To Kill - 4:31
02. A Clockwork London - 5:42
03. 007 Gold - 4:20
04. Movie Ghouls - 4:06
05. Aston Martin DBS - 1:12
06. Carrie Satan - 5:14
07. Death Records - 5:09
08. Lost Highway Voices - 4:21
09. S.I.S. Soundtrack - 1:35
10. Phantom´s Theme - 4:23
Line-Up
Elena Alice Fossi - Vocals, Electronics, Programming, Keyboards, Bass, Music, Lyrics
Marianna Alfieri - Guitars, Bass
Alessia Cavalieri - Backing Vocals, Synth
Website
http://spectraparis.net/
/
http://www.myspace.com/spectraparis
Cover Picture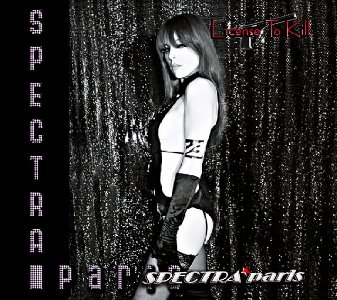 Rating
Music: 8
Sound: 9
Extras: -
Total: 8.5 / 10
{jos_sb_discuss:19}