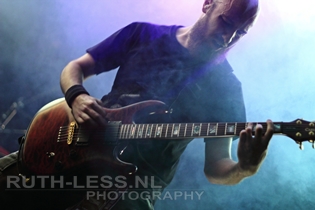 P60, Amstelveen, The Netherlands
26 August 2011
Sworn Enemy, Misconduct, My City Burning, Better left Buried

I had been looking forward to an evening of hardcore punk / metal at P60 in Amstelveen. Unfortunately, not many people were thinking the same and P60 was filled with just a small group of people that can hardly be called an audience: a tough job for the four national and international hardcore and punk bands that filled the evening's line-up at P60, Amstelveen, The Netherlands.



Better Left Buried (NL)

Dutch hardcore band BETTER LEFT BURIED started out in 2008, releasing their first self titled EP 'Better Left Buried' in that same year. In reviews their music is characterized as filthy brutal hardcore, incorporating the right metal elements. Their first full length album is yet to be released. http://www.myspace.com/betterleftburied

Music & Performance
…and filthy brutal hardcore is what we got. BETTER LEFT BURIED skipped the warming up and put up a loud energetic show right from the start. Although some hardcore bands get lost in just making lots of noise, BETTER LEFT BURIED has found a good balance between noise, death metal riffs and a good use of different rhythms and breakdowns which gives their music a pleasant flow. The strong grunts of front man Koos Weel completed the bands' sound. Light on stage was unfortunately basically absent; on special request of the band. Taking proper photos was therefore pretty much impossible. But, if you hold the opinion that it is only about the music and you are a fan of brutal hardcore, BETTER LEFT BURIED is the band for you!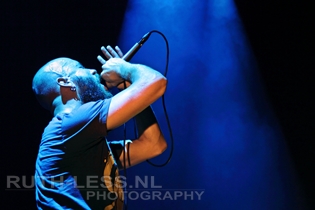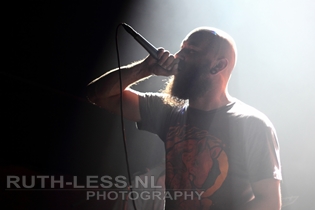 Setlist
01. Intro
02. Refuse
03. Keep the change
04. OOBWD
05. Treasure trash
06. King of kings
07. Better left buried
08. Bribe it
09. Outro

Rating
Music: 8
Performance: 8
Sound: 8
Light: 4
Total: 7 / 10


My City Burning (NL)

MY CITY BURNING is also a relative newcomer to the hardcore scene, but has proven its live status more than convincingly by playing with famous bands like MACHINE HEAD, POISON THE WELL and HATEBREED. MY CITY BURNING was founded in 2006 in the Netherlands, but it wasn't until 2010 that they released their first full length album called 'Lone Wolves' at Scream Records. www.mycityburning.com / www.myspace.com/mycityburning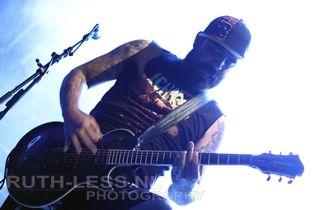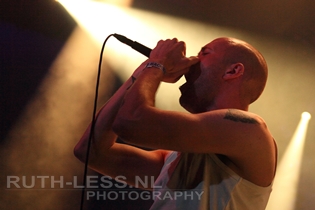 Music & Performance
And another Dutch hardcore formation hit the stage. MY CITY BURNING didn't give the audience a break and starts off loud, and fast… and loud and fast. Personally, I prefer the more dynamic sound that was displayed by the previous band, but that's just a matter of taste. MY CITY BURNING brings a combination of hardcore and trash metal in a convincing live show. The fact that they only recently acquired a new bass player is hardly noticeable, since the four men of MY CITY BURNING seem to be very well adapted to each other on stage. The fact that there is just a small crowd doesn't seem to bother them at all. A tiny pit is happily encouraged and those who dared to sing/grunt along were invited to do so.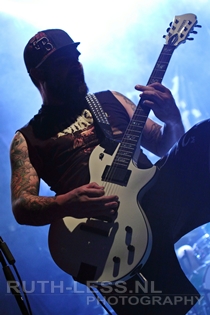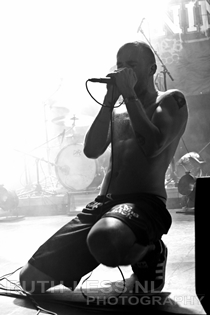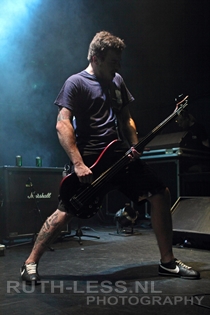 Setlist
01. Bottomfeeder
02. The hardest part is letting go
03. Another breath
04. Shred and gone
05. Rise up
06. Nine yards
07. Stronger
08. The great escape
09. This is the end

Rating
Music: 7
Performance: 8
Sound: 8
Light: 6.5
Total: 7.5 / 10


Misconduct (SWE)

MISCONDUCT was formed in 1995 in Sweden and started out as an old-school hardcore band. The band evolved to be one of Sweden's finest punk bands and has shared the stage with big names like SLIPKNOT, SICK OF IT ALL, KORN and many more. Their latest album entitled 'One Step Closer' was released in 2010. In that same year, MISCONDUCT was awarded as 'best Swedish live act'. www.misconduct.nu / http://www.myspace.com/misconduct

Music & Performance
By the time MISCONDUCT started their show (there was some trouble with the monitors), it seemed that whatever was left of the small audience had gone for a smoke, beer or a snack, leaving a tough challenge for this good looking quartet. Unfortunately I have to conclude that the looks of MISCONDUCT were better than their performance. Apart from their monitoring and technical problems, their setlist was quite a variation of mainstream "blink 182"-like cheer-along-punk-rock, ballads (Side by Side part II) and a pinch of hardcore. The timing for a ballad with just the bass player was poorly chosen as the audience started getting visibly annoyed. Front man Fredrik decided to take a different approach and kicked off with a song that better fitted the evening's hardcore theme. A brief moment of joy. After a short revival however, they switched back to their pop-punk repertoire including cheesy lyrics.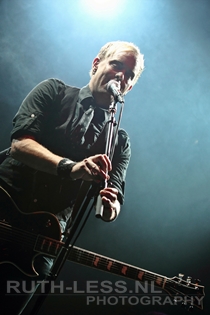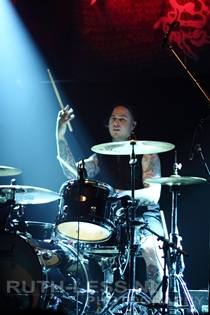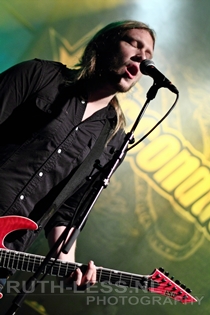 The next songs about respectively a dead nephew killed by drugs and a cheer for peace, love and unity need either a better introduction, or are just utterly naïve and cheesy and would fit a Christian rock gathering better than a raw hardcore evening. I completely understand the disappointment of seeing just a handful of people in front of the stage; but telling them that that is very lame will not make them spontaneously multiply like gremlins on water …and I would've expected better audience handling from a band who won an award for best live act. I honestly think that this band would better fit an evening with mainstream punk rock bands.

Setlist
01. Intro
02. Closer
03. Out of reach
04. Naya
05. No boundaries
06. Family
07. One step forward
08. New beginning
09. I close my eyes
10. Side by side part II
11. ?
12. Salvation generation
13. Silence
14. Don't drag me down
15. Wasted life
16. Peace love & unity
17. Signed in blood

Rating
Music: 5
Performance: 5
Sound: 6
Light: 7
Total: 5.5 / 10


Sworn Enemy (USA)

SWORN ENEMY started out as a band called DOWNFALL in 1995, then changed its name to MINDSET until another band appeared in the New York Hardcore scene that had a longer history with the name. And that's how SWORN ENEMY was born in 2000. As of 2011, SWORN ENEMY has released 6 albums of raw, uncompromised hardcore. Their latest album entitled 'Total World Domination' was released in 2009. www.myspace.com/swornenemy / www.swornenemy.com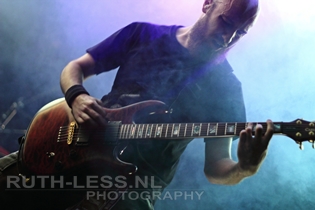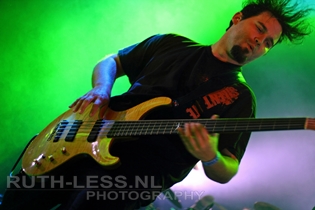 Music & Performance
The guys of SWORN ENEMY have been around the hardcore block for a while now, and it definitely shows in their live performance; audience or not! Back from their snack break or just saving the best for last, P60 seemed to fill up again with some more people. SWORN ENEMY live literally is a well oiled machine with sick machine like drums (brought to you by Mr. Rambo himself ;-) ) and a speed that does not allow the audience to lose their concentration or lean back and relax. Their sound is heavy & tight and complemented by the furious lyrics spitted out by front man Sal Lococo. About halfway their show, the question whether the audience wanted to hear more, was positively but not overwhelmingly answered by the small audience. As a result, the band didn't get back for an encore at the end of their show (and I don't blame them). Great show though!

Rating
Music: 8
Performance: 8
Sound: 8
Light: 6.5
Total: 7.6 / 10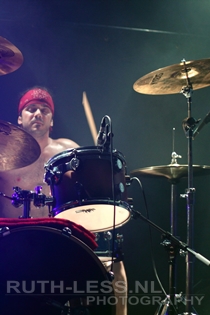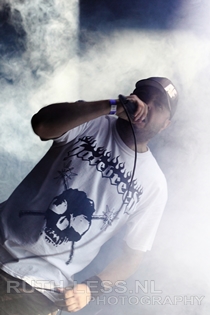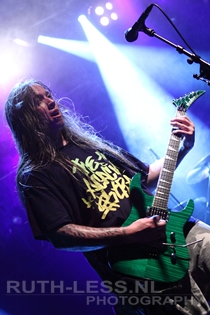 All pics by Ruth Mampuys (www.ruth-less.nl)