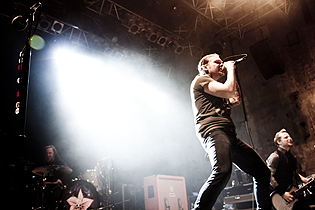 Kesselhaus, Berlin, Germany
2nd February 2012
Shinedown and Halestorm

It was a cold snowy evening when we made our way to the Kesselhaus in Berlin. After finally having found it, we just made it to the last song of LIBERTY LIES. Unfortunately, we couldn't see more but were excited for HALESTORM to be next in line. This evening was promised to be filled with great music, good looking girls and guys and a hell of a lot of good music!



Halestorm

HALESTORM was formed by sister and brother Lzzy and Arejay Hale in 1998 when they were in high school. HALESTORM's line-up was completed with the addition of guitarist Joe Hottinger and bassist Josh Smith. When HALESTORM began actively looking for labels in 2005 it did not take long before the deal was sealed with label Atlantic Records. They released a live EP 'One and Done' and hit the road again to start touring with bands like SHINEDOWN, SEETHER and FLYLEAF. Up next was their self-titled debut album in 2009, and their first single 'I Get Off'. Singer Lzzy describes the band's sound as powerful Rock'n'Roll: "We have a lot of classic rock influences, but the music never feels dated. It's got an old school feeling with a modern edge". At the start of 2012, the band also released another EP with a couple of new songs ('Hello, It's Mz Hyde'). Their next album called 'The strange case of…' is set to be released in April this year. HALESTORM is Lzzy Hale (lead vocals, rhythm guitar and keyboard), Arejay Hale (drums, percussion, backing vocals), Joe Hottinger (lead guitar, backing vocals) and Josh Smith (bass guitar, backing vocals). www.halestormrocks.com / www.myspace.com/halestorm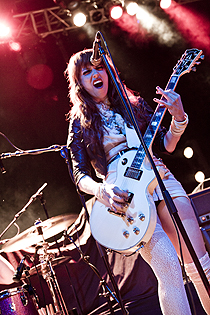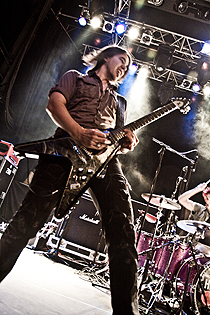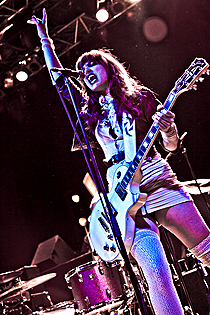 Music & Performance
As soon as the first tones of 'Love bites (and so do I)' were played, the people in the crowd immediately started singing along, dancing and being crazy. If this was due to her singing or her very sexy outfit (including mega high heels) I don't wanna judge. However, the band instantly had the crowd in their hands and delighted everyone with their music. The other thing that comes to your eyes after her outfit is the drummer. He is constantly moving around, playing the drums with all kinds of body parts (and even with other parts of the drums), throwing around drumsticks (and most of the time catching them again) and just being so much into his instrument and their music that it was just a pleasure to watch him. Oh and yes, he did a great job, of course. This was also shown again during his drum solo which was enjoyed by everybody in the audience. However, also Lzzy got a chance to prove that she has an amazing voice during a solo part about half way through the concert. This was quite impressive but also could have been a little shorter if you ask me. HALESTORM did an overall great job, leaving the audience no time to breathe between the songs. The band showed a wide variety of their current songs but also played one from their upcoming album - 'Freak like me' which was played after the question Lzzy appointed to the audience "Are you a freak like me?" (which was probably affirmed by everyone in the audience).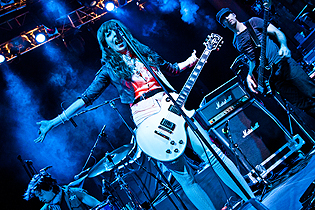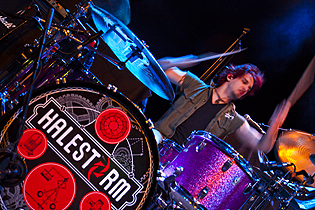 All in all, HALESTORM did a hell of a job proving themselves to the Berlin audience that cold winter night. The sound was good and so were the vocals and the overall show. It was the first time for me to see this band but definitely not the last time - and then, maybe I get off on HALESTORM (like they did on Berlin).

Setlist
01. Love bites (so do I)
02. It's not you
03. American boys
04. Here's to us
05. 'drums' (drum solo)
06. Slave the grind
07. Freak like me
08. I get off

Rating
Music: 8.5
Performance: 9
Sound: 8.5
Light: 7
Total: 8.3 / 10


Shinedown

SHINEDOWN is an American rock band from Jacksonville, Florida, formed in 2001 and founded by members Brent Smith, Brad Stewart, Jasin Todd and Barry Kerch. A few line-up changes followed, and the band's current line-up consists of Smith and Kerch, the band's only two remaining original members, with guitarist Zach Myers and bassist and pianist Eric Bass. Since SHINEDOWN's inception, they have released three albums - 'Leave a Whisper' (2003), 'Us and Them' (2005), 'The Sound of Madness' (2008) - and a total of thirteen singles, all on Atlantic Records. Their new album called 'Amaryllis' will be released on 27th March 2012. SHINEDOWN is Brent Smith (lead vocals), Barry Kerch (drums, percussion), Zach Myers (guitar, backing vocals) and Eric Bass (bass guitar, piano, backing vocals). www.shinedown.com / www.myspace.com/shinedown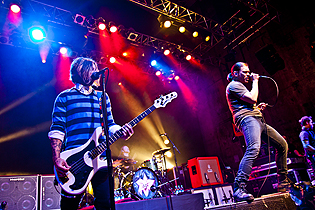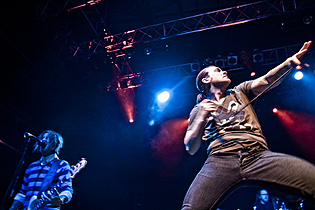 Music & Performance
SHINEDOWN is a band I've been listening to for quite some years and this year, I finally got the chance to see them live. Of course, I was really excited and immediately started singing along to 'Sound of madness' which was the opener of this evening's concert. The crowd was instantly moving along feeling the band's energy. During the next songs 'Enemies' and 'Devour', the mood was rising from second to second and the whole crowd was rocking to the sounds. The effect on Brent's voice is not something that everybody enjoys and favours, I know that. Some say, this leads to the fact that his voice sounds live exactly as it does on the CDs. If this is something good or not, I am not going to be able to answer for everybody. As it is for me, I don't mind it (this is probably due to the fact that I love the way his voice sounds).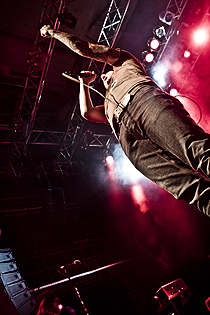 However, this didn't change the fact that the audience had a lot of fun listening and watching the band on stage. Brent always communicated with the people and interacted (by the way, thanks for spitting the water on me, Brent). Of course, they also played some songs from their upcoming album "Amaryllis" which were supposed to be unheard up to that point - but some girls in the first row said something like "oh yeah, I know that song by heart already". Well, not everybody did and so the band showed a variety of already known songs and new ones. Brent commented on that mix with words like "The next song is a new one as well. Oh yeah, I know, half of the audience is like 'hey, I wanna hear songs that I already know'". Well, they did play a lot of older songs but showing some new material on a tour is definitely not reprehensible if you ask me. So, don't worry, Brent.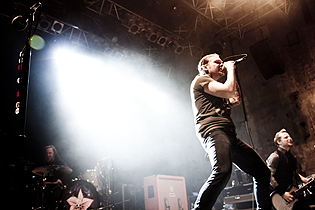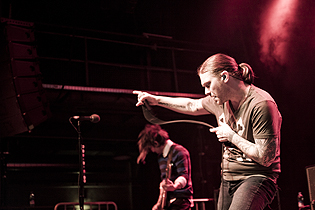 All in all, this night gave everybody such a good time with HALESTORM and SHINEDOWN (and also, Liberty Lies which we only saw 1 song of, such a pity). Everybody did a great job and I will surely keep this evening in my mind for a long time. Thank you, guys!

Setlist
01. Sound of madness
02. Enemies
03. Devour
04. If you only knew
05. Cyanide
06. Adrenaline
07. Save me
08. The crow and the butterfly
09. Diamond eyes
10. 45
---
11. Bully
12. Simple man
13. Second chance
14. Fly

Rating
Music: 9
Performance: 9
Sound: 9
Light: 7
Total: 8.5 / 10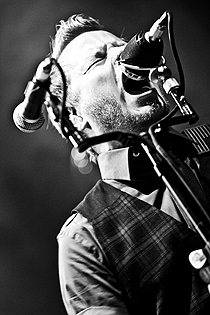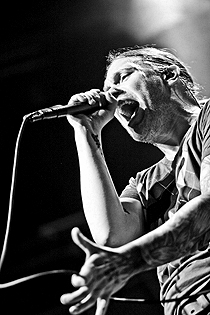 All pictures by Anne Kuhfuß