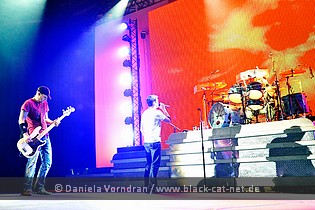 Mitsubishi-Electric Halle, Düsseldorf, Germany
7th March 2012
3 Doors Down, Seether, Prime Circle

Today, US rock band 3 DOORS DOWN counts with more than 300 sold-out live appearances to the top acts in their home country. Already their debut album 'The Better Life' was rewarded with 6x platinum. Last year's July saw the release of their fifth studio album 'Time Of My Life' climbing to place 2 of the German charts. Time now to check them out live!



Prime Circle

Modern Rock band PRIME CIRCLE from South Africa was founded in 2000. 'Jekyll & Hyde', the band's fourth album was released on 9 September 2010 reached gold status in just 9 days and now platinum status, solidifying their position as one of the top musical acts in South Africa. Following this, the band was nominated for 6 South African Music Awards (SAMA), winning the one for best Rock Album, 2011. In February 2012, the album was finally also released in Germany. PRIME CIRCLE is Ross Learmonth (guitar, vocals), Marco Gomes (bass), Dale Schnettler (drums), Dirk Bisschoff (lead guitar) and Neil Breytenbach (keyboards). http://www.primecircle.co.za / https://www.facebook.com/Prime.Circle / www.myspace.com/primecircleband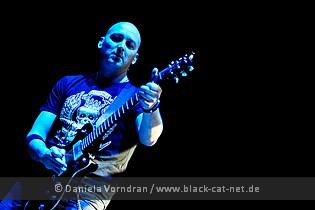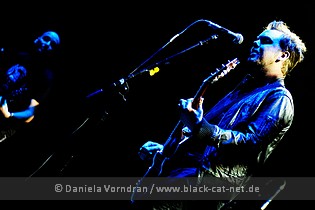 Music & Performance
It was still quite early, 7:30, when South African PRIME CIRCLE entered the stage for their 30 minutes lasting set. Right from the start, I found the band very sympathetic and their straight rock music was very catchy, reminding me several times of good old SILVERCHAIR. Having their 'Jekyll & Hyde' album finally out in Germany as well, several songs out off it, starting with opener 'Closure', were presented. The audience's response towards the band was great and so, the mood on stage was perfect, the musicians visibly had a lot of fun playing for their audience. Especially last song 'Consider me' was loudly sung by the audience. Really great opener, perfect choice of 3 DOORS DOWN to bring them again.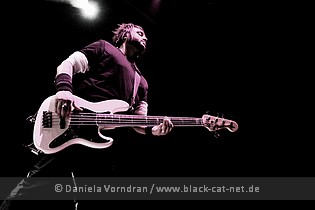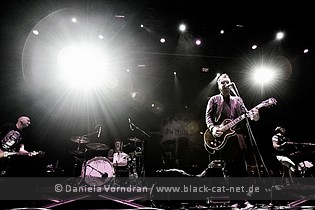 Setlist
01. Closure
02. She Always Gets What She Wants
03. Breathing
04. Never Gonna Bring Us Down
05. Turning in my Sleep
06. Out of this Place
07. Consider me

Rating
Music: 8
Performance: 8
Sound: 7
Light: 7
Total: 7.5 / 10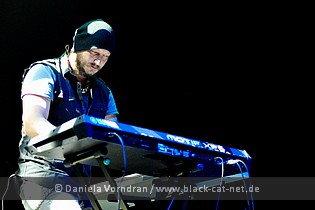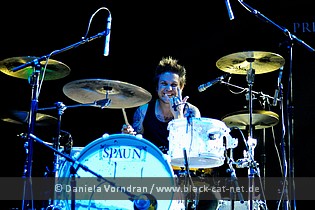 Seether

Just like the previous band, also Post-Grunge / New Rock band SEETHER, founded in 1999, comes from South Africa, originally wearing the name SARON GAS, under which also the debut album 'Fragile' was released, only available in their home country. In their career, the band has five Gold-/ Platinum albums on their account, containing also the 2005 classic 'Karma & Effect'. The latest one, 'Holding onto Strings Better Left to Fray' was released in May 2011. SEETHER is Shaun Morgan (vocals, guitar), Dale Stewart (bass, vocals) and John Humphrey (drums). http://www.seether.com / https://www.facebook.com/seether / http://www.myspace.com/seether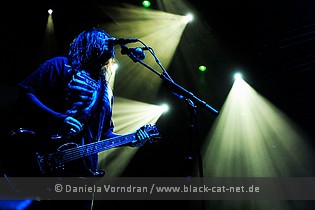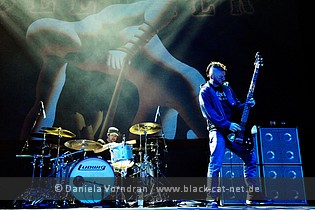 Music & Performance
With the big backdrop, the drum set far in the back and only three people on stage, it looked pretty empty up there when SEETHER started their show, opening with 'Gasoline' from the 'Disclaimer II' album. The band looked in fact a bit lost up there and the show lacked power in my opinion. Especially a second guitar was missing and so, there was no real Post-Grunge feel. I had expected much more from this band, especially since they have great songs in their back catalogue, one of them, 'Broken' (of course without the voice of Shaun's ex-wife Amy Lee) was welcomed loudly by the audience. While John behind his drums wasn't visible very well in the back, Shaun was hiding the whole show behind his hair, not showing a real expression in his face. Either did Dale, bit he at least was moving a lot across the stage, hugging his bass like it was his girlfriend. Anyway, the band earned quite decent applause, but could not convince me live.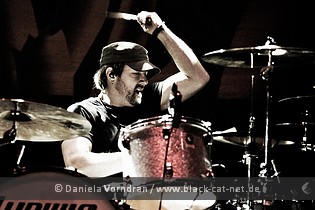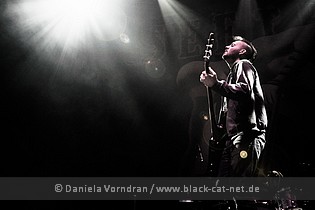 Setlist
01. Gasoline
02. Needles
03. Fine Again
04. Broken
05. Rise Above This
06. Country Song
07. Tonight
08. Fake It
09. Remedy

Rating
Music: 7
Performance: 6
Sound: 7
Light: 7
Total: 6.7 / 10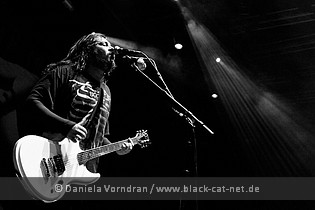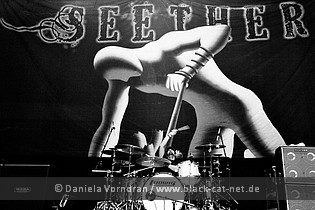 3 Doors Down

Well-known American rock band from Mississippi, 3 DOORS DOWN, was formed in 1996. The band consisting of Brad Arnold (vocals), Matt Roberts (guitar/vocals), Todd Harrell (bass), Chris Henderson (guitar), and Greg Upchurch (drums/percussion) rose to national fame with their first single, 'Kryptonite', which charted in the top three on the Billboard Hot 100 charts. The following debut album 'The Better Life' was the start of a big career with several platinum albums and sold-out concerts. The band often performs more than 300 concerts a year and has shared stages with artists such as MEGADETH, STAIND, NICKELBACK or SHINEDOWN. Since the start of their career, 3 DOORS DOWN has sold over 11 million albums worldwide. After two number one albums (USA), the band released the latest one, 'Time of my Life' in July 2011 via Universal. http://www.3doorsdown.com / https://www.facebook.com/3DoorsDown / www.myspace.com/3doorsdown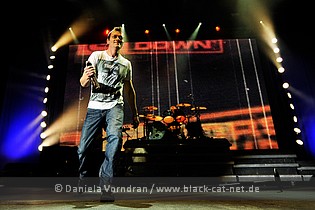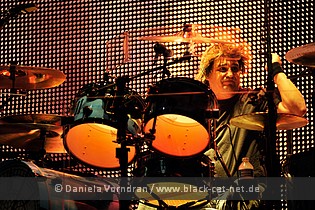 Music & Performance
Was the stage during SEETHER already empty, it was even more for 3 DOORS DOWN since additionally, all amps, speakers etc were removed from stage and hidden somewhere else. Just the drums set in the back on a podium in front of a huge LED screen stayed on stage. It took much longer than announced until the band finally opened the show with the title track of the current album, 'Time of my Life'. Really remarkable is, that the band does not look like a typical rock band, but more like a boy band, and so did the first rows look like typical boy group audience. But different to the look the band really played finest Rock music, enthralling the audience from the very beginning and especially singer Brad spread a lot of charisma. Besides old hits like i.e. 'Kryptonite', the musicians presented several songs from the new album like 'Round And Round', 'What's Left' or 'Heaven'. Before 'When You're Young' was starting, a black and white video sequence where Brad spoke about his school time was introducing the song. 'Loser' was sung loudly, followed by the biggest hits of the band, like the ballad 'Here Without You' and finally 'Not my Time' closing the main set.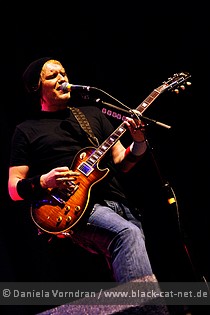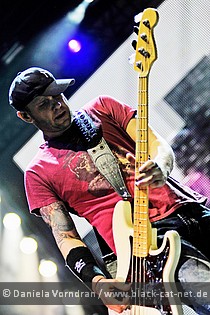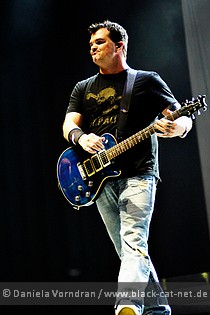 The encore bloc was opened with 'Kryptonite', sung loudly by the audience and taking care for some goose bump moments. Finally, hymnic 'When I'm Gone' closed the set releasing happy people into the night.

Setlist
01. Time of My Life
02. Duck and Run
03. Better Life
04. Away From the Sun
05. It's Not Me
06. What's Left
07. Citizen/Soldier
08. Changes
09. When You're Young (Introduced by Brad Arnold via Video Message)
10. Loser
11. Round and Round
12. Heaven
13. Behind Those Eyes
14. Here Without You
15. Not my Time
---
16. Kryptonite
17. Believer
18. When I'm Gone

Rating
Music: 8
Performance: 9
Sound: 7
Light: 8
Total: 8 / 10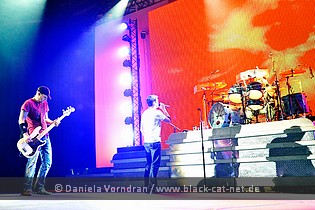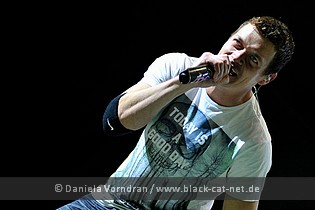 All pictures by Daniela Vorndran (http://www.vorndranphotography.com / http://www.black-cat-net.de/ / http://www.myspace.com/vorndranphotography / http://www.facebook.com/blackcatnet)