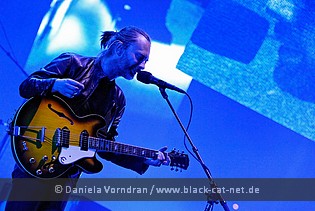 Lanxess Arena, Cologne, Germany
15th October 2012
Radiohead & Caribou

RADIOHEAD recovered: In June, the British band had to experience the ultimate nightmare when the stage for their open air show in Toronto collapsed just a few moments before doors open. The accident did not just destroy a lot of the equipment but sadly also killed a crew member. A few months and some cancelled and postponed shows later, RADIOHEAD picked up courage again and are back on track with the European leg of their "The King of Limbs" tour.



Caribou

Just like on their North-American tour RADIOHEAD brought CARIBOU on the road for their European shows this autumn. CARIBOU is basically Canadian musician, DJ and producer Daniel Snaith, who used to perform and produce under the moniker MANITOBA until Snaith had to change the name due to a law suit. However, live on stage CARIBOU is a full band completed by Ryan Smith, Brad Weber, and John Schmersal. http://www.caribou.fm / http://www.myspace.com/cariboumanitoba / http://www.facebook.com/caribouband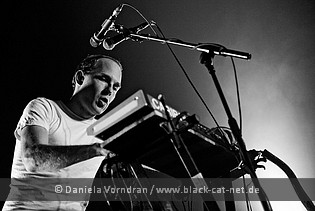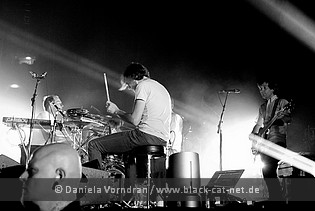 Music & Performance
CARIBOU were granted only half an hour but apart from that it has to be said that RADIOHEAD apparently treat their support bands fairly. The sound was good, the volume was loud enough and Snaith and his band mates got a quite good light show. Support acts are not always treated so decently, more often than not they are at the mercy of the headliner and their decision makers, respectively. Anyway, CARIBOU started their trippy, psychedelic thirty minutes with the VIRGO FOUR cover 'It's A Crime' and soon became clear that many RADIOHEAD fans are familiar with CARIBOU. The single 'Odessa' was even welcomed with a roaring applause and Snaith obviously was quite pleased with such a warm welcome. I have seen support acts going down much worse than this, so CARIBOU can mark this gig as a success in their log file. The only bummer about the gig was that it was too short, I would have loved to see more.

Setlist
01. It's A Crime
02. Bowls
03. Jamelia
04. Odessa
05. Sun

Rating
Music: 8
Performance: 8
Sound: 8
Light: 8
Total: 8 / 10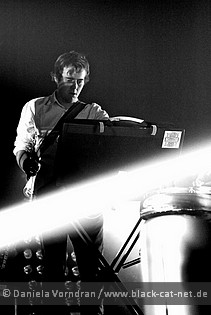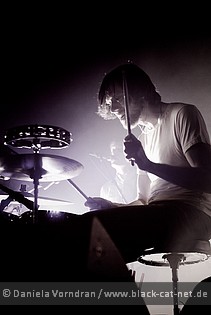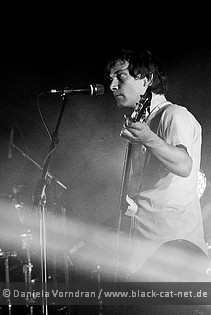 Radiohead

The show in Cologne was not among the dates RADIOHEAD had to postpone due to the above mentioned accident but besides the obvious shock from the incident and, in particular, the death of RADIOHEAD's drum tech Scott Johnson it must have been a difficult task to replace all the gear and equipment that was destroyed in the stage crash. But RADIOHEAD were back on the road in Europe since late September, so the Cologne gig was well into this leg of the tour. RADIOHEAD is Colin Greenwood (bass guitar, keyboards), Jonny Greenwood (lead guitar, keyboards, ondes Martenot, other instruments), Ed O'Brien (guitar, percussion, backing vocals), Philip Selway (drums, percussion, backing vocals), Thom Yorke (lead vocals, guitar, keyboards, piano) and additional live member Clive Deamer (drums, percussion, backing vocals). http://radiohead.com / https://www.facebook.com/radiohead / www.myspace.com/radiohead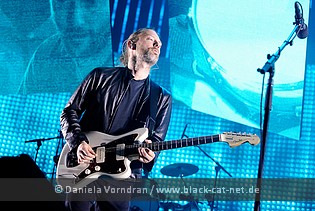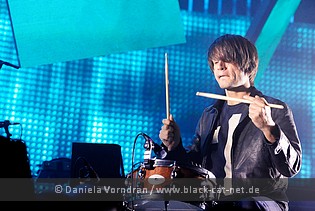 Music & Performance
Nothing would have given away to the unknowing that this band went through a disaster a few months before which probably could have been the end of the tour. Punctually at 9 p.m. RADIOHEAD enter the stage and start the show with 'Bloom' from their latest album entitled 'The King of The Limbs'. And from the first second it was clear that this going to be huge, huge show with a light show nothing short of breathtaking! With a mountain-high, oval LED screen behind them, no less than 82 light bars and a dozen smaller, square LED screens flying over them, RADIOHEAD show their superstardom in front of 16,000 fans at the Lanxess Arena. And it's a rather weird and unlikely superstardom, as RADIOHEAD are as far from conventional Rock and the typical Pop chart fodder which usually helps to fill big arenas like these. As usual leaving out their first and so far biggest single hit 'Creep', RADIOHEAD forge ahead through a setlist focussing on the last two albums. Their two groundbreaking classic albums 'OK Computer' and 'Kid A' weren't ignored, either, but RADIOHEAD were far from presenting a greatest hits show. They are simply not standard by any means.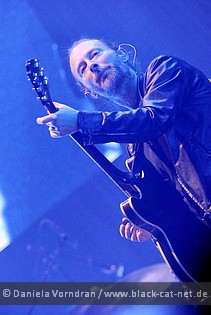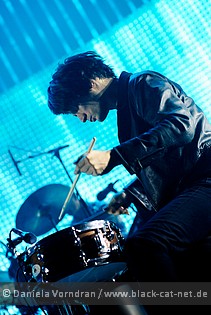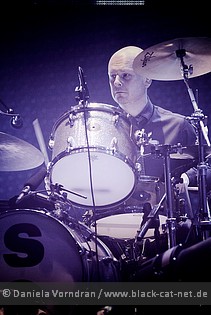 No matter if popular song or non-album track, RADIOHEAD allowed their songs to breathe and based them on a heavy rhythm section - for which they brought additional drummer Clive, by the way. Lead singer Thom Yorke didn't have his most talkative day but the English gentleman guided both band and audience unobtrusively and well-mannered through the show. From the ethereal 'Lucky', coming in early as the second song of the night, to the speedy and manic 'Morning Mr. Magpie' to the synth-heavy newer material with all the scattered grooves and echoing synth loops this band shows how much they can shift their sound while still sounding 100% RADIOHEAD. The musicians often switch instruments during the show, most notably Jonny Greenwood, who would play the guitar most of the time but at any moment he might swap it in favour of a keyboard, drum sticks or a half-dozen other instruments. The musical sense of this band is stunning, and they face an audience which truly appreciates this.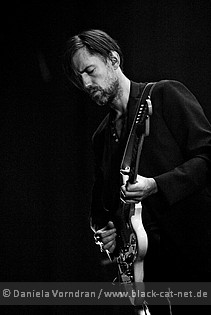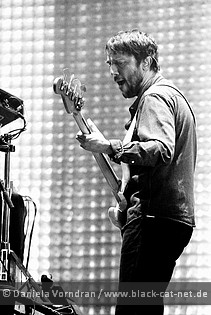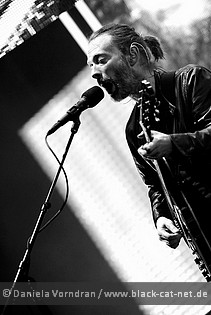 The sonic spectacle is perfectly reflected by the spectacular light show, which also features video clips and fractured live footage of the band on the many LED screens. At one moment drowned in tranquilizing blue or green, the light would explode in bright red the next moment when the band erupts into a booming polyrhythmic percussion section. The cleverest thing about RADIOHEAD's stage were the twelve moving screens above them. They could shrink the stage to an almost intimate format as well as delivering colour-intense attacks on your optical nerves. Perhaps the smartest and most exciting stage design I've seen in quite a while!

Setlist
01. Bloom
02. Lucky
03. 15 Step
04. Morning Mr. Magpie
05. The National Anthem
06. The Gloaming
07. Separator
08. Reckoner
09. Pyramid Song
10. These Are My Twisted Words
11. Nude
12. Identikit
13. Lotus Flower
14. There There
15. Feral
16. Bodysnatchers
---
17. Weird Fishes/Arpeggi
18. Ful Stop
19. The Daily Mail
20. Myxomatosis
21. Paranoid Android
---
22. How to Disappear Completely
23. Everything in Its Right Place (with "The One I Love" intro)
---
24. Idioteque

Rating
Music: 10
Performance: 9
Sound: 8
Light: 10
Total: 9.5 / 10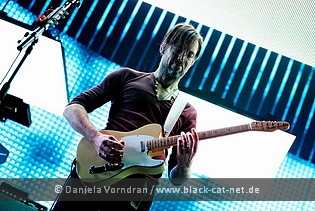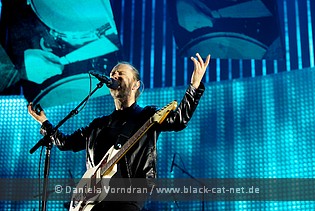 All pictures by Daniela Vorndran (http://www.vorndranphotography.com / http://www.black-cat-net.de/ / http://www.myspace.com/vorndranphotography / http://www.facebook.com/blackcatnet)