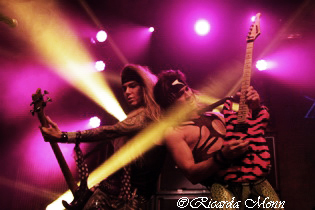 Gibson, Frankfurt am Main, Germany
27th October 2012
Steel Panther & Kobra And The Lotus

This Saturday night was without doubt one of the coldest nights this fall – at least on the outside. Inside the Gibson, a just recently established music club in the heart of Frankfurt/Main, the crowd was warming up for one of the hottest Glam Rock concerts and a wild party. The show already sold out a month in advance, and there must have been around thousand people who were packed in the club and arrived on time to start the first band play. Since it was one of only three tour dates in Germany and also the most southern location, many people had also travelled some distance to get there.



Kobra And The Lotus

Formed in 2009, the Canadian quintet KOBRA AND THE LOTUS plays traditional style of Heavy Metal. They released two albums so far, the latest one 'Kobra And The Lotus' in 2012. After performing on many festivals all over Europe, they joined STEEL PANTHER on their European tour to spread the news about their energetic music. http://www.kobraandthelotus.com/ / http://www.facebook.com/KobraAndTheLotus/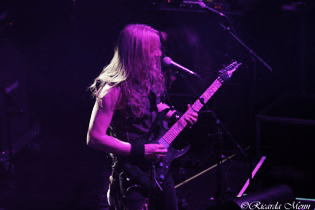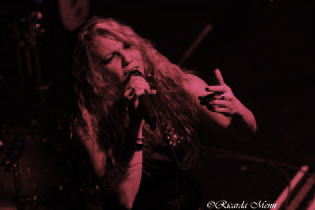 Music & Performance
LOTUS AND THE KOBRA played a very solid and motivated concert, it was obvious that they are ambitious about their music and do not make any compromises. Especially singer KOBRA could convince with her powerful voice, alongside a very energetic and rocking stage presence. Even though they are still relatively unknown, the audience still responded enthusiastically to the band's first performance in this city. During the middle of the 35minutes set, KOBRA even climbed over the photo pit to the front row and shook hands with the people. Songs like 'Welcome To My Funeral' or 'Sanctuary' got the crowd going and consequently, their task was fulfilled. At the end, even a lot of clapping hands could be seen and LOTUS AND THE KOBRA appeared to be very content with their concert.

Setlist
01. Nayana
02. No Rest For The Wicked
03. Welcome To My Funeral
04. Forever One
05. Heaven's Veins
06. Sanctuary
07. My Life
08. Dark Passanger
09. 50 Shades Of Evil

Rating
Music: 8
Performance:8
Sound: 7
Light: 5
Total: 7 / 10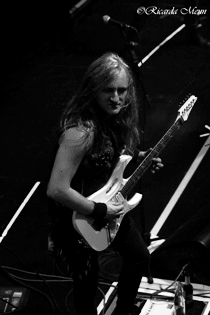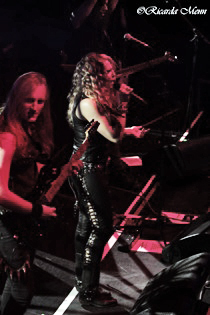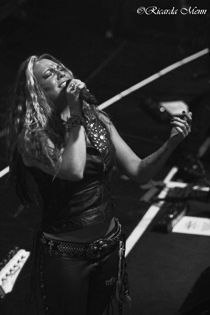 Steel Panther

STEEL PANTHER are a Glam Rock/Heavy Metal band (in their own words: the greatest Heavy Metal band of all times) that was established under this name in 2009. Many members were active in bands during the late 1980s and they started off as a cover band. So far, they released two studio albums and have gained a lot of popularity during the last year. This is also related to their funny lyrics, 80s style Glam Rock and of course their party-like live performances. The band consists of Michael Starr (Vocals), Satchel (Guitar, Vocals), Lexxi Foxxx (Bass, Guitar) and Stix Zadina (Drums). http://www.steelpantherrocks.com / http://www.facebook.com/steelpantherkicksass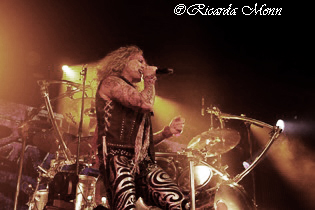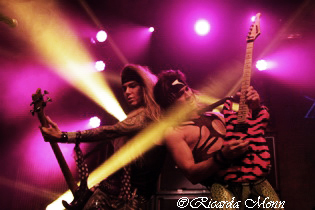 Music & Performance
After a short break for altering the stage, it became very apparent why all attendees came here: STEEL PANTHER. The quartet from the US is known for their entertaining and energetic live performances, and to start with: the audience should not be disappointed at all. Michael Starr, singer and front-man jumped up and down the stage during the whole set of 100 minutes. Even though the band's recent album 'Balls Out' was put on the German index, the band still played a lot of songs from this album, but also from their debut record 'Feel the Steel' (2009). As the band's main concerns are women, sex, parties, drugs and the cliché Rock'n'Roll lifestyle, all announcements and gestures were centred around those topics. The band was also handed a banner with the words "Pizza, Pussy and Cocaine" from the audience.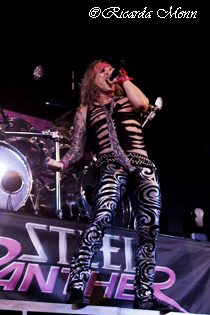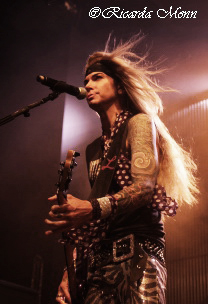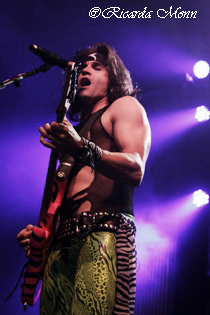 Funnily, STEEL PANTHER also learnt some German vulgar words, which they proudly presented and were raising a lot of laughs with. Furthermore, the band didn't take themselves too seriously – as quotes like "We would play all night but don't know enough songs!" may indicate. In general, they entertained not only with their jokes but of course with their music and at times, one would feel like being back in the 1980s somewhere in Los Angeles. Accordingly, bassist Lexxi had a little beauty-salon with hair-spray and mirrors next to his microphone, the drums were situated on a podium, which also allowed all members to change directions every now and then. Guitarist Satchel performed an extensive guitar solo, in which he also covered the beginning of songs like 'Paradise City' from Guns 'n' Roses and many others like Mötley Crüe, Metallica. This relates to the band's early years as a cover-band and also shows certain technical abilities.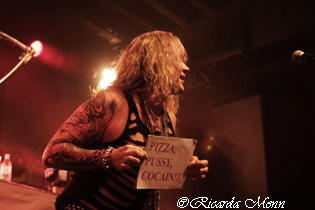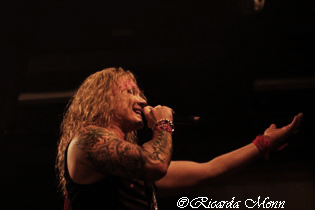 Changes in outfits could as well be witnessed as bras or stockings thrown to the front. During the song 'Party All Day (Fuck All Night)', the band invited several girls to join them on stage. To the pity of the musicians and most male attendants, the girls did not lift their t-shirts, although Michael suspected some men only came to the concert for seeing female breasts. In general, the audience did not entirely consist of Glam Rockers but also normal-looking party-people and stereotype metal-heads. Yet, they all partied together and during the encore, clapping hands and jumping people could be seen until the very last rows of the venue and most of the time, the people could join in on choruses of titles like 'Death To All But Metal' or the last dance '17 Girls in a Row'. There were no boring moments during the show and the time passed rather quickly.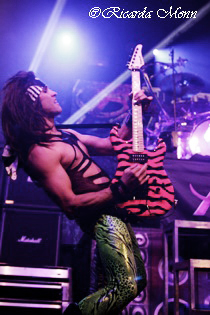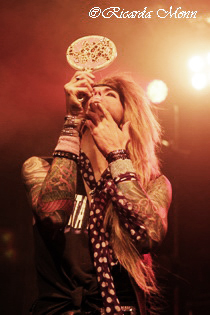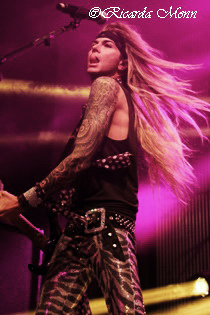 After the last song, the attendees did not want to let STEEL PANTHER go, and they dismissed the people with the following quote: "We had a great time partying, but now let's be responsible. Don't go behind the wheel drunk, take a dose of cocaine beforehand". Morally, the evening was surely dubious, but no one cared. STEEL PANTHER's performance was surely one hell of a party!

Setlist
01. In The Future (Intro)
02. Supersonic Sex Machine
03. Tomorrow Night
04. Fat Girl (Thar She Blows)
05. Asian Hooker
06. Just Like Tiger Woods
07. Let Me Cum In
08. If You Really, Really Love Me
09. Guitar Solo
10. Turn Out The Lights
11. The Shocker
12. It Won't Suck Itself
13. Girl From Oklahoma (Accoustic)
14. Party All Day (Fuck All Night)
15. Death To All But Metal
---
16. Community Property
17. Eyes Of A Panther
18. 17 Girls In A Row

Rating
Music: 9
Performance: 10
Sound: 8
Light: 9
Total: 9 / 10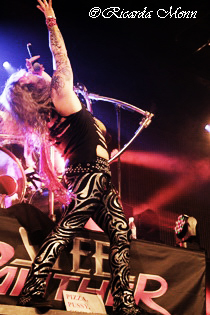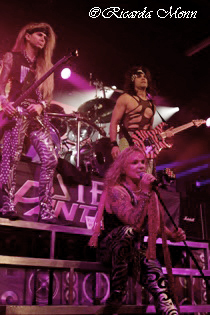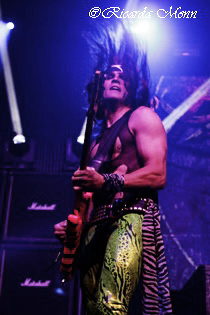 All Pictures by Ricarda Menn