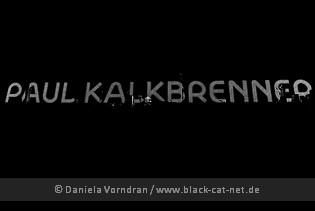 Westfalenhalle I, Dortmund, Germany
2nd February 2013
Paul Kalkbrenner, (Pan-Pot) & Simina Grigoriu

He's one of the most successful Techno DJs in the world and latest since the movie "Berlin Calling", where he was also playing the leading role, he is known also outside the scene. The song to the movie, 'Sky and Sand', was occupying German charts as long as no other song before. Last November, KALKBRENNER released his new album 'Guten Tag' which he now presents on a big live tour where some of the shows are already sold-out.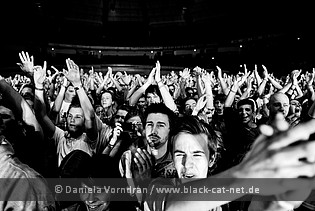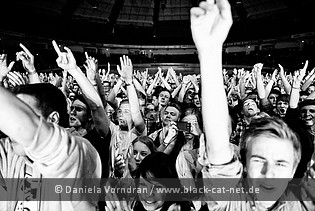 After Luxemburg, the date in Dortmund was the second one of the current tour and many, many people followed the call to celebrate a big techno party. It was freezing cold outside, but this did not keep away people from leaving their jackets in the cars since the event in the hall was promising a heated atmosphere. Doors opened quite early at 5pm. One hour later, the DJ act, SIMINA GRIGORIU, also known as SUSUMU, was opening the party. Simina was born in Romania and later emigrated from her home country to the USA. Today, she's married to Paul Kalkbrenner and lives in Berlin. She released her debut album, 'Exit City', in August 2012. As second DJ act of the evening, the Techno DJ team PAN-POT (mobilee) was announced. https://www.facebook.com/siminagrigoriumusic / https://www.facebook.com/PanPotOfficial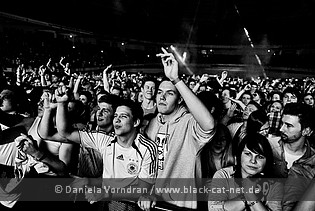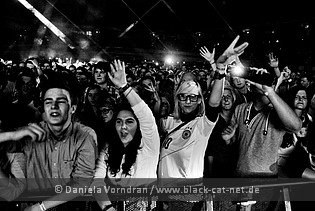 After two DJ acts heating people up for two hours, the crowd was finally ready for the master himself, PAUL KALKBRENNER, who entered the stage at 20:30 to turn the hall into a boiling pot for the next hours. Kalkbrenner was born in Leipzig and grew up in Berlin where he also was musically trained. From playing the trumpet he soon discovered his love for Techno music and turned into this direction, releasing his first EP 'Largesse' under the name Paul dB+ in 1999. His first album 'Superimpose' followed in 2001. Biggest fame in the Techno scene he reached with his 2004 released third album 'Self', where Kalkbrenner used Downbeat and Trance elements. 2008 was his year. He took over the leading role in the movie "Berlin Calling" he also produced the soundtrack for. His final break-through he reached with the song 'Sky and Sand' out of this soundtrack. More than three years after its release, the single climbed up to position 29 of German single charts and also gained international chart success. In May 2012, the song was already in German Top 100 for 108 weeks – record! All in all, the song was present in the charts for 128 weeks.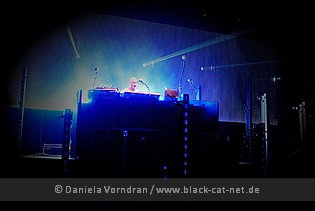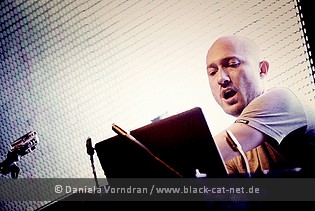 Another highlight in his career were the free concerts he gave in winter 2010/2011 for German soldiers in Afghanistan he was not only praised for but also got a lot of critics for. In 2010, Kalkbrenner left his former label BPitch Control and founded his own label where he later released the new album 'Icke Wieder' in June 2011. It already sold during the first three weeks about 25,000 copies. After three month, it had sold about 100,000 copies and was receiving gold status. His latest album 'Guten Tag' hit the stores in November 2012. Somehow, Kalkbrenner is really a phenomenon and attracts a huge crowd… and this crowd in Dortmund was here to celebrate. And they did from the first second when the curtain in front of the stage was removed, displaying in big letters "Guten Tag Dortmund". Now, three hours of pure party followed, underlined by a great light show illuminating the whole venue.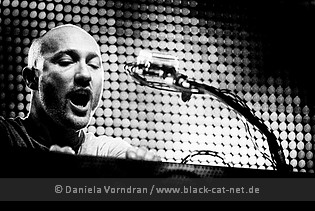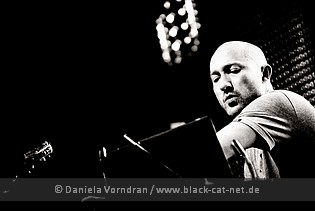 Heavy beats, the impressive stage setting and a raving crowd and Kalkbrenner high up on stage behind his DJ desk… that was all you need for this evening. The music just hits you and goes directly into your ear. Paul was mixing his songs, underlined them with harsh beats and still there were the strong melodies of the songs recognisable. Highlight for most fans of course was his hit 'Sky and Sand' when people totally freaked out. This was really a successful evening for all Techno lovers. http://paulkalkbrenner.net / https://www.facebook.com/paulkalkbrenner

All pictures by Daniela Vorndran (http://www.vorndranphotography.com / http://www.black-cat-net.de/ / http://www.myspace.com/vorndranphotography / http://www.facebook.com/blackcatnet)