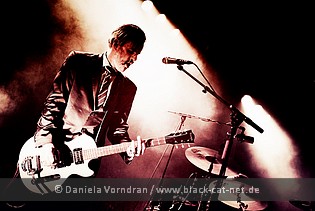 KuFa, Krefeld, Germany
7th February 2013
Triggerfinger & Hong Kong Dong

What rocks a long time finally is rewarded with a number one hit. So it happened to TRIGGERFINGER with their extraordinary cover version of 'I Follow Rivers'. The trio describes its concerts as crazy thunderstorm – and fans lave the band therefore. They love them so much that the venue in Krefeld was totally packed with people not only from Germany, but also from Belgium and the Netherlands. The crowd was eager to celebrate the Antwerp band presenting a mix of Rock, Blues and Rockabilly… sometimes loud and wild, sometimes calm and pure. But before TRIGGERFINGER started their show, there were HONG KONG DONG opening the evening.



Hong Kong Dong

HONG KONG DONG is a quite new band heading from Belgium. So far, they only released one album, 'Sweet Sensations', in May 2012. The band centers around the brother and sister duo Sarah Yu (vocals, bass, keys) and Boris Zeebroek (vocals, keys) who started performing in 2008. Later on, guitar player Geoffrey Burton joined the band. He's a veteran of Belgium rock scene and infused the songs with his trademark jagged riffs. First as trio, the band soon started touring, i.e. as support for Belgium dEUS. Last year, the band released a first EP, 'Lesbians are a boy's best friend', before finally the debut album followed. The band's line-up currently is completed by drummer Lennert Jacobs. http://www.hongkongdongmusic.com / https://www.facebook.com/hongkongdongmusic / http://www.myspace.com/thehongkongdong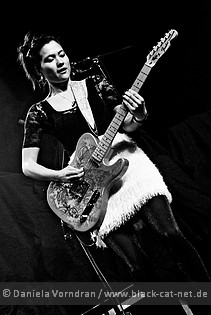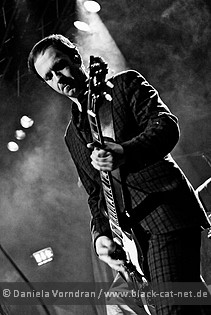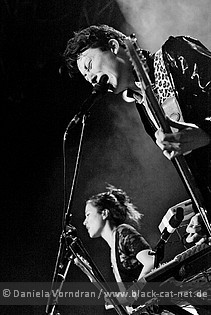 Music & Performance
The band's biography promises big when it comes to music and show of HONG KONG DONG. What it says about the music itself, is true, it combines sugary melodies with bursts of avant-garde rock. The song shave electronic grooves, absurd lyrics, addictive hooks and some deadpan absurdity. All those ingredients for their cheery and weirdly danceable electro pop sound promising. But in fact, most people did not know what to think of the band when they were done. Sometimes the songs were just too weird. When Sarah Yu came for the second last song with a green veil onto stage, then jumped down the stage to enter the audience area, people mostly laughed about that performance and were shaking heads. First thought was you probably need to smoke something to understand that kind of music and performance, including robot moves and wild contortions. When they finished after 40 minutes, the applause was quite reluctant. I thank most people had the same feeling as me: strange music, but it had its moments…

Setlist
01. Dirty
02. Yoko oh no
03. Sweet sensations
04. The fear
05. Lesbians are a boys best friend
06. Controversy (prince)
07. Berlin
08. I am the wind
09. Postcard

Rating
Music: 6
Performance: 7
Sound: 6
Light: 7
Total: 6.5 / 10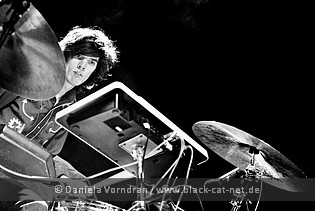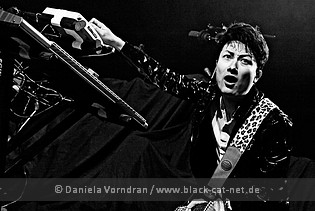 Triggerfinger

Belgium band TRIGGERFINGER was founded 1998, playing as cover band in various clubs and bars in Antwerp/ Belgium. The debut album 'Triggerfinger' was released 2004, followed by 'What Grabs Ya?' in 2008. Following the release were several festival appearances, i.e. at Pinkpop, Rock Werchter or Rheinkultur festival. Third and latest studio album was 'All This Dancin' Around', released in 2010. Afterwards followed two live albums. The biggest success of TRIGGERFINGER so far was their unplugged cover version of LYKKE LI's song 'I follow Rivers', which madeit to position one in Dutch and Flemish charts and also entered German Charts. In spring 2012, the band was also playing big arenas when opening for THE BOSS HOSS. A tour in late 2012 followed and now they are back in Germany again for some more exciting live action. TRIGGERFINGER is Ruben Block (vocals & guitar), Mario Goossens (drums) and Paul Van Bruystegem (bass). http://www.triggerfinger.net / https://www.facebook.com/triggerfingerpage / http://www.myspace.com/triggerfingertheshooters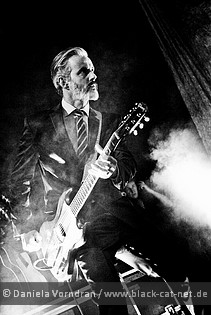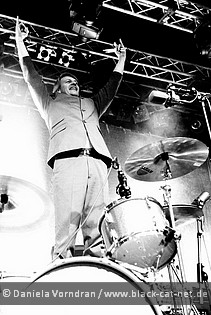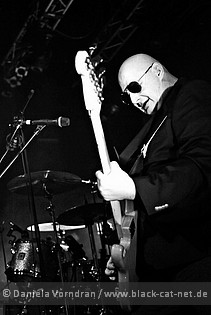 Music & Performance
Belgium TRIGGERFINGER proves that their home country has much more to offer than good beer, fries and fantastic chocolate. With their Stoner Rock and exciting live performances, they won the hearts of their fans. But it took a while – about 45 minutes – until the trio finally entered the stage where a bug golden backdrop was hung up and the drum set was prominently placed in front. So far, I only saw TRIGGERFINGER once, as support for THE BOSS HOSS. And their intriguing live show impressed me that much that I had to come to one of their headliner shows. And also in Krefeld I was not disappointed at all, the band is a real live burner! Like during previous shows, the band started with 'I'm Coming For You' from the current album. And if you thought the band would start calm and turn up in the course of the set, you were wrong. There was no holding back from the very first second, just as you are used from that band, always dressed up elegantly in dark suits. During the evening, of course the clothes soon were sweat-soaked and the haircut of Ruben was a bit tousled. Bassist Paul was giving the cool man with his sun glasses while in the centre of stage, Mario was acting wildly behind his drum set, currently standing up to push the audience further.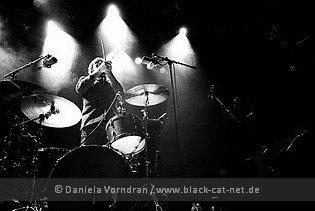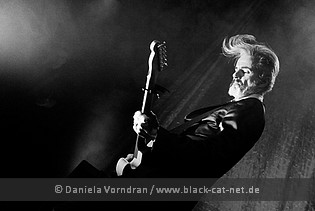 'Short Term Memory Love' from the 'What Grabs Ya?' album first started a bit calmer, but then, the song burst in with full force, making people scream and jump. The song was indeed allover cool and absolutely sweeping. The band was already sweating when Rubes asked "Are you in the mood for a riding song?" You guess the answer? Right, the audience was and celebrated to 'Let It Ride'. Great was also the following hypnotic 'My Baby got a Gun' or the rousing 'Camaro' from the debut album. In the middle of those two songs, the mood was a bit cooled down with calmer 50s song 'All Night Long', originally by Aretha Franklin, when Ruben grabbed an old-fashioned guitar. 'Camaro' was followed by straight and rocking 'All This Dancin' Around', leading into a drum solo where Mario had its time and both other band members had time to take a breath. But for 'First Taste' rocking maniac Ruben was back on stage making the audience scream. Last song of the main set was 'Is it' where people loudly were singing along. The trio received huge applause for their show. And they really deserved it! The encore bloc started with 'Feed me' and then had two cover versions in stock. First there was the band's number one hit 'I Follow Rivers' and secondly, the audience got the RIHANNA cover 'Man Down'.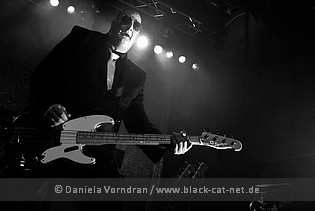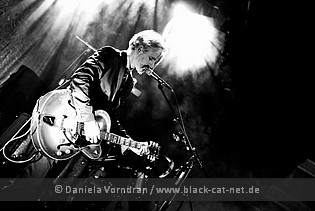 TRIGGERFINGER presented a perfect show in Krefeld (even though the bass was sometimes a little too loud) and showed a lot joy in playing on stage. They were behaving as cool Rock'n'Rollers, caring for a perfect evening for the audience.

Setlist
01. I'm Coming For You
02. On My Knees
03. Short Term Memory Love
04. Cherry
05. Let It Ride
06. My Baby's Got A Gun
07. All Night Long
08. Camaro
09. All This Dancin' Around (followed by Drum Solo)
10. First Taste
11. Is It
---
12. Feed Me
13. I Follow Rivers (Lykke Li cover)
14. Man Down (Rihanna cover)

Rating
Music: 9
Performance: 10
Sound: 7
Light: 9
Total: 9 / 10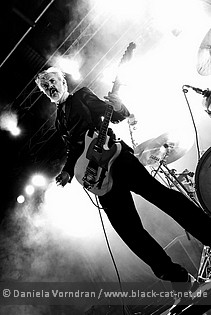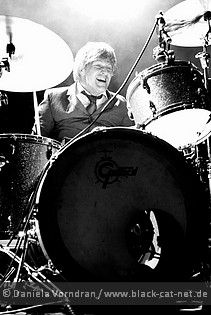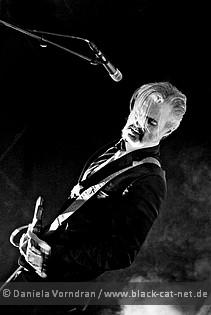 All pictures by Daniela Vorndran (http://www.vorndranphotography.com / http://www.black-cat-net.de/ / http://www.myspace.com/vorndranphotography / http://www.facebook.com/blackcatnet)