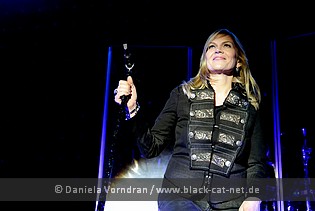 FZW - Freizeitzentrum West, Dortmund, Germany
15th May 2013
Silly & Ryan Sheridan

Earlier than expected, Berlin Rock band SILLY had announced their new album 'Kopf an Kopf'. In the course of the album release, also a tour through Germany is planned, starting on 12th May in Cologne. Three days later, the band visited the FZW in DORTMUND, supported by RYAN SHERIDAN. Until end of August, the band will give more shows in Germany, club shows as well as open airs.



Ryan Sheridan

Irish musician RYAN SHERIDAN did enter the music scene not so long ago. His fine debut album 'The Day You Live Forever' was originally released in 2011, entering the Irish national charts at position two. In April 2013, the album was also released in Germany. The artists made quite a success story in his home country, he has travelled from playing on streets of Dublin to jockeying for the top slot with Adele and Lady Gaga in less than twelve months. In his youth, he was playing in pubs, later in 2004, he formed a rock band and started to work the Scottish circuit. From Glasgow, he relocated with the group to Dublin in 2006. But soon, he took two year hiatus from music, running a bar in his home town. However, in 2009 he started making music again together with Polish percussionist Artur Graczyk. Soon, he was spotted by his current management, playing some showcases and finally signed a record deal with Rubyworks label in Summer 2010. Since that time, he was constantly touring and now finally he's playing some support shows for SILLY. On May 4 2013, Ryan Sheridan announced that Cajon player Artur Graczyk had decided to leave the band. Currently, he tours with drummer Jimmy Rainsford. http://www.ryansheridanmusic.com / https://www.facebook.com/RyanSheridanMusic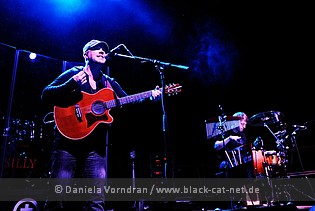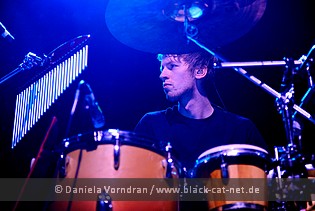 Music & Performance
Ryan Sheridan entered the stage together with the support of his drummer Jimmy, armed with just an acoustic guitar, to start the set with 'Stand up tall'. Supported by great sound and blue lights, he caught the audience in the first moment. His impressive guitar play and fantastic voice did the rest. There was not much time to introduce his songs, just 30 minutes for six songs. Jimmy left the stage when the time had some for 'Without you / Fight for Life' that was presented by Ryan on guitar alone. And with this performance, he got the most applause so far. After Jimmy returned to stage, Ryan announced the next song: "If you know this song, sing along. If not, do it anyway!". And well, most people knew the next song, the WHITE STRIPES' famous hit 'Seven Nation Army', and loudly sang along. Last song 'Jigsaw' is the original Billy Farrell recording and was presented as last song with a fantastic drum and guitar solo. More than just friendly applause rewarded the artist after his set.

Setlist
01. Stand up tall
02. Take it all back
03. The Dreamer
04. Without you / Fight for Life
05. Seven Nation Army (The White Stripes Cover)
06. Jigsaw

Rating
Music: 9
Performance: 8
Sound: 9
Light: 8
Total: 8.5 / 10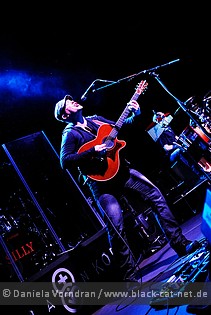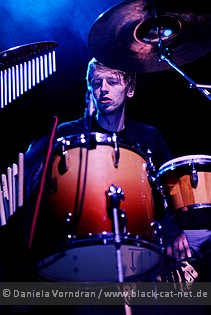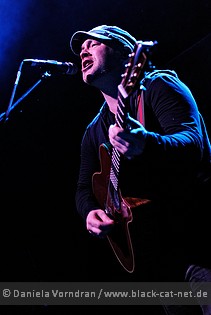 Silly

Three years after the release of the first collaborative SILLY album, 'Alles Rot' in March 2010, with singer Anna Loos, the band now released their new album 'Kopf an Kopf'. SILLY's history reached back to the late seventies in the former GDR. Their record debut first was only released in West Germany. One year later, in 1981, also in East Germany a LP was released. Already the second album, 'Mont Klamott' in 1983, marked the unique band sound. All following albums are mega sellers. The successful chapter SILLY ends dramatically in summer 1996 when singer and heart of the band, Tamara Danz, died from cancer with an age of only 43. In 2005, the band started playing live again, first only with guest singers, and later with Anna Loos.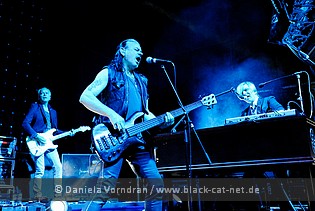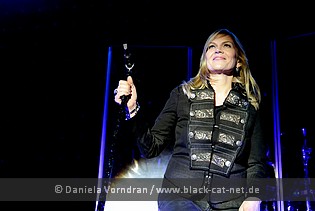 The actress is also a great singer and so, a long-time collaboration started. With 'Alles Rot', the first album with her as singer was released in 2010 after 14 years without a new album. Three years later, 'Kopf an Kopf' followed. 'Alles Rot' sold several hundred thousand copies followed by sold-out tours. The album was rewarded with platinum in 2011. 'Kopf an Kopf' was released on 22nd March 2013 as digital version, as standard CD, vinyl and as deluxe edition. SILLY is Anna Loos (vocals) , Ritchie Barton (keyboard) , Uwe Hassbecker (guitar) and Jäcki Reznicek (bass). Live, the band is supported by Mr. Petereit, Daniel Hassbecker and Ronny Dehn. http://www.silly.de / https://www.facebook.com/Silly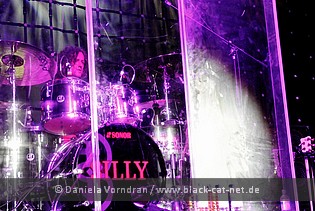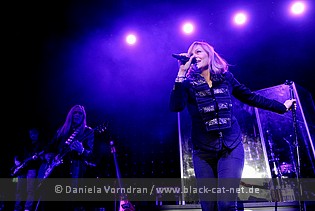 Music & Performance
You know the voice from TV, Anna Loos, who is famous for such movies as 'Nacht über Berlin'. Today, she did not convince as actress, but impresses as singer and charismatic front woman. She is in fact the eye catcher of the show when she dances across the stage in her tight outfit and shakes her hips. But also the rest of the band delivered a great job right from the first song, 'Verkehrte Welt' from the new album 'Kopf an Kopf'. The sound in the venue was crystal clear from the beginning, well balanced and bombastic. The bands great stage presence was not only supported by fantastic sound, but also by a fine light show with a LED curtain in the back and strip lights in front. Anna as main actor on stage was constantly illuminated by a bright spot light. The set was a good mix of calmer balladry tracks and rockier tunes. Especially amazing was when Uwe Hassbecker changed from electric guitar to an acoustic one, or to violin and Bouzouki.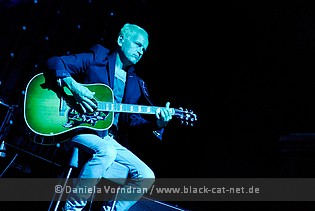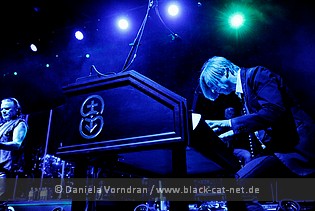 Remembering the album 'Alles Rot', the song 'Erinnert' was completely illuminated in red. During the whole set, Anna had a close touch to the audience. She often told stories along with the songs, explaining them a little. 'Wo fang ich an' saw the whole audience singing along. And even though the mood was quite good, it were the best known songs to get the people really going. The band, consisting of extraordinary musicians, was in best mood and visible had fun on stage. At the end, the audience demanded several encores, showing, that they loved the concert a lot. I am sure SILLY has some new fans after this concert. And when people left the FZW, they took a lot of good memories with them.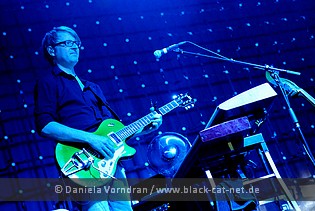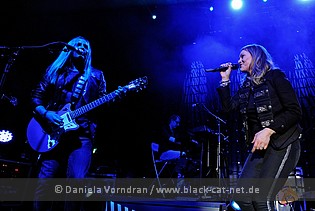 Setlist
01. Intro
02. Verkehrte Welt
03. Lotos
04. Blinder Passagier
05. Erinnert
06. Wo fang ich an
07. Die Welt wird hell sein
08. Asyl im Paradies
09. Vaterland
10. Blutsgeschwister
11. Bye bye / Traumpaar / Wo bist Du (akustisch)
12. Kopf an Kopf
13. Mont Klamott
14. Dein Atlantis
15. Ich sag nicht Ja
16. Deine Stärken
17. Deine Stimme
---
18. Purple Haze (Jimi Hendrix cover) (Instrumental)
19. Alles rot
---
20. Batallion d'Amour
21. Leg mich fest
---
22. Ohne Dich

Rating
Music: 8
Performance: 8
Sound: 9
Light: 9
Total: 8.5 / 10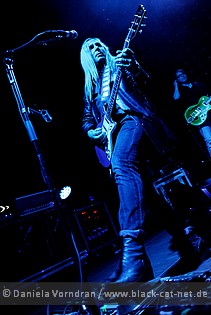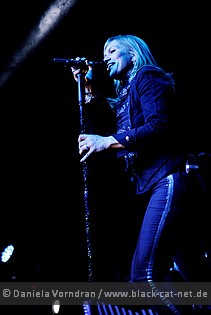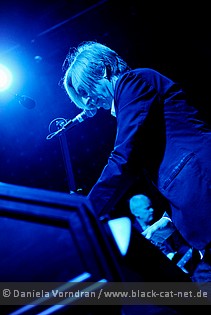 All pictures by Daniela Vorndran (http://www.vorndranphotography.com / http://www.black-cat-net.de/ / http://www.myspace.com/vorndranphotography / http://www.facebook.com/blackcatnet)