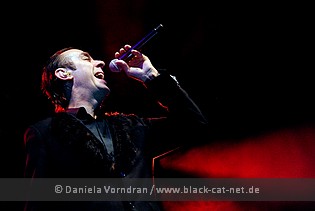 Christuskirche, Bochum, Germany
22nd May 2013
Peter Murphy & The Arch

Seeing PETER MURPHY performing only BAUHAUS material at a church - I just couldn't say no to the offer just as a plethora of other people couldn't. The queue in front of the venue proved that just too clear...



The Arch

THE ARCH from Belgium started as early as 1986. Their first ever musical contribution was to the 'Expo 87' compilation, released on Body Records, followed by a string of albums to more or less acclaim. In 2011 they've joined the ranks of German label Echozone for the release of their next album 'Engine in Void'. Their most recent release, being 'Beating The Balance' was just put out at the beginning of May. THE ARCH consists of CUVG (vocals), Ian Lambert (synths), Ivan DC (guitar), Mr. Pierre (guitar), Miss Chiffon (backing vocals) and JDSUB/Gijs (mixing). http://www.thearch.be / https://www.facebook.com/thearchband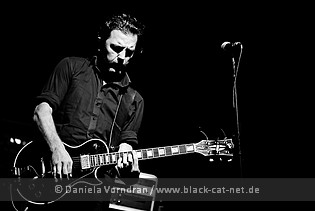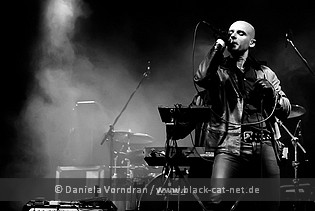 Music & Performance
So first off were THE ARCH who when starting their show were catching quite a lot of people off-guard. They were committed to the electronic side of Goth or Post Punk which wouldn't have been a problem in itself if it weren't for the booming bass that sucked in every other sound and thus covered everything. Too bad considering the music itself actually had a good vibe to it and a proper sound would've made for a much better experience than we had. Anyways, the band was pretty passionate about their performance given the constraints of the stage. That usually crosses over to the audience faster than it did that evening. But the crowd gradually grew into it, more and more people started nodding, and the farther their set progress the more applause they received.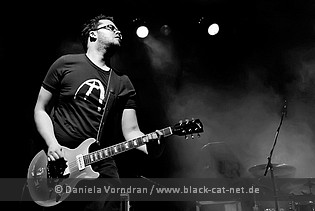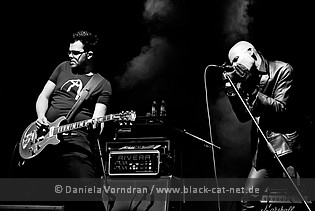 Setlist
01. Solipsism
02. No Noise
03. Wait
04. Individuals
05. Let It Beat Us
06. Body 'N Angels
07. Seminary
08. Skinny Meadows
09. Babsi ist Tot
10. Ribdancer

Rating
Music: 7
Performance: 7
Sound: 6
Light: 6
Total: 6.7 / 10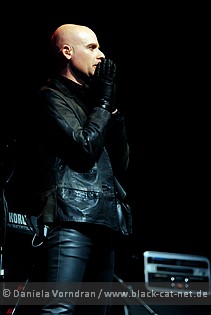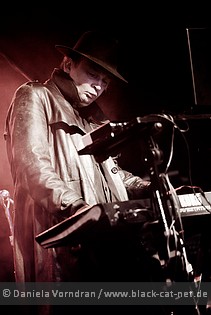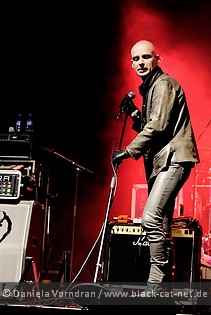 Peter Murphy

PETER MURPHY, often called the Godfather of Goth with prominent cheekbones, baritone voice and gloomy poetics as his trademarks, is mostly known as lead singer of BAUHAUS. But he also released several solo albums, 'Ninth' being the latest one released in 2011. His solo work is more varied than the BAUHAUS one was, reaching from pseudo-pop to haunting ballads that showcased his deep and complex vocals. After converting to Islam and moving to Turkey, also some oriental influences can be heard in his music. Besides Peter Murphy (vocals, guitar), the live band consists of Mark Thwaite (ex-THE MISSION and TRICKY - guitar), Nick Lucero (drums) and Jeff Schartoff (bass, violin). http://www.petermurphy.info/ / https://www.facebook.com/petermurphyinfo / http://www.myspace.com/officialpetermurphyspace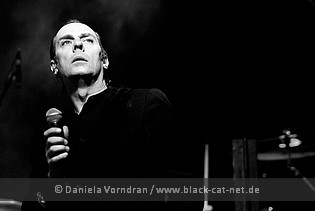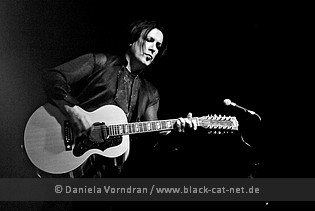 Music & Performance
During the stage preparations were still in full progress, a crew member was taking over the microphone for a special statement: Murphy is currently working on a new album and we all had the honour to listen to a few excerpts before the show was going to start. A great introduction indeed before the very special moment came once the preparations were all completed and the band and the master himself walked on stage to tremendous applause. The situation had changed completely all of a sudden. The main corridor in the middle now was awfully more crowded than before. There was tension everywhere with everybody just waiting for the first sound to cross over. Just to raise it just a little bit more meant to announce a few acoustic sneak peeks into the upcoming new album, entitled 'Lion' before the real show began with the forlorn soundscapes of 'King Volcano' coming through.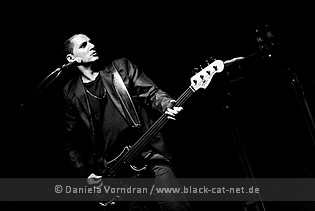 Being surrounded by such great musicians it is still his presence that intrigues the most. It's something you can't really grasp: Some artists just have that kind of aura. So, that brings us to 'Kingdom's Coming', suspending you in a strange land until you have the shredding martyr that lies within 'Double Dare', where Post-Punk is in the limelight and where people don't hold back their excitement any longer. The sheer ferocity with which a drummer can act made 'In The Flat Field' a mark in the setlist. To play that longer than a few minutes must take every ounce of concentration, and it was thrilling to watch the sticks just fly around. By now we just noticed that on across everyone had long stood up from their seats while most of the people on our side were still sitting - a strange picture, especially given such endearing affairs as 'Boys' and 'Silent Hedges'. Well, maybe it takes something like 'Bela Lugosi's Dead' to get them all up on their feet.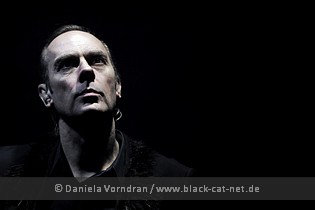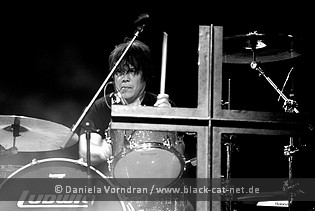 It did help, but not with everyone. That wouldn't be the goal anyway I suppose. It is just to say that everyone's excitement was at a peak at this time and would remain so until the very end of the show. So if you get the slightest chance of seeing PETER MURPHY at a location like that, don't miss it for the world.

Setlist
01. King Volcano (Bauhaus song)
02. Kingdom's Coming (Bauhaus song)
03. Double Dare (Bauhaus song)
04. In The Flat Field (Bauhaus song)
05. God In An Alcove (Bauhaus song)
06. Boys (Bauhaus song)
07. Silent Hedges (Bauhaus song)
08. Kick In The Eye (Bauhaus song)
09. Too Much 21st Century (Bauhaus song)
10. All We Ever Wanted Was Everything (Bauhaus song)
11. A Strange Kind Of Love (Peter Murphy song - With "Bela Lugosi's Dead" snippet)
12. Bela Lugosi's Dead (Bauhaus song)
13. The Passion Of Lovers (Bauhaus song)
14. She's In Parties (Bauhaus song)
15. Stigmata Martyr (Bauhaus song)
16. Dark Entries (Bauhaus song)
17. Severance (Dead Can Dance cover)
---
18. Marlene Dietrich's Favourite Poem (Peter Murphy song)
19. Hollow Hills (Bauhaus song)
20. Telegram Sam (T. Rex cover)
21. Ziggy Stardust (David Bowie cover)
---
Possible choices for the encores:
possibly and/or Burning from the Inside (Bauhaus song)
possibly and/or Spirit (Bauhaus song - single version)
possibly and/or Subway (Peter Murphy song)

Rating
Music: 9
Performance: 9
Sound 9:
Light: 8
Total: 8.9 / 10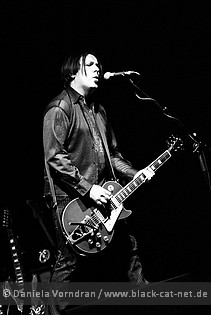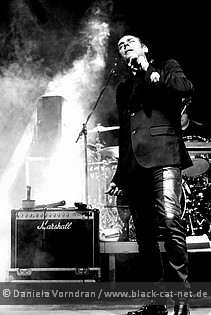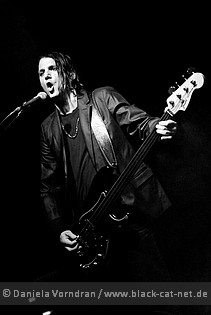 All pictures by Daniela Vorndran (http://www.vorndranphotography.com / http://www.black-cat-net.de/ / http://www.myspace.com/vorndranphotography / http://www.facebook.com/blackcatnet)