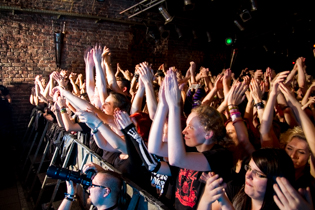 Matrix, Bochum, Germany
27th September 2013
Samsas Traum & Vic Anselmo

As promised at the Blackfield Festival this summer, SAMSAS TRAUM presented the fans on this weekend (Friday and Saturday) long setlists and several special guest appearances in the Matrix Bochum.



Vic Anselmo

The Friday evening was opened with an acoustic concert of the wonderful and very talented artist VIC ANSELMO. She entered the stage in a beautiful red dress and a lovely necklace. Her amazing voice was accompanied with her skilful play at the keyboard piano. If you had already the chance to see her perform you know that she likes to vary her piano play as well as giving the songs a different listening experience by her voice. Although it was quite obvious that most of the audience came to see SAMSAS TRAUM and thus were not so attentive, but chatting around, lots of people took a shine to the performance of VIC ANSELMO and felt quite disturbed by the noise their surrounding made.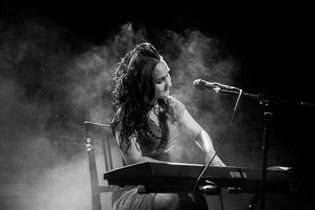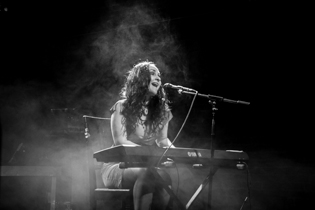 So you could hear every now and then some people trying to hush the others. You could also hear some of them saying that they found Vic's voice impressing. In any case she got a lot of applause after each song and she even made it to invite the audience to sing a song line with her at 'I am the one'. http://vicanselmo.com / https://www.facebook.com/vicanselmomusic

Setlist
01. Who
02. Open wide
03. Horizon
04. Bone's Blues
05.Wellspring
06. I am the one
07. Basilisk's eyes

Rating
Music: 7
Performance: 7
Sound: 7
Light: 5
Total: 6.8 / 10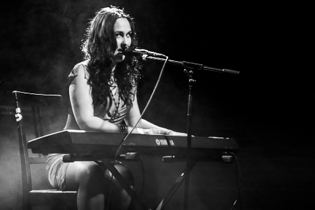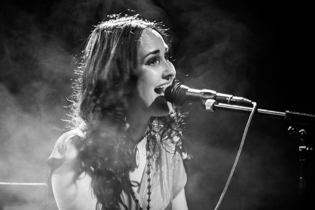 Samsas Traum

On this evening the concert was not sold-out but approximately 550 fans filled the venue. Personally I was almost glad that there weren't more people as the temperature rose quickly during the show. The stage was dark and a Russian hymn was played as intro, while one after the other of the musicians appeared on stage, took their places and with Alex entering the stage the lights turned on and the show began. Alexander greeted the crowd insisting to admonish them being too loud during the performance of VIC ANSELMO. Already at the first song they had to stop as once again the drummer had some problems with the metronome. As this happened at the Blackfield Festival a couple of months ago, it was now called 'The curse of the Blackfield Festival' by Alexander Kaschte.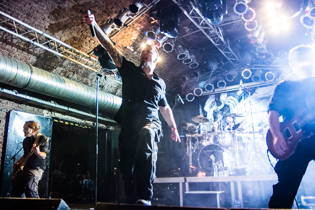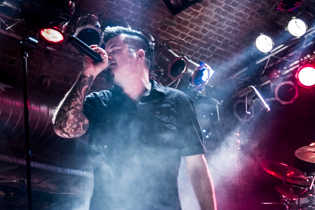 But once again he made a show effect of it, asked the audience to pretend that they have just entered the stage and give them a big applause. And so it went. During the first three songs his vocals were not at their best but his singing approved during the concert and a bit later we learnt the reason for it was his cold. Although Alexander was definitely in a jovial mood he couldn't suppress his provocative side as well, which is so him. During the concert he gave away a lot of T-shirts. The first one to a young lady with his comment that she ought to exchange it with her ugly white rag she was actually wearing. The next T-shirts were given away after he used them as a towel to wipe away his sweat and if this was not abhorrent enough he used one to blow his nose and the other to spit on it. Well, what shall I say? There were still enough fans who wanted to have a T-shirt used that way. But Alexander himself wondered about it, too.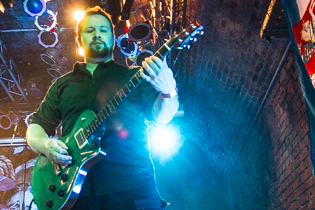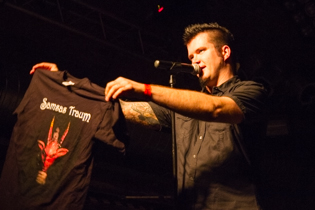 He asked the crowd if they also want to have some vodka and told the story that he once was so drunk during his concert in Cologne that he fell off the stage. While preparing several rounds of vodka, diverse soli by Jochen Interthal (guitar), Gerrit Wolf (bass) and Michael "Cain" Beck (drums) were played. Alex asked Jochen to play a MEGADETH solo for him as he likes this band and hates, as we learnt, METALLICA. For 'Niemand, niemand anderem als dir' (No one, no one else but you) VIC ANSELMO appeared again on stage to sing the duet with him. Unfortunately the microphones were too low and so the song was dominated by the drums, which was really a pity. During the whole set he was chatty and entertaining, always communicating a lot with his fans while he showed much pathos and enthusiasm when performing his songs. After 'Stromausfall im Herzspital' the crowd was singing 'Ich wünsch mir das Zebra schweigt' all alone. I could go on telling much more little stories about the things happening during this concert but it would take quite a long time.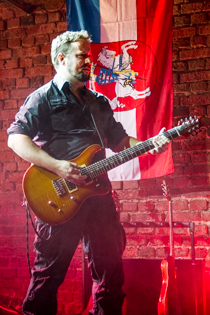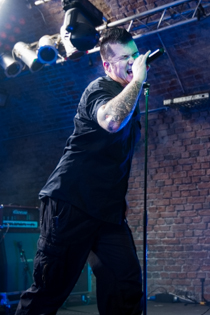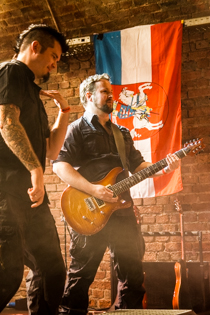 For the encore the fans were singing loudly 'Ohne Kugel gehen wir nicht ins Bett' (Without the bullet we won't go to bed) which means they wanted to hear the song 'Kugel im Gesicht' (Bullet in the face) and they got their "bullet". While the music on his albums is more like a Rock Opera/ Symphony SAMSAS TRAUM concerts are Rock/ Metal performances, giving the songs a different kind of energy but in a good sense. Despite his ambivalent attitude towards his fans by often showing a lot of disrespect and rudeness, Alexander Kaschte is definitely a great entertainer with his performance, as well as with the interaction with his audience. And without being a fan or appreciating everything he is doing, I have to say that I always enjoy his concerts. As I learnt later the concert on the next day was, with 850 guests, sold out. They had a different setlist. In the beginning there was an acoustic set and some former members of the band joined the stage for the concert as there were Daniel Schröder (bass clarinet) and Michael Puchala (guitar). https://www.facebook.com/AlexanderKaschte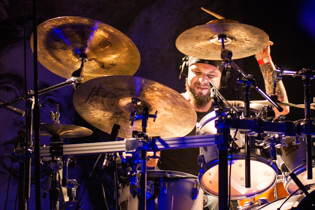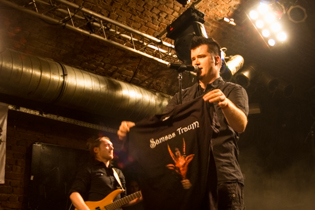 Setlist
01.Intro / Betet für mich
02. Für immer
03. Ich sehe die Sterne bei Tag
04. F.M.N.F.
05. Auf den Spiralnebeln
06. Ein Name in Kristall
07. Durch die Wand der Träume
08. Niemand, niemand anderem als dir
09. Stromausfall im Herzspital
10. A- wie Antarktika
11. Endstation Eden
12. Schenk mir deine Flügel
13. Im Zeichen des Wurms
14. Heiliges Herz
15. Die Zärtlichkeit der Verdammten
16. Ein Foetus wie du
---
17. Kugel im Gesicht

Rating
Music: 9
Performance: 9
Sound: 9
Light: 8
Total: 9 / 10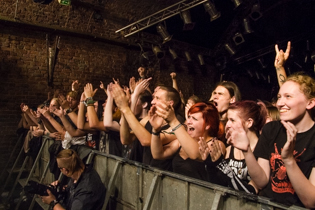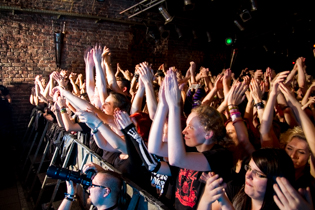 Full Gallery


Warning: No images in specified directory. Please check the directoy!

Debug: specified directory - https://www.reflectionsofdarkness.com/images/concert/2013/september/samsastraum20130927
All pictures by Matthias Irrgang (
http://www.mindbreed.de/
)