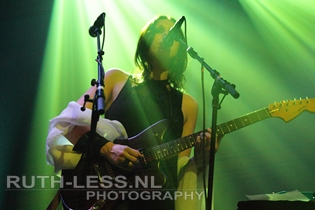 Tivoli de Helling, Utrecht, The Netherlands
1st November 2013
Russian Circles & Chelsea Wolfe

The world is getting a little darker this evening with two super melancholic bands on stage at Tivoli de Helling. The venue was sold out, something many apparently did not expect, judging by the people outside who couldn't get a ticket. Let's see if CHELSEA WOLFE and RUSSIAN CIRCLES can live up to expectations!



Chelsea Wolfe

CHELSEA WOLFE is an American singer-songwriter from Sacramento, California, currently based in Los Angeles. She is known for her "specific brand of drone-metal-art-folk", characterized by experimental guitar playing, hazy vocals, and surreal soundscapes. Her debut album 'The Grime and The Glow' was released in 2010, followed by 'Apokalypsis' in 2011. In 2012, Wolfe released 'Unknown Rooms: A Collection of Acoustic Songs', which featured a more folk-oriented sound as opposed to her earlier work, which had been heavily cantered around droning guitars and distortion. CHELSEA WOLFE's fourth studio album 'Pain is Beauty' was released this fall. CHELSEA WOLFE is supported by her band consisting of Ben Chisholm (synth/bass), Kevin Dockter (guitar), Dylan Fujioka (drums). www.chelseawolfe.net / www.facebook.com/cchelseawwolfe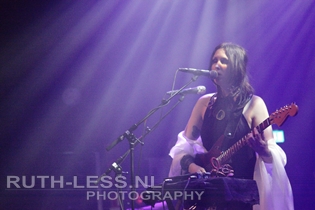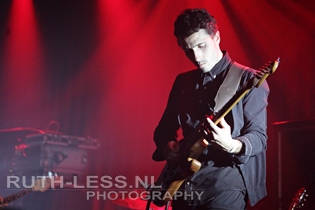 Music & Performance
Starting out on a dimly lit stage, CHELSEA WOLFE starts with 'Feral Love' from her latest album 'Pain is Beauty'. Dressed in a long black dress with a white cape / cloth wrapped around her, she looks like a ghost. A ghost blessed with a hypnotizing voice that is. The band carries her voice in an excellent way with slow drums and dragging guitars and a constant background noise on tape. We head back to the past with 'Mer' and 'Tracks' from her 2011 album 'Apokalypsis'. Hidden behind two microphones and a sound panel, CHELSEA WOLFE seems to be hardly aware of, or simply ignoring, the crowded venue in front of her. This also applies to her musicians, who are intensively focused on their instruments, apart from a hazy look into the distance every now and then. Little details and added sounds like the drummer scratching his cymbals with his sticks, are what makes this performance interesting and keeps one focused on the layers of sound in each song. At some point the constant excessive reverb on her microphones started to annoy me a little as it pours a very distinctive sauce over the music that makes it all sound somewhat the same.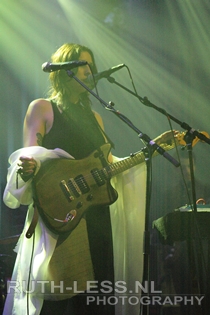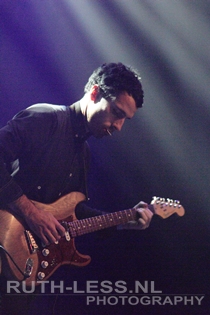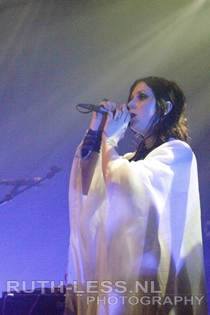 With 'Destruction makes the world burn brighter' at last we get into a more up-tempo song and the crowd subtly starts rocking back and forth (for your visualization: like a group of zombies). And then we slide back into dark and desolate atmospheres with 'Moses'. CHELSEA WOLFE excels in what she does, but just a subtle smile or few words for the audience would've been nice.

Setlist (incomplete)
Feral Love
We Hit A Wall
Mer
Tracks (Tall Bodies)
Reins
House of Metal
Sick
Kings
Destruction Makes the World Burn Brighter
Moses
Lone

Rating
Music: 7
Performance: 6
Sound: 7
Light: 3
Total: 5.7 / 10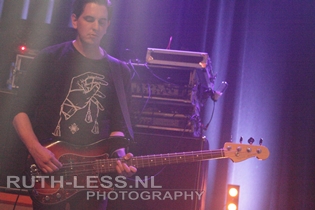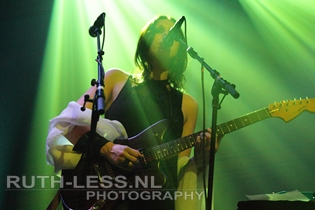 Russian Circles

RUSSIAN CIRCLES is a three piece instrumental rock/metal band from Chicago. Their name is taken from a drill exercise used in the game of ice hockey. RUSSIAN CIRCLES play instrumental music which "runs the gamut of heavy discordant metal, to soft delicate passages". Mostly headlining now, in their earlier days they toured with amongst others BORIS, ISIS, RED SPAROWED, COHEED & CAMBRIA and PELICAN. They were also the opening band for TOOL while playing their first tour in the United Kingdom in 2007. Thus far, the band has released five studio albums, the latest being released last month called 'Memorial'. RUSSIAN CIRCLES are Dave Turncrantz (Drums), Mike Sullivan (guitar), Brian Cook (bass). www.russiancirclesband.com / www.facebook.com/russiancirclesmusic

Music & Performance
Starting out on a basically dark stage, RUSSIAN CIRCLES take off with some older material from the albums 'Empros' and 'Station' and it becomes clear that the venue is filled with fans as cheers from excitement arise from the crowd. Continuing with '1777' from the newest album, it becomes clear that Dave, Mike and Brian have mastered building a sophisticated melancholic sound, that reminded me somewhat of the new work of PALMS with Chino from DEFTONES and several former ISIS members. The layers of sound are carefully building up during this song, which turns from melancholic to more and more sinister towards the end.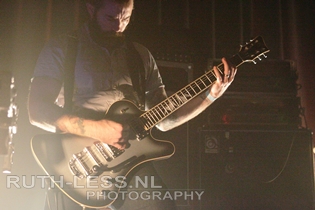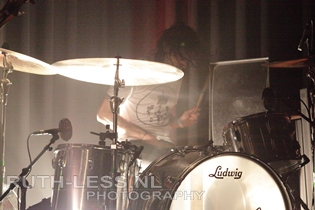 Tension is building up even further with heavy bass and drums with 'Geneva' and for a moment I'm almost forgetting to look out for any light being turned on so I can take a shot or two. With 'Carpe' RUSSIAN CIRCLES take a step way back to their first full-length album. Between the songs, I seem to be the only one bothered by the complete lack of interaction with the audience (for me one of the basic necessary ingredients of visiting a live show). Interaction between the band members themselves is also limited to a minimum. After a short break, the men return for two more songs, starting with their recent collaboration with CHELSEA WOLFE; the beautiful song 'Memorial'. My photography heart made a little jump…perhaps some light as well then? After the first tones I realize however that it is simply naïve to think that somewhere during the show the light technician would wake up and start doing something. Three "dynamic" floor lights that are turned off and on every now and then and one constant light bulb are just not going to cut it for a proper stage photo. So to be conclusive: crap light, great music!

Setlist
01. 309
02. Harper Lewis
03. 1777
04. Geneva
05. Schiphol
06. Deficit
07. Carpe
08. Mlàdek
09. Memorial (with Chelsea Wolfe)
10. Youngblood

Rating
Music: 8
Performance: 5
Sound: 7
Light: 2
Total: 5.5 / 10

All pics by Ruth Mampuys (www.ruth-less.nl)