Matrix, Bochum, Germany
8th November 2013
Solitary Experiments "Tour De Phenomena 2013" & Support: Enter and Fall

In the course of their current "Tour de Phenomena", SOLITARY EXPERIMENTS stopped also in Bochum, where they played at the "Empire of Darkness Live Edition". Playing at this event means only five euros entrance fee and a late beginning. The queue at 9:30 was long and people eager to see the show. Just fifteen minutes after opening, support act ENTER AND FALL already entered the stage.



Enter and Fall

ENTER AND FALL were founded 2008 by von Daniel Diaz Gonzalez und David Goldammer. Due to their powerful sound, readers of Sonic Seducer magazine voted them as most-promising newcomer in 2010 and pushed them to position one of the "Battle of the Bands" contest. In 2012, the band released their debut album 'Push Enter And Fall Down', climbing up to the top of German Alternative Charts. The release was accompanied by good critics and PROJECT PITCHFORK invited the band as support for their 2012 German tour. The sound of ENTER AND FALL moves between pushing EBM beats and melodic Synth Pop. Beginning of 2012, Daniel left the band and David Goldammer moved on alone. On 24th December 2012, ENTER AND FALL released a free online single together with Hardbeat Propaganda, titled 'So Much To See'. In a short time, the single was downloaded more than 3,500 times and entered German Alternative Charts immediately. The live line-up of the band is David Goldammer (vocals, lyrics, music, programming, visual concepts), Jenna (vocals), Toni Tzschoppe (backing vocals, live keys) and Markus Otto (live keys, booking, visual concepts). http://enterandfall.de / https://www.facebook.com/EnterAndFall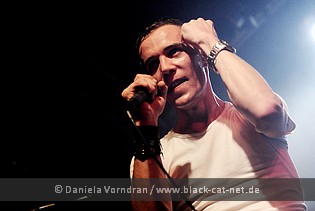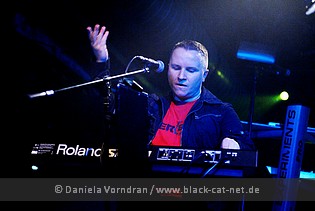 Music & Performance
The show in Bochum was one of the last ones of the current tour and even before support act ENTER AND FALL moved onto stage, the air in the hall was heated. Not unknown to most scene goers anymore, the band received a warm welcome. When front man David entered the stage, he was firstly hidden in a black coat with a big hood. The first few songs were performed as a trio without female support, but David already made a good impression with his dynamic performance and smart interaction with the audience. Soon, Jenna entered the stage as well for the female counterpart. Together with her, the music moved from harder EBM rhythms to catchier Synth Pop. As a surprise for many, SOLITARY EXPERIMENTS drummer Frank Glaßl supported the last song, 'Aufsicht Ost', on drums. Mood in the hall was really good and people were now warmed up very well for the main act of the evening.

Setlist
01. Running Out
02. Back In Time
03. Lose Control
04. So Much To See
05. Hope (it´s not the end)
06. So Bye Bye
07. Paradox
08. Aufsicht Ost

Rating
Music: 7
Performance: 8
Sound: 7
Light: 8
Total: 7.5 / 10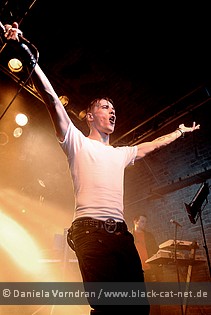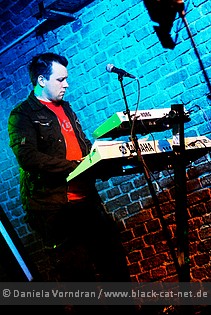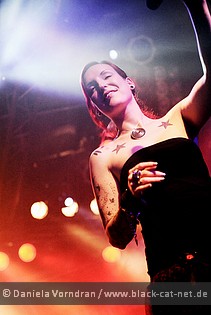 Solitary Experiments

When the worlds of Dennis Schober and Michael Thieleman collided one day, they found out they were like-minded and made their first musical experiences under the name PLAGUE, before they decided to form the project SOLITARY EXPERIMENTS in 1994. By doing that, they were making the foundation for what was to become a successful story in the genre of electronic music, even though the way to getting that status was full of many stones. With every new album, they could enlist a bigger audience and a loyal fan base grew from that. Their album 'In The Eye Of The Beholder', which came out in late 2009 following a long time of dormancy since 'Mind Over Matter' in 2005, marked their triumphant return to the scene with powerful and melodic electro songs carried by a distinctive voice. In October 2013, the band released their new album, 'Phenomena', via Out Of Line Records. SOLITARY EXPERIMENTS is Michael Thielemann (sampling, programming, engineering, recording), Dennis Schober (lyrics, vocals, effects, performance) and Steve Graeber (programming, sampling) with live drums by Frank Glaßl. http://www.solitaryexperiments.de / https://www.facebook.com/solitaryexperiments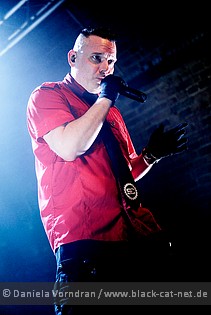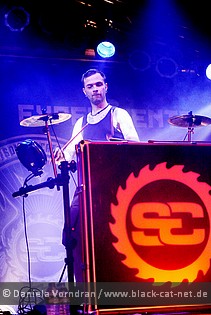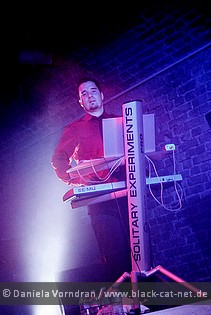 Music & Performance
The rebuilding was done quickly and soon, the evening's headliner, who would play a full-time show as Dennis stated short after the beginning, entered the stage under enormous applause. There were many people from the band's fan club attending the show, adding some extra noise and during 'Stars' later in the set also the light of some sparklers. The quartet was in very good mood from the beginning, joking with each other and Dennis several times thanked the audience for their great support and making the new album so successful. The show was a good mixture of well-known songs and many pieces from the new album that were welcomed with great applause. It really seems the fans like the new stuff as much as they like the old songs. Anyone was dancing, singing and clapping and the heat level in the hall increased even more what Dennis commented several times. He asked if people still are able to dance in this sauna. The heat made Frank undressing pretty early in the set. Band and fans celebrated a big party.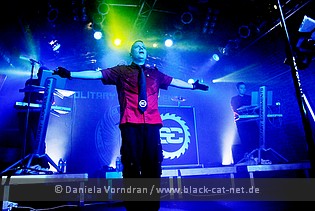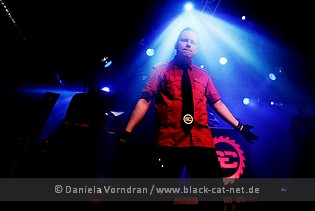 With 'Trial and Error', SOLITARY EXPERIMENTS ended the main set. But of course no one had enough already and so the band had to come back from three more songs. 'Glory & Honour v2' finally ended the set and the hall was quickly cleaned up for the party taking place afterwards. The band, who proved that they are indeed a really good live band, met their fans later on at the merch for one or another chat and glass of beer.

Setlist
01. Tilting At Windmills (Instrumental)
02. Immortal
03. Epiphany
04. A Rush Of Ecstasy
05. Game Over
06. Homesick
07. Quicksand
08. Now Or Never
09. Stars
10. Beg Your Pardon
11. Delight
12. Steering Wheel
13. Point Of View
14. Rise And Fall
15. No Salvation
16. Trial And Error
---
17. P_Machinery
18. Pale Candle Light
---
19. Glory & Honour v2

Rating
Music: 8
Performance: 9
Sound: 7
Light: 8
Total: 8 / 10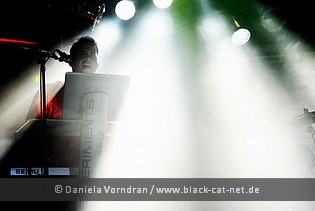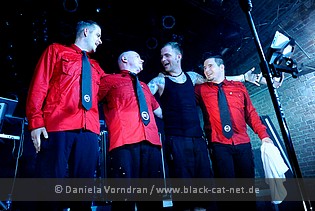 All pictures by Daniela Vorndran (http://www.vorndranphotography.com / http://www.black-cat-net.de/ / http://www.facebook.com/blackcatnet)