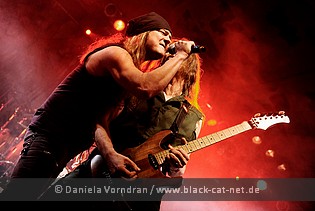 Essigfabrik, Cologne, Germany
10th November 2013
Skid Row, Ugly Kid Joe, Dead City Ruins

On this evening we had the chance to see some old stager as there were SKID ROW and UGLY KID JOE in the Essigfabrik (Vinegar factory), Cologne. To my own surprise they venue with a capacity of 1,200 people was not sold out but at a guess 800 people showed up. According to the long history of the bands it was no surprise that the audience was a good mixture of all kind of ages.



Dead City Ruins

Actually formed in Melbourne, Australia , the band consisting of Tommy Teabag (guitar), Jake Wiffen (vocals), Andy (drums), Mick Quee (bass) and Sean Blanchard (guitar) started their musical career in London, UK, playing in as many of all kind of clubs as were possible. Inspired by the Metal music of the 70's and 80's combined with the soul catching riffs of Bluesy Rock and the intensity and "f*ck 'em all" attitude of Punk Rock, they created their own style and gathered a fan crowd spread from the UK to Australia. In 2007 they released the EP 'Lost in London', in 2011 their first album 'Midnight Killer' and just in 2013 their second self- titled album. As busy touring band they performed in 2011 at 50 dates in 10 countries of Europe and the UK, including shows at festivals, as well as being supporting larger acts, too. In 2013 they are touring with the American heavy weights SKID ROW and UGLY KID JOE. http://deadcityruins.bigcartel.com / https://www.facebook.com/deadcityruins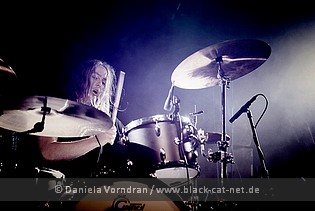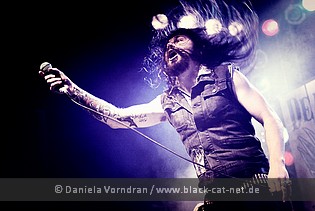 Music & Performance
When the band entered the stage the venue was only half filled which was really a pity as the guys rocked right from the beginning. After their second song we learnt from the singer that they don't have a management or a record label in their back and that they are doing it all by themselves. Thus they need the support of the audience/ fans and invited us to come to the merchandise stand after the concert. Before they started with the fourth song the singer got rid of his shirt and so we were able to admire his interesting tattoo at the side of his upper body. They band worked really hard to rock this place but nevertheless the crowd was quite reluctantly.

Setlist
01. Broken bones
02. Til death
03. D.I.B.
04. Happenzella
05. Where ya gonna run

Rating
Music: 6
Performance: 6
Sound: 9
Light: 6
Total: 7 / 10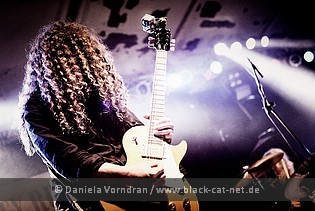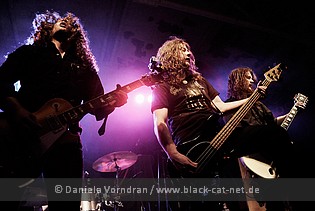 Ugly Kid Joe

1990, when the Grunge era started and many incredible awesome bands made us, who were not into mainstream music, happy with their rough sounds, their mixtures of styles by combining different musical genres, and (mostly) great lyrics, was also the year of birth for UGLY KID JOE. Originated in California, USA, the band was founded in 1989 by Whit Crane and Klaus Eichstadt. They experienced several changes of band members. Until they separated in 2007 they released an EP 'As ugly as they wanna be' which went manifold platinum and three studio albums. With 'Everything about you' and their cover version 'Cats in the cradle' they had two top 10 hits in several countries. In 2010 they decided to reunite again in order to work on a new album. But before the release of the album 'Stairway to hell' (title chosen as allusion to Led Zeppelin's 'Stairway to heaven') in April 2013, they produced a six track EP with the same title in 2012 that was only available as download version and started touring worldwide again. Their music is a mixture of Metal, Rock with influences of Punk and Funk. UGLY KID JOE are: Whit Crane (vocals), Klaus Eichstadt (guitar), Dave Fortman (guitar), Cordell Crockett (bass) and Shannon Larkin (drums). http://www.uglykidjoe.net / https://www.facebook.com/uglykidjoetheband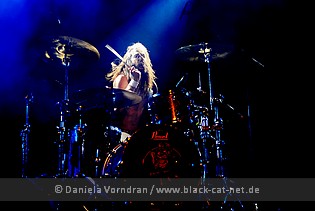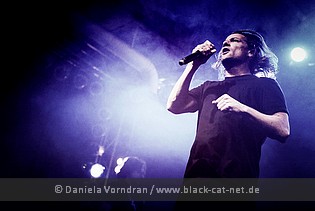 Music & Performance
To my surprise not much more people showed up for the concert after the previous band, especially having in mind that their (cover) song 'Cats in the cradle' is still played on the commercial radio. For the 'Intro' the band entered the stage without the singer but with 'VIP' Whit Crane completed the bunch. While all the other guys seemed to be stuck in the Grunge/ Skater era with their outfits the drummer 'impressed' us with wearing only a slip. Oh well. The singer, as well as his band mates performed very energetically inviting the people to party with them and waving their arms, the way you see it usually at DEPECHE MODE concerts when they are playing 'Never let me down'. Before they sang 'Cats in the cradle' Klaus addressed to the audience with a mixture of German and English to express his appreciation that the people showed up in Cologne to see them perform. After a set of 12 songs Whit asked the audience to pretend that they have left the stage and to shout for an encore just in case the people want one.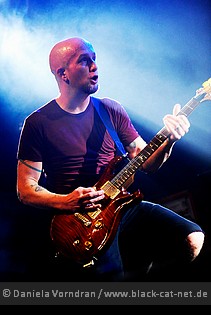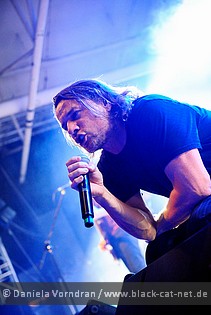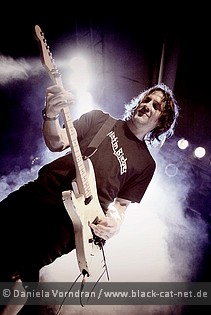 And of course we wanted to hear some more. Thus they gave us the encore and the concert was finished with their cover version of MOTÖRHEAD's 'Ace of spades'.

Setlist
01. Intro
02. VIP
03. Neighbor
04. Cust
05. Panhandlin' Prince
06. So damn cool
07. No one survives
08. Devil's paradise
09. Cats in the cradle (Harry Chapin cover)
10. I'm alright
11. Milkman's son
12. Goddamn devil
---
13. Everything about you
14. Ace of spades (Motörhead cover)

Rating
Music: 7
Performance: 7
Sound: 9
Light: 7
Total: 7.5 / 10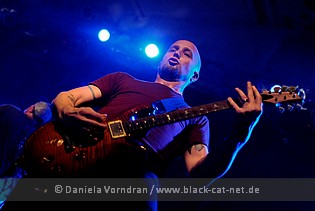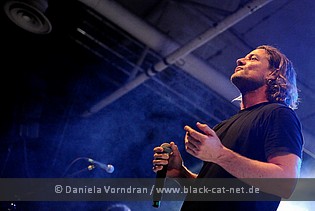 Skid Row

Founded in 1987 in New Jersey, USA, the band experienced an alternating history with changes of band members, issues with record companies/ publishing deal, ups and downs in success, their separation in 1996 and then their reunion in 1999. As Hard Rock/ Metal band with Punk influences they toured extensively with bands like MÖTLEY CRÜE, WHITE LION, AEROSMITH, GUNS N' ROSES, KISS, TED NUGENT, PANTERA and others. Furthermore they performed at several festivals like 'Moscow Music Peace Festival', 'Monsters Of Rock' to name just a few. They toured the USA, UK, Europe as well as Japan. Their self-titled album published in 1989 went fivefold platinum, 'Slave to the grind' went double platinum and several albums and singles reached the top 10 worldwide. They released five studio albums, two live/ compilation albums and fourteen singles/ EPs – the last EP 'United World Rebellion – Chapter One' just released in September 2013, The band now consists of Johnny Solinger (vocals), Scotti Hill (guitar), Rachel Bolan (bass), Snake Sabo (guitar) and Rob Hammersmith (drums). http://skidrow.com / https://www.facebook.com/OfficialSkidRow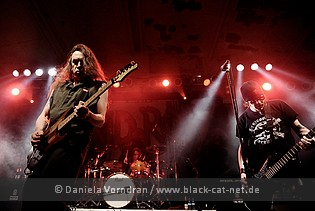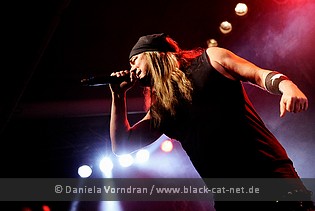 Music & Performance
From the very first tune on the band rocked the venue. Johnny expressed his thankfulness that it's been now '20 fucking 4 years' since the release of the first album and that they are still able to make music as their fans are sticking faithfully to them. We were informed that on this evening they will present some new songs from their current album as well as old songs. The guys showed a great stage presence interacting with the audience; especially Scotti addressed a lot to the fans in front of the stage. Although SKID ROW is old stagers they obviously have still fun in playing live. And this joy passes on to the crowd that they were singing and moving to the songs as well. Later Snake held a little speech as well, showing his appreciation for being able to make music for such a long time and that people still want to see them perform. Of course the crowd shouted for an encore when the show ended and got one.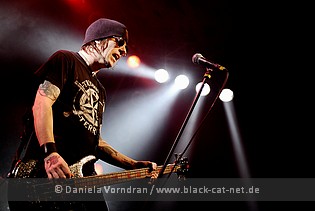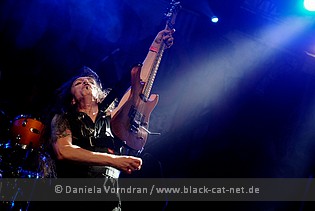 Quite interesting was that an acoustic guitar was fixed on a stand and Snake played it this way. I have never seen such a performance like this before. Time flies when you are entertained well and so did this great concert, too.

Setlist
01. Let's go
02. Big guns
03. Making a mess
04. Piece of me
05. 18& life
06. Thick is the skin
07. Riot act
08. Darkened room
09. Kings of demolition
10. Psycho Therapy
11. I remember you
12. Get the fuck out
13. Monkey business
---
14. Slave to the grind
15. Youth gone wild

Rating
Music: 7
Performance: 7
Sound: 9
Light: 7
Total: 7.5 / 10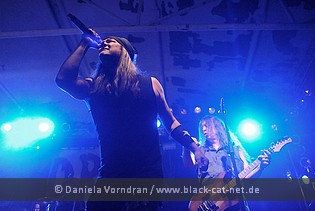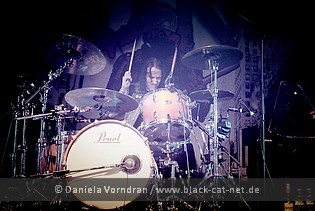 All pictures by Daniela Vorndran (http://www.vorndranphotography.com / http://www.black-cat-net.de/ / http://www.facebook.com/blackcatnet)