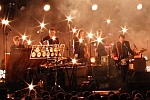 Hartwall Arena, Helsinki, Finland
30th November 2013
Sigur Rós

Icelandic band SIGUR RÓS is the second most important cultural export item of Iceland (with BJÖRK being the first). The unique style of the band is easily recognizable: melancholic, "cosmic" and relying to complex sound, a post-rock with "melodic, minimalistic and classic elements". Despite not employing typical music ways to get to wide popularity, the band is truly famous. One can listen to their tracks in many movies (an Icelandic episode of The Simpsons being one of these). Indeed, sound of the band has lot in common with classical music - it is very complex and performed by about a dozen of musicians. http://www.sigur-ros.co.uk / https://www.facebook.com/sigurros


Music & Performance
The performance took place on a large indoor hockey arena. To maintain "intimacy", big part of arena seats was covered by impressive amount of black fabric to create as much focus on stage as possible. The show itself had won already a prize for its visuals. It started on a stage that is closed with big white fabric from every side, acting as a huge projection screen. The band can be seen inside playing, as the fabric is semi-transparent, while matching images - such as surrealist tree branches - were projected on it. On third track, the fabric falls down, revealing the stage. Another stage-wide video screen was located behind the artists, continuing to show surreal images and parts of music videos from the band; it would move up and down depending on the part of the show. The stage itself was filled with many electric lamps on high poles; they would shine brightly, dim, or sparkle in waves, creating amazing impression.





While appreciating incredible talent and uniqueness of the band, it was however difficult to respond to every song of the evening. There were parts with large crescendos that sound really good, but long, calm and melancholic songs made a certain sedative effect. Maybe it is just a striking contrast for myself, as I am used to more powerful music styles. Yet most of the crowd was responding happily to every song. Later I have spotted in the crowd some Russians that went to Finland from a remote city to listen to the band. While I was not able to fully understand the complex music from this first large experience, it is most certain that the band is incredible and for those who find upmost beauty in their style, such event would be a memorable experience.

Setlist
01. Yfirborð
02. Í Gær
03. Vaka
04. Brennisteinn
05. Glósóli
06. Stormur
07. Hrafntinna
08. Sæglópur
09. E-bow
10. Varúð
11. Hoppípolla
12. Með Blóðnasir
13. Rafstraumur
14. Kveikur
15. Festival
---
16.Svefn-g-englar
17.Popplagið

Rating
Music: 8
Performance: 7
Sound: 9
Light: 9
Total: 8.5 / 10

Photos by Askar Ibragimov
We thank Fullsteam agency for the press accreditation.