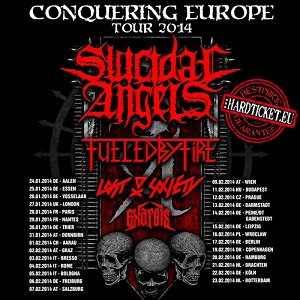 Turock, Essen, Germany
25th January 2014
Suicidal Angels, Fueled by Fire, Lost Society and Exarsis
It's fight night at the Turock in Essen! For tonight the city will be destroyed by four thrash metal bands from around the globe. I expected friendly violent fun and I got it.
Exarsis
EXARSIS was formed in the year 2009 in Athens, Greece by bassist Chris Poulos and drummer George Oikinomou as a cover band. In February 2010 the band added guitarist Chris Tsitsis to the roster and in in July the were completed when vocalist Alexis Papatheofanous joined their ranks. They released a demo in the same year and their debut album called 'Under Destruction' in the following year. Chris Tsitsis left the band in 2013 to join SUICIDAL ANGELS; Panayiotis Tsitsis took over for him. EXARSIS are Alexis Papatheofanous (vocals), Panayiotis Tsitsis (guitar), Chris Poulos (Bass), and George Oikinomou (drums).
http://exarsis-band.com
/
https://www.facebook.com/exarsis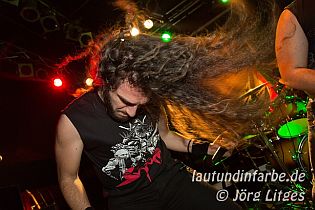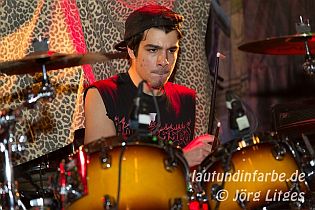 Music & Performance
It's normally always hard for the mostly unknown bands to start the gig but EXARSIS doesn't seem to know that. The reaction of the fans was overwhelming and unexpected (by me) the singer sounds harder and better than on the videos I used to investigate. The overall musical imprint is like a kick in the teeth, typical 80s thrash metal. Although the first impression per Facebook was not my cup of tea (or mug of ale) I really dig this guys and the Spartan steel they forge on stage and so does the crowd at the Turock. The guys are celebrated in Germany or at least in Essen.
Setlist
01. Annihilation
02. Surveillance Society
03. Toxic Terror
04. Addicting Life Waste
05. Dying Earth
06. Suicide Disorder
07. Under Destruction
Rating
Music: 6
Performance: 7
Sound : 6
Light : 4
Total : 6 / 10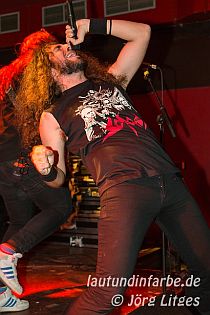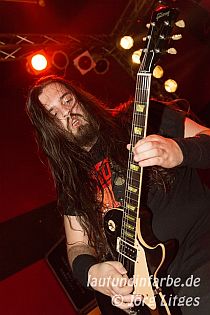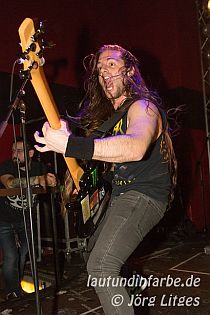 Lost Society
This finish thrash metal band came into existence in January 2010 in Jyväskylä, Finland. They released their first demo in august 2011 and their debut in 2013 after many gigs and some band contests the band won. According to their Wikipedia site we will have the pleasure of a new record this April. LOST SOCIETY is Samy Elbanna (vocals, guitar), Arttu Lesonen (guitar), Mirko Lehtinen (bass) and And Ossi Paananen (drums).
http://facebook.com/lostsocietyfinland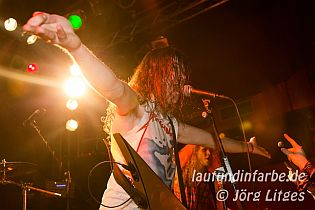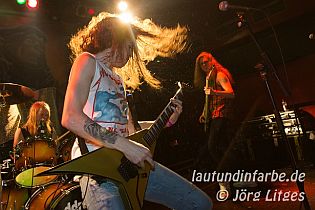 Music & Performance
Like any other band this evening, LOST SOCIETY fire high energy thrash metal through the rows of fans and the crowd loved it. The vocalist's way of shouting is a matter of taste but the guys gave us all they had. The sound was very heavy and pure bay area thrash in the like of SLAYER or EXODUS. Samy Elbanna barks his way through the set but nobody takes it amiss because it fits the overall sound. I really have to check out their debut again…
Rating
Music: 7
Performance: 7
Sound: 8.5
Light: 7
Total: 7 / 10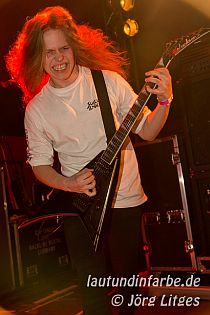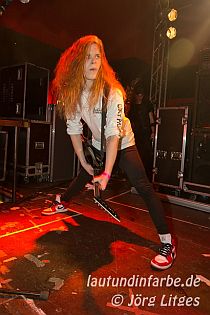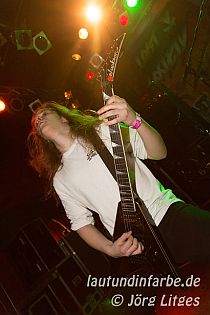 Fueled by Fire
FUELED BY FIRE is an US-American thrash metal band from Norwalk, California formed in 2002 by drummer Carlos Gutierrez , vocalist Rick Rangel, bassist Adrian Gallego and guitarist Sal Zepede. Shortly after Rick Rangel left the band and the job as frontman was taken over by Ray Fiero. The band roster rotated a couple of times but in the end Rick Rangel is once again the singer of FUELED BY FINGER. In August 2007 the band released their self – financed debut called 'Spread the Fire'. The band toured in 2010 with VIOLATOR to promote their second album 'Plunging into Darkness'. 2013 saw their third release 'Trapped in Perdition'. FUELED BY FIRE is drummer Carlos Gutierrez, vocalist Rick Rangel, bassist Adrian Gallego und guitarist Sal Zepede.
http://www.fueledbyfire.webs.com/
/
https://www.facebook.com/FueledByFireOfficial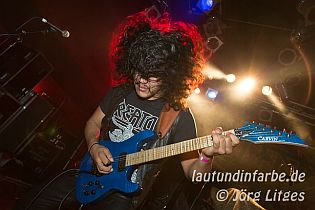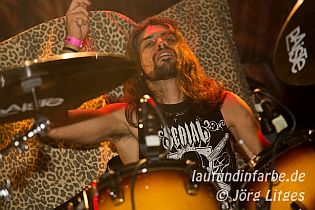 Music & Performance
FUELED BY FIRE sound like TESTAMENT a statement the singer heard first hand from me after the gig, the rhythm in the vocals is clearly SLAYER inspired but Rick's voice remind me of Chuck Billy… a lot. FUELED BY FIRE rakes the venue with molten metal, they came to destroy and destroying is what they do. There`s not one moment of boredom tonight…
Rating
Music: 8.5
Performance: 7.5
Sound: 9
Light: 8
Total: 8 / 10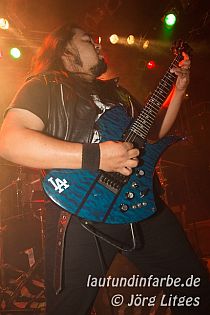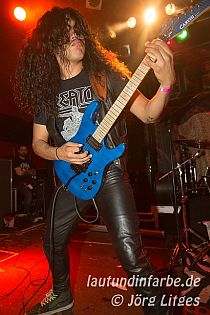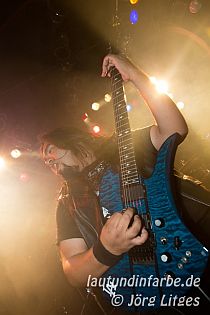 Suicidal Angels
These guys from Athens, Greece decided to form a band in 2001, today the band consist of drummer Orpheas Tzortzopoulos, guitarist Themis Katsimichas, singer Nick Melissourgos and bassist Angel. They released three demos between 2002 and 2004, 2005 saw their debut 'Eternal Domination'. On the Theogonia Balkans Tour 2007, the band played in Slovenia, Serbia, Romania, Hungary and Bulgaria. Until today the band released four follow ups to the debut.
http://www.suicidalangels.com/
/
https://www.facebook.com/SuicidalAngels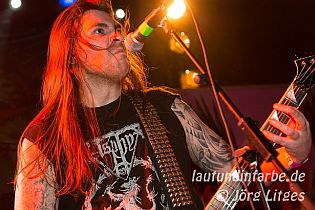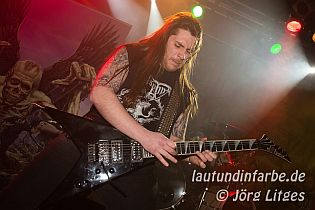 Music & Performance
Until now, the evening was kick ass - the bands did rock (hard) - but now SUICIDAL ANGELS entered the stage to prove why they are the main act. All the time I can`t stop thinking of SLAYER… What is there more to say in a positive way than "hey guys! You sound like SLAYER". And yes I am serious they really sound like SLAYER in a good way, like in the 80's and yeah in the old days everything was better (like way better). I do not regret that I been there and had the opportunity to see and hear epic old school thrash.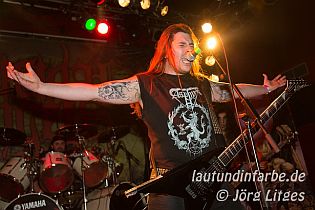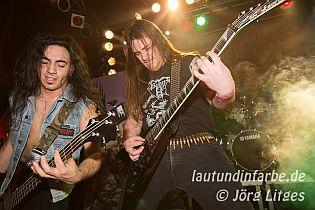 Setlist
01. Intro: Jaws
02. Marching over Blood
03. Blood Bath
04. Bleeding Holocaust
05. Seed of Evil
06. Divide and Conquer
07. Reborn in Violence
08. Control the Twisted Mind
09. In the Grave
10. Terror is my Scream
11. Pit of Snakes
---
12. Chaos
13. Moshing Crew
14. Apokathilosis
15. Beggar of Scorn
Rating
Music: 8.5
Performance: 7.5
Sound: 9
Light: 8
Total: 8.5 / 10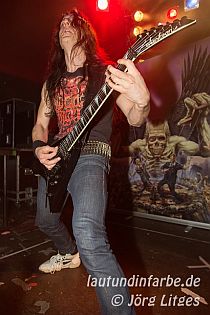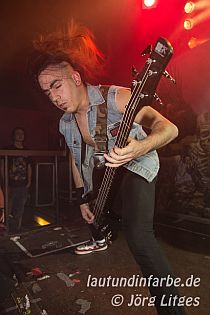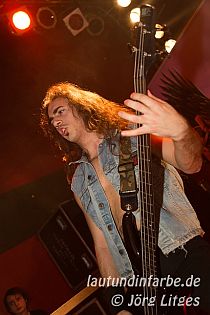 All pictures by Jörg Litges (
http://lautundinfarbe.de/
)