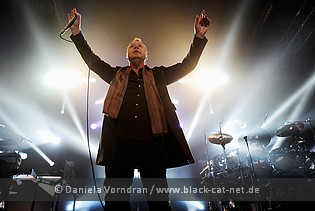 Jovel Music Hall, Münster, Germany
5th February 2014
Simple Minds – Greatest Hits Tour

The legendary venue
Jovel
in Münster/ Westphalia established its reputation with presenting a diverse programme of live acts and other events of high quality. In 2006 the former location had to be closed but they found a new home in a former car dealer and built a shiny new place that is now accessible for handicapped people as well. The venue has a capacity for more than 1,500 people and since it was sold-out that day, it was packed as well.
At the end of 1977 Jim Kerr and Charlie Burchill founded SIMPLE MINDS right after they disbanded their former Punk band JONNY AND THE SELF ABUSERS. The lyrics of DAVID BOWIE's 'Jean Genie' were the inspiration for the band's name. Of course it is hard to give only a short overview about a band's history that spans a musical career of more than 30 years. Up to now they have released 15 studio albums, nine compilations (if you count 'Themes' 1- 4 as one), a live album and 35 singles/ EPs. Many singles entered the charts in the UK, Europe and the US and thus they are surely one of the most successful Scottish bands. Furthermore they are renowned for being an amazing live band and though they did not release a new album after 'Graffiti soul' in 2009, they are still busily and successfully touring worldwide, performing in usually sold out venues.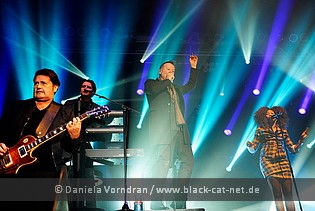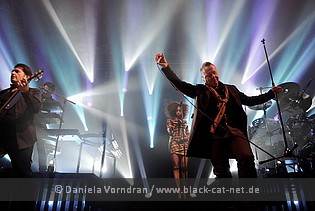 Naming ROXY MUSIC, DAVID BOWIE, LOU REED, or German Electronic bands like NEU!, KRAFTWERK, as well as the British Industrial Funk band CABARET VOLTAIRE as inspiration, they created their own style of Electronic/ Trance/ Rock/ Pop sound. SIMPLE MINDS are also known for their social engagement with their appearance at the Live Aid concert in 1985 and performing in 1988 amongst many other bands and musicians to celebrate the 70th birthday of Nelson Mandela and speaking out against the Apartheid system. The distinctive vocals of the front man Jim Kerr, Charlie Burchill's guitar sound, Mel Gaynor's drum play, as well as the quite typical bass guitar sound, now played by Ged Grimes, makes SIMPLE MINDS so unique. Of course the band had its ups and downs with some changes of band members as well, but they made it to survive as band that still enjoys performing. The line- up is: Jim Kerr (vocals), Charlie Burchill (guitar), Mel Gaynor (drums), Andy Gillespie (keyboards), Ged Grimes (bass and backing vocals) and for the live shows Sarah Brown (backing vocals and tambourine).
http://www.simpleminds.com
/
https://www.facebook.com/simpleminds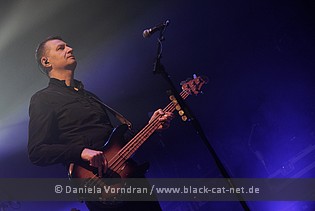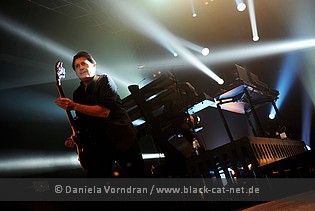 Music & Performance

In the early eighties I fell in love with SIMPLE MINDS. I remember a summer when my friends and I were listening to their actual album 'New gold dream – 81-82-83-84' up and down. I then discovered 'Sons and fascination'/ 'Sister feelings call' and just loved it. 'Sparkle in the rain' was another great album and thus I took the chance to see them live in 1984 for the first time in Düsseldorf. I just loved their sound especially the quite dominant bass guitar, drums and then the wonderful voice of Jim Kerr. But after their hit single 'Don't you' they were hyped so much and what followed then became too commercial for my taste and at some point I have to admit that I lost my interest. Years passed by and though the hype was over, they are still performing and somehow I got the impression that they returned more to their roots again. And so, now that I'm much older and the guys are a bit older, too, I was excited to see them live again. When I arrived at the venue it was quickly packed. There was no supporting act but instead we could listen to some nice songs from the 80's. A short overview of the audience made it clear that most of them are fans from the early days on, but there were not so many young fans amongst them. After the first tunes of 'Broken Glass Park' the band finally appeared on stage and was greeted loudly by the fans. The charismatic singer didn't miss the chance to shake hands with some of the fans in the front row.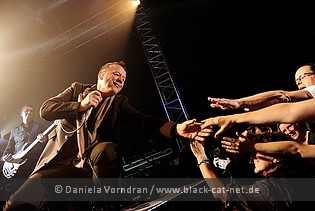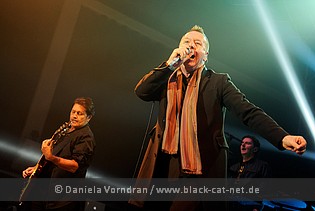 While the guys had a handsome appearance in black, Sarah wore a fancy yellow and blue tartan dress. Jim danced or kneeled while singing like he always used to and I wondered how flexible he still is. Of course he is the more extravert on stage while Charlie focuses more on his excellent guitar playing, but it was visible for everyone how much they all enjoyed performing with big smiles on their faces. And the audience loved the show as well, singing along with the band. It is quite interesting to see how much Jim captivated the audience although he was not talking much between the songs, but when he did his Scottish accent surely charmed us as well. Between the songs he introduced the band members. And he never got tired to wave to the fans, smile at them and flirting a bit with some female fans that one even tried to give him a kiss despite the barrier. After 9 songs there was a break of 15 minutes. The second part of the concert started instrumentally with Charlie on the guitar and Andy at the keyboard before Sarah entered the stage to sing a Patti Smith cover and showed up with a really amazing vocal performance. At 'Someone somewhere in summertime' Jim invited the fans to sing the chorus and finally Charlie and Ged changed the sides of the stage during this song. Apparently the highlight for the audience was the last song 'Don't you' in an extended version as all were dancing and singing happily.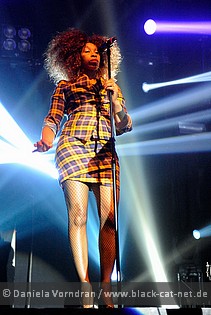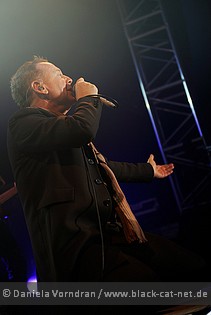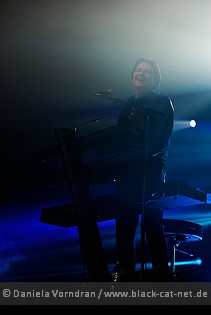 Personally I could have done without this son, as the set list was full of brilliant songs, but I have to admit that it has a different quality performed live. Of course the crowd demanded an encore which was commented by Jim, when they all returned on stage, with 'Can we please play some more?'. Of course we all wanted some more and we got 4 more songs. Then 'Jean Genie' came out of the speakers and Jim did a little dance before he left the stage, too. And so an awesome concert, underlined with a great light show, ended.
Setlist

01. Broken Glass Park – into
02. Waterfront
03. Stars will lead the way
04. Hypnotise
05. Once upon a time – into
06. One step closer
07. Let there be love
08. Promised you a Miracle / Glittering Prize Melody
09. Let the day begin
--- 15 Minutes break ---
10. Speed your love Electro
11. Dancing barefoot (Patti Smith cover)
12. This fear of Gods
13. Someone somewhere in Summertime
14. This is your land – into
15. Blood diamonds
16. The Americans
17. Love song
18. See the lights
19. Don't you
---
20. New gold dream
21. Sanctify yourself
22. Let it all come down
23. Alive and kicking
Rating

Music: 10
Performance: 10
Sound: 9
Light: 10
Total: 9.9/ 10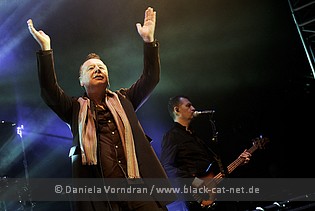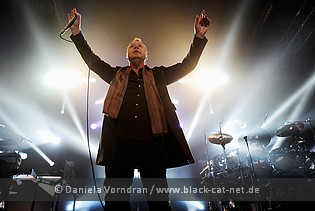 All pictures by Daniela Vorndran (
http://www.black-cat-net.de
/
http://www.facebook.com/blackcatnet
)