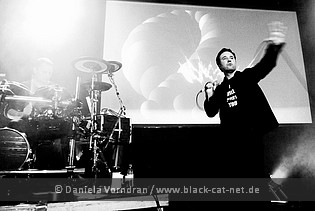 Zentrum Altenberg, Oberhausen, Germany
10th April 2014
Seabound & Iris

One band would have been pure luxury already, but if two of your favourite bands embark on tour together, which isn't likely to happen again so soon, you'll do the best you can to be there. This show in Oberhausen was the first SEABOUND & IRIS would play together, and as we all know, some things are bound to go wrong with the first show...
Iris

IRIS has cultivated a reputation of being one of the best bands the electro pop genre has to offer. Their first record was 'Disconnect', included the song 'Annie, would I lie to you' which became a club-hit instantly and was one of the best-selling releases in the history of record label A Different Drum. With the addition of Andrew Sega a few years after foundation, the sound moved into a more experimental direction and guitars were added to the mix. In 2003, 'Awakening' followed and became incredibly successful. On the third album, 'Wrath' released in 2005, they combined more rock-oriented songs with electronic beats and soundscapes. The band as always took their time for the next full-length 'Blacklight', hitting stores five years after 'Wrath' had been released. With 'Radiant' the next one is in the pipeline already to grace audiences sometime this year. IRIS is Reagan Jones (vocals, song writing), Andrew Sega (programming, guitars, keyboards) and Ned Kirby (bass).
http://www.irismusic.com
/
https://www.facebook.com/pages/Iris/55618397260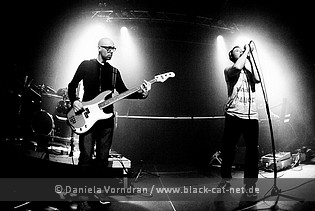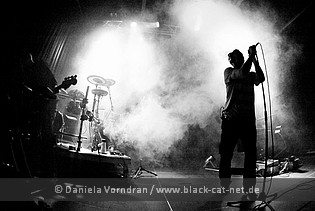 Music & Performance

With a stage absence of five years, IRIS were indeed a bit nervous when entering the stage. But as Reagan later pointed out, the crowd kind of made them feel like they'd never been gone. The delight of seeing them live again at least for me was marred a few minutes later by the, nicely put, unbalanced sound mix. Vocals at times were barely audible, droning bass waves sucking in all the melody. I think that could've been avoided. Anyway, all things considered, they still did a good show with a mix of old and new songs. And to be fair, it was the first show of the tour after all. The show kicked off with 'Another Way', probably or probably not making the cut for the upcoming album 'Radiant'. Hopefully it does. A little bit clubby, a little dreamy, and a band performing it authentically is a good way to start things. Building from there, we went on to kick things up a notch on 'Closer To Real' and made a step backwards in time to the 'Imposter' from 'Wrath'.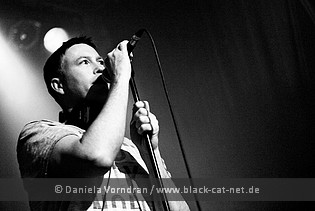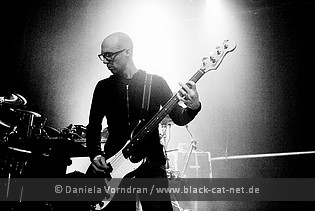 Well, it seemed that Reagan got stuck with this one for he blew the beginning of 'Fighter' two times with singing the first lines of that song. Just one particularly funny moment in a very sympathetic performance that even included 'Don't Cry', a real teaser that makes it even harder to wait for the new album, to be released in Summer.
Setlist

01. Another Way
02. Closer To Real
03. Imposter
04. Appetite
05. Cruel Silence
06. Fighter
07. The Marianas Depth
08. Nobody Wins
09. Unknown
10. Don't Cry
11. New Invaders
Rating

Music: 9
Performance: 8
Sound: 5
Light: 6
Total: 7 / 10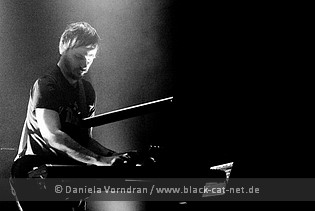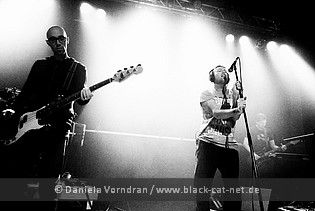 Seabound

Following the release of the successful 'Double-Crosser' back in 2006, the project SEABOUND went dark for most of the time, not factoring in the live performances, until in recent years rumours of new material surfaced. Ever since Martin settled in the US to build a new existence that was the first sign that something actually was going on. The beginnings of an album that we now know as 'Speak In Storms' which is sure to be the focal point of tonight's first performance on the tour. 'Speak In Storms' was released February 2014 and was a fantastic sign of life. SEABOUND live consists of Frank M. Spinath (vocals), Martin Vorbrodt (synths, keys) and Daniel Wehmeier (drums).
http://www.seabound.de
/
https://www.facebook.com/pages/Seabound/51899974997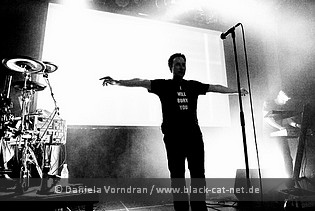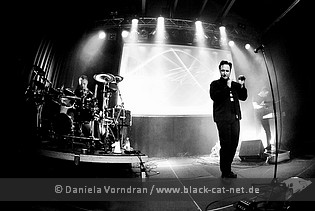 Music & Performance

I can't tell you how anxious I was now to finally see SEABOUND again. I mean, seven years without new material is really, really long. That's totally understandable, right? Still, the setlist was rather small. Smaller than I expected, that is. The band picked the new album's opening 'For Life' as the show's opening. It kind of set the tone for the rest of the night. I've got to say I was fairly surprised by how the live drums were incorporated by now. See, electronic bands, using a drum kit whether it's an electronic one or not, tend to somewhat mix it out of the mix, so it's not even there at all. SEABOUND had that problem in the past too. By now, the drums what they're out to do. They add another dimension, give dynamics and make things seem less sterile, as far as sterile has ever been a term to be applied on SEABOUND. Whatever, it got the famous spark across, lighting the dark on the following 'Torch' to be the lead-in 'For Another Day', having a real kick-ass bass drum that not only ignited fires amongst the people in front of the stage. What's the best way to rid of a demon? Right, an 'Exorcize', and quite a forceful one at that. By now the sound mix was just as it should've been all long and the track could properly unleash its energy into all possible directions.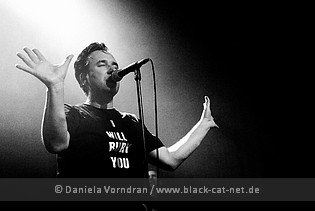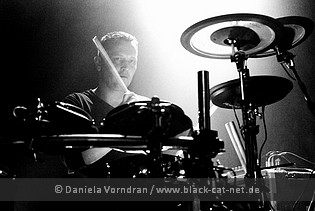 The energy, 'Contraband' has, is coming from in-between the lines, the over and undertones. Maybe just a little bit credit to the drums. I really loved how that little track got everyone hooked. I probably shouldn't leave out on the most "positive" song of the entire set 'Everything'. Do you feel it already? Seriously, when has there ever been a SEABOUND song without the element of doubt, the urge to scratch the golden surface, see what's underneath. Did I forget to mention the main reason aside from the music, the show took the people away, it's the way the band, and more prominently Frank act on stage. It is like a physical manifestation of the music if you will. So, we had reached a point I was hoping would bring a little surprise. Even without a duet, 'Watching Over You' was magnificent. There was just too little time to make it happen. Here's hoping, those of you who visit the other shows will have the pleasure in our stead.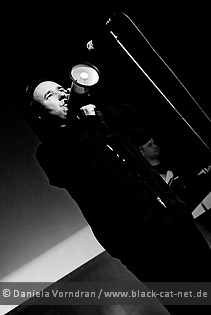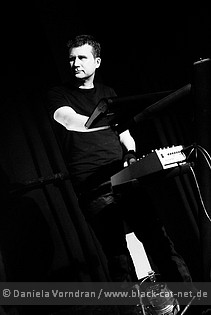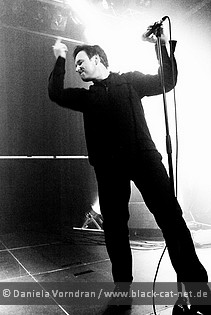 Our pleasure was still lingering on for we had still a few songs to go with the wonderful 'Black Feathers' with a little hint at ELEMENT OF CRIME, and one song that wasn't supposed to be a part of the set in the first place: The anthemic 'Hooked' which for one last let everyone gather their last ounces of strength and celebrate with the band before they vanished in a grey haze... No, they didn't, They just wished they had. A great first show guys and the best of luck for those that are still to come.
Setlist

01. For Life
02. Torch
03. For Another Day
04. Exorcize
05. Contraband
06. Avalost
07. A Grown Man
08. Everything
09. Poisonous Friend
---
10. Nothing But Love
11. Watching Over You
---
12. Black Feathers
13. Hooked
Rating

Music: 9
Performance: 9
Sound: 8
Light: 7
Total: 8.3 / 10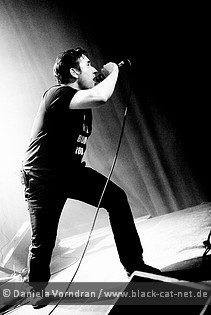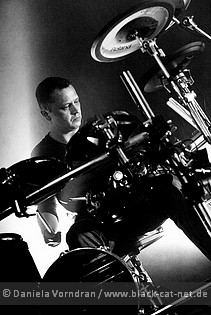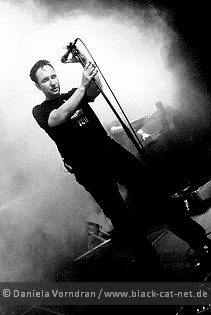 All pictures by Daniela Vorndran (
http://www.black-cat-net.de
/
http://www.facebook.com/blackcatnet
)