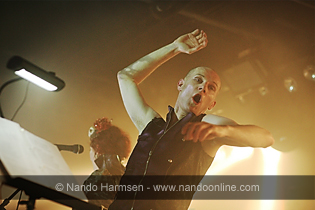 Burgerweeshuis, Deventer, The Netherlands
10th May 2014
Schwarzblut & Heliophile

The Dutch formation SCHWARZBLUT has been around since 2007. Last month they released their third full length album 'Gebeyn aller Verdammten'. It received perfect reviews from all over Europe and by the looks of it the band has made the best album yet. The release of their album was accompanied by three live shows and the one at their hometown of Deventer is the official album-release party. They invited HELIOPHILE for support.
Heliophile

HELIOPHILE is a new band from Enschede. The brain behind this synth pop band is Gijs van Ouwerkerk. Inspired by the song 'Radio Ga-Ga' from QUEEN, he learned himself playing instruments and eventually found himself writing songs for heavy metal bands. But after the confrontation with the synthesizer he remembered that one song from QUEEN and took the path towards his own synth pop project and made the EP 'Nebula' in 2013. Supporting SCHWARZBLUT this is the first ever live performance for HELIOPHILE.
https://www.facebook.com/Heliophile.nl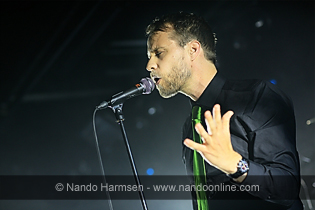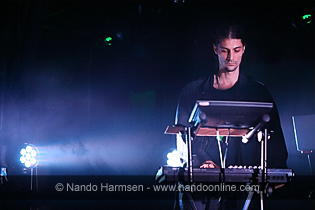 Music & Performance

When HELIOPHILE starts their show it doesn't feel like it is their first live performance. The musicians that accompany van Ouwerkerk are concentrated and very serious, except the bass player who is smiling like he is enjoying every little second of it, and probably is. Van Ouwerkerk sings like he has done this for ages. Only when he tells the audience it is the first gig of HELIOPHILE and he's is a bit nervous about it, we realize this is a brand new band. The songs are catchy and they sound very easy listening. A great way to start the evening, but very light and even melancholic compared to what's to come. They receive a well-deserved applause afterwards.
Rating

Music: 7
Performance: 7
Sound: 7
Light: 7
Total: 7 / 10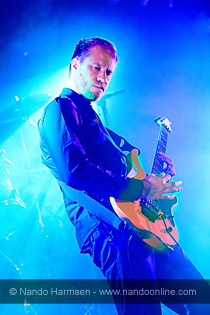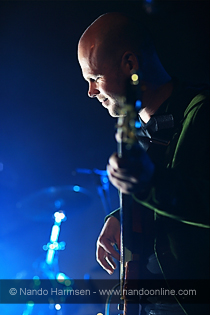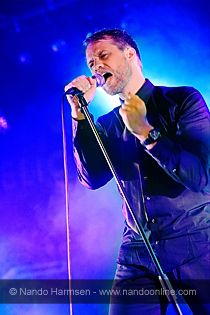 Schwarzblut

After an extensive range of concerts in 2012 and 2013 it became relatively quiet around SCHWARZBLUT. Herr V, who was responsible for the drums, left the band. He was replaced by Pascal who wasn't a total stranger. For over half a year SCHWARZBLUT worked on their third studio album called 'Gebeyn aller Verdammten' (Bones of the damned) which was announced as their best masterpiece yet. And yes, the reviews do agree. The first two concerts they supported CLAN OF XYMOX, but for their gig at their hometown of Deventer SCHWARZBLUT is the main act of the evening. In front of quit a familiar crowd and family they played the release party.
https://www.facebook.com/Schwarzblutband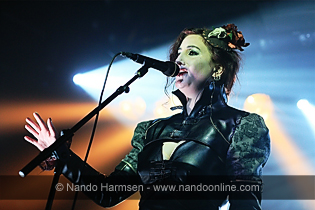 Music & Performance

The performances of "Die goetheanistische Tonkunstgesellschaft" SCHWARZBLUT have always been a perfect mixture of old German poetic lyrics and strong industrial sounds. With their second album they grew into maturity and the shows were always very powerful. They raised the bar very high and it was to be seen of SCHWARZBLUT could hold on to the energy and magic they had in their previous shows with their new songs. Curtains are hanging in front of the stage when the preparations are being made. When these curtains are raised the band appears in their completely new outfit, designed and made by Rosy's Art, in the traditional setup we are used to: singer Zeon in front of the stage with Angelika and Verstörungssyndicat besides him, Sturm in the back and the new drummer Pascal hidden behind his instrument.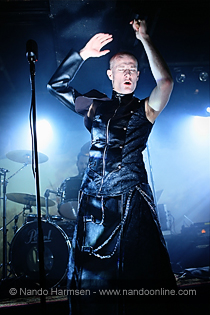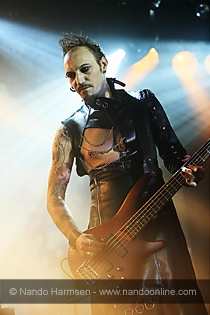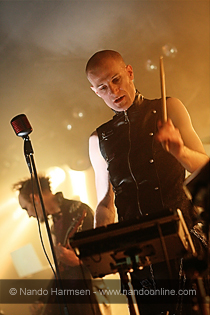 The stage is not that high at Burgerweeshuis, and the ceiling is neither. Zeon can easily reach it when stretching his arms and during a few moments I fear he will be hitting the ceiling with his head when he is dancing and jumping. But fortunately no accidents occur. The dark and aggressive singing of Zeon has a perfect counterpart with Angelika, who's singing not only is beautiful, but who's also is playing a main role in the music composition. In the back Pascal is playing the drums, concentrating on his part. The orchestra we hear on the album is coming from the computer, of course. We couldn't expect more but it would be amazing when SCHWARZBLUT would be accompanied by a real orchestra, perhaps even in an old dungeon or church that is fitting the atmosphere the band is creating. Songs like the fragile 'Erster Schnee' would sound amazing, I could image. Unfortunately this song is not on the setlist, this evening.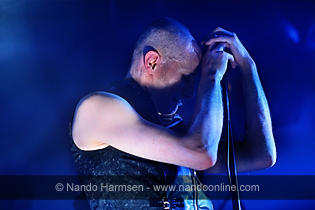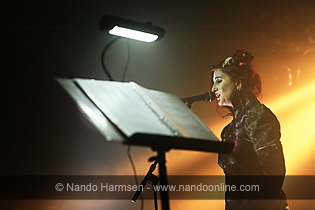 Nevertheless SCHWARZBLUT is managing to keep the bombastic orchestral sounds to the background and the real instruments up front. In the meanwhile we can enjoy a great performance that has ended much too soon without an encore. Later that evening I hear Zeon had a bit of a sour throat. It is admirable he continued with the show that we all enjoyed very much.
Setlist

01. Wer vom Ziel nicht Weiss
02. Das Lob der Faulheit
03. Sterbelied
04. Zur Hölle
05. Die Gunst des Augenblicks
06. Der schwarze Tod
07. Der Abschied
08. Das Fest des Wüstlings
09. Ein Schatten
10. Das Mandat
11. Bis aufs Blut
Rating

Music: 9
Performance: 9
Sound: 8
Light: 7
Total: 9 / 10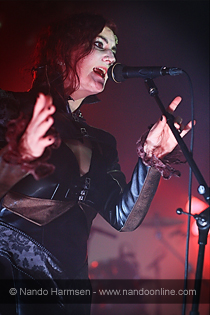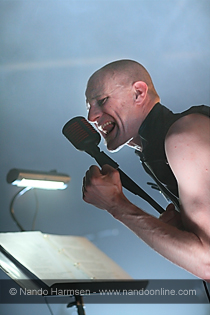 All pictures by Nando Harmsen (
http://www.nandoonline.com
)