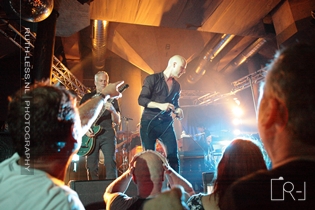 Maassilo, Rotterdam, The Netherlands
7th June 2014
Sivert Høyem & Mark Lotterman

Before pursuing a successful solo career, Sivert Høyem became known as the front man of rock band MADRUGADA, one of the biggest Norwegian rock bands. His musical style can best be described as dark and melancholic. In March 2014, Sivert releases his 5th solo album 'Endless love' which will be promoted by a European tour. Dutch fans get no less than three opportunities to see Sivert Høyem with his band in June in Groningen, Amsterdam and Rotterdam. Reflections of Darkness took the opportunity to check out his concert in the city of Rotterdam.
I'd like to note that organizer Rotown Rotterdam has picked a beautiful location for tonight's concert. Maassilo is a former granary located in the harbour of Rotterdam and built in 1906. Its twenty foot high vaulted cellars silo with a capacity of 20,000 tons made the granary one of the largest in Europe. The granary was abandoned in the 80s and it wasn't until 2003 that the building was given a new purpose. After a rigorous reconstruction, Maassilo Event Venue opened its doors in 2004.
Mark Lotterman

Mark Lotterman is a singer/ songwriter from Rotterdam whose style has been compared to Nick Cave, Johnny Cash and Tom Waits. His debut record 'Pain & Entertainment' (2007) contains a variety of styles: from slow guitar ballads to a 12 minutes long Drum 'n Bass duet with master of freak roots Johnny Dowd. His second album 'Better things to do' (2009) was well received and resulted in a German tour with Canadian songwriter Wax Mannequin and several gigs supporting for Dutch group DE DIJK. The number of live shows increased significantly with the release of Lotterman's 3rd album 'Funny' with 130 shows in 14 months in Canada, Germany, UK and Luxembourg. In 2014 Lotterman released 'Year without Summer'. Instead of working with a full band, his 4th album evolves mainly around acoustic guitar and vocals.
www.marklotterman.nl
/
www.facebook.com/MarkLottermanMusic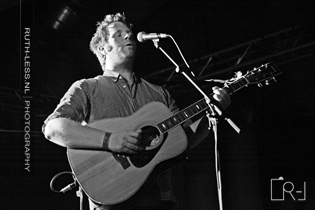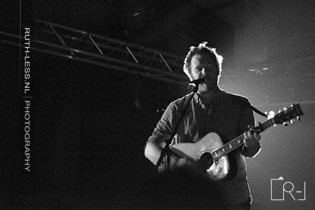 Music & Performance

The industrial characteristics of the building have been preserved in a great way and the location is now mostly used for concerts and dance events. Huge silos are still visible from the ceiling, though it wouldn't have hurt to pay a little more attention to the ambiance with some extra lighting. The stage suffered from minimal light as well, with only one intense light beam that came from behind singer Mark Lotterman. Eager front row visitors had to move along with Mark a little bit to stay in his shadow and avoid getting blinded. So far so good for the ambiance description; back on topic with tonight's support act Mark Lotterman: unfamiliar with his work, I'd like to start by saying I find his voice very comfortable to listen to. He has a raw "whiskey & cigars" sound that has a certain warmth at the same time. As he continues, it turns out the man is pretty witty as well, joking about the perils of audience interaction with just the right amount of self-deprecation.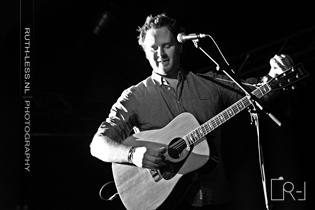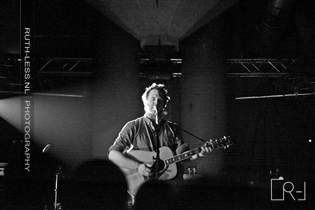 With no band to provide on-stage dynamics, the focus soon shifts towards his lyrics, which are edgy and humorous, with a hint of cynicism. All in all a proper warm-up for the band that the majority of the audience came to see tonight.
Setlist (incomplete)

Indie
I miss you
Funny
Rating

Music: 7
Performance: 7
Sound: 7
Light: 5
Total: 6.5 / 10
Sivert Høyem

Sivert Høyem is a Norwegian singer, known as the vocalist of former rock band MADRUGADA. MADRUGADA was formed by Sivert Høyem (vocals), Frode Jacobsen (bass), and Robert Burås (guitar) and had their Norwegian breakthrough with debut album 'Industrial Silence' in 1999. In 2007, Robert Burås died at the age of 31. Høyem and Jacobsen decided to finish recording their latest album in his memory but they announced that MADRUGADA as a band would no longer exist after a final tour.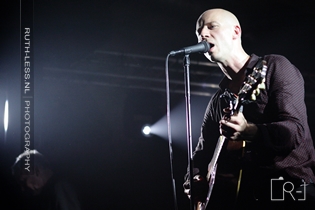 In the meantime Sivert had also started a solo career and was involved in other projects such as THE VOLUNTEERS with whom he released the album 'Exiles' in 2006. It wasn't until 2012 that Sivert stated that there would not be another album with THE VOLUNTEERS. As a solo artist, Sivert Høyem released the albums 'Ladies and Gentlemen of the Opposition' (2004), 'Moon Landing' (2009) and 'Long Slow Distance' (2011). In September 2010, Sivert Høyem also launched the song 'Prisoner of the road' to raise awareness for the Norwegian Refugee Council. In 2014, his 5th studio album 'Endless love' was released followed by a European tour in May / June. For this tour, Sivert Høyem brings a full live band consisting of Cato Salsa (guitars/Keyboards), Børge Fjordheim (Drums/Shaker/Tambourine), Rudi Nikolaisen (Bass), Christer Knutsen (Guitars/Keyboards) and Pelle Ossler (Guitar).
www.siverthoyem.com
/
www.facebook.com/sivert.hoyem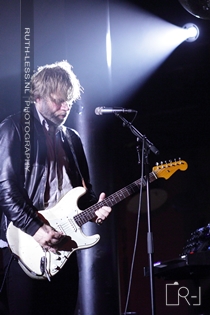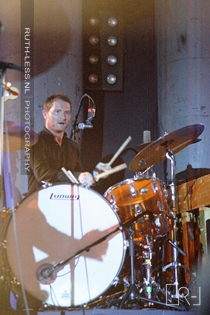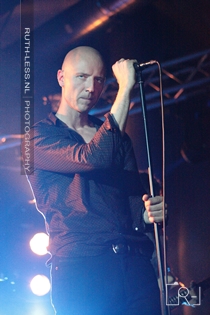 Music & Performance

Listening to the buzz around me in front of the stage, it becomes clear that most of the audience are long-time fans of Sivert Høyem. The overwhelming applause and cheers are therefore no surprise as "Mr Høyem and his band" enter the stage. They kick off with 'Majesty', a MADRUGADA song from their 2002 album 'Grit'. After Sivert has welcomed the audience, they continue with 'Give it a whirl', 'Long slow distance' and 'Endless love' from the latest album. The lyrics are drowning in restlessness, drama, romanticism and inaccessibility with a veil of dark realism and irony. To be honest: they always touch me. Some other songs of Høyem do address a certain amount of optimism, but always with a touch of irony. Sivert has a mesmerizing voice and his vocal cords seem to produce each and every song effortlessly; an absolute pleasure to listen to. The band consisting of drummer Børge, guitarist Cato, bass player Rudi, keyboard player Christer and guitarist Pelle, are also in an excellent form and it is great to see they enjoy being on stage.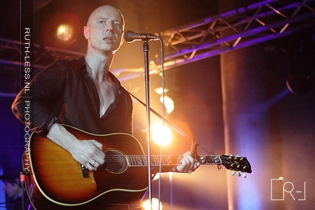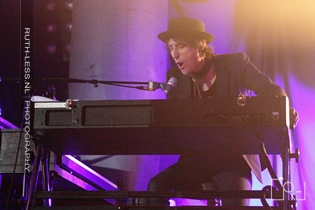 There is hardly anything to complain about with regards to sound at the Maassilo, and even the small percussion and keyboard details come out quite well. Between the cheers and compliments from the (female) audience, Sivert introduces the next song 'Ride on sisters' as one of his favourites. After another slow song, 'Honeybee', it's time to lighten up a little with the more up tempo 'Into the Sea' from the album 'Exiles' (2006). The evening was lightened up even more thanks to a frivolous bunch of Rotterdam locals standing next to me, cheering loud and singing along with the band. After a pause with 'Görlitzer Park', tempo goes up again with 'Wat Tyler' and 'Look away Lucifer'. Time flies and after 'At our evening table' the band already says their first goodbyes and leaves the stage. Fortunately, Sivert and his band return for no less than two encores and five more songs. They start with 'Shadows' and 'Moon landing', a song that was definitely on my wish list for this evening. Another short break and convincing cheers from the crowd make Sivert return to play 'Prisoner of the road'. I've listened to this song many times and each time it gives me the chills.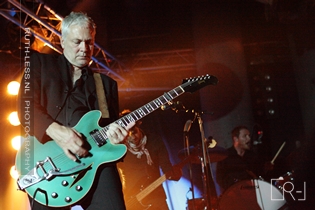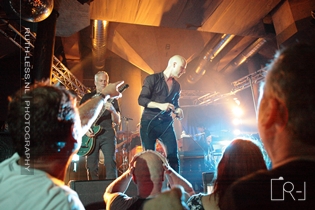 A live setting only strengthens this feeling… the song has the magic of sucking you right into this space filled with just emptiness. After another song from the last album 'Endless love', the show ends with classic MADRUGADA song 'The kids are on high street'. While the audience enjoys the instrumental outro, Sivert already leaves the stage to watch the closure from the balcony on the side. I hope he enjoyed this evening's show just as much as the audience did!
Setlist

01. Majesty
02. Give it a whirl
03. Long slow distance
04. Endless love
05. What's on your mind
06. Blown away
07. Ride on sisters
08. Honeybee
09. Into the sea
10. Görlitzer Park
11. Wat Tyler
12. Look away Lucifer
13. At our evening table
---
14. Shadows
15. Moon landing
---
16. Prisoner of the road
17. Inner vision
18. The kids are on high street
Rating

Music: 10
Performance: 10
Sound: 10
Light: 6
Total: 9 / 10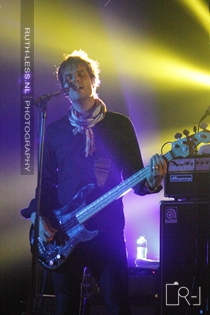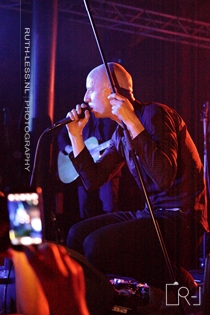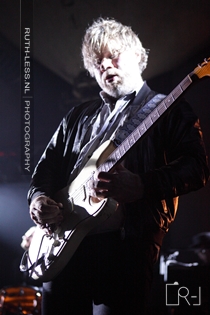 All pictures by Ruth Mampuys (
www.ruth-less.nl
)