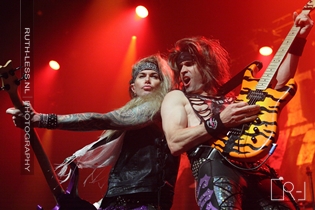 Tivoli Vredenburg, Utrecht, The Netherlands
26th June 2014
Steel Panther & Vanderbuyst

STEEL PANTHER, the self-proclaimed "hottest band out of Hollywood since Mötley Crüe, Guns 'N Roses and Poison ruled the Sunset Strip" is coming to The Netherlands again. After Forta Rock 2012, Melkweg and 013, this show will take place at the new Tivoli Vredenburg music centre in Utrecht. The show is part of STEEL PANTHER's 'All you can eat' world tour to promote their new studio album.
Vanderbuyst

VANDERBUYST is a Dutch Hard Rock band formed in 2008 by guitarist Willem Verbuyst. The band advocates a mix of 70s/ 80s Hard Rock, Classic Rock and early NWOBHM. Inspired by bands like UFO, RAINBOW, THIN LIZZY, DEEP PURPLE, VAN HALEN, and ZZ TOP, VANDERBUYST aren't for you if you're looking for the latest Nu-Metal and Gothic sounds. However, if you like your Hard Rock old school, VANDERBUYST is all you need. VANDERBUYST have released their first EP 'Vanderbuyst' in 2008 followed by a full length self-titled album in 2010. In the past three years, these Dutchmen have played over 200 shows in 16 countries. The band amongst others hit the main stage at Holland's Bospop festival and played support for TRIGGERFINGER. In 2012, VANDERBUYST toured Europe with GRAND MAGUS, and back home, they supported hard rock legend THIN LIZZY as well as JUDAS PRIEST. During 'De Wereld Draait Door', one of the country's most popular night-time TV shows, the band invaded some 1.5 million homes with a smoking rendition of their song 'Into the Fire'. Their latest release 'Flying Dutchmen' dates from 2012. VANDERBUYST is Barry Van Esbroek (Drums), Jochem Jonkman (Bass, Vocals) and Willem Verbuyst (guitar).
www.vanderbuyst.com
/
www.facebook.com/pages/Vanderbuyst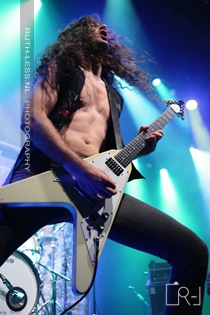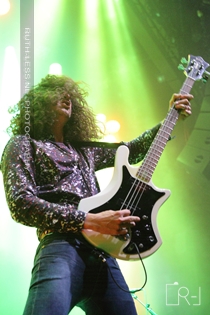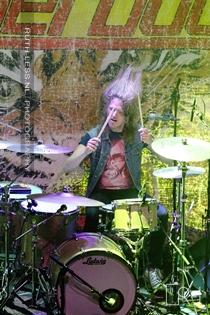 Music & Performance

Support this evening is taken care of by Dutch trio VANDERBUYST. But let me start by saying something about the new Tivoli Vredenburg building and more specifically stage Ronda. The new building just opened last week and has no less than five stages. Tonight's show takes place at the Ronda, a beautiful set up space with excellent view at the stage. Broad (but little steep) staircases on the side and a large stair-cased balcony make sure that all visitors can get a good view on the band on stage. VANDERBUYST already took off as I entered the pit, so in a hurry I was able to shoot one song. It is hard not to be charmed by the no-nonsense attitude of Willem, Jochem and Barry. Willem enthusiastically addresses the audience while the Ronda is slowly filling up for the main act. VANDERBUST takes us back to classic hard rock music with heavy drums, raging guitar riffs and daring humorous lyrics that are easy to sing along with a beer in hand. Referring to recent news that there is audio leakage at some of the stages at the new Tivoli building, Willem suggests that we use this to the fullest this evening.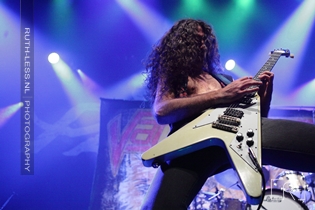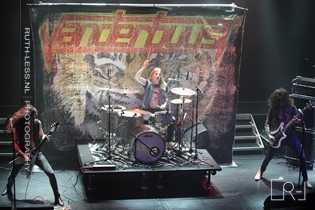 VANDERBUYST easily gets along with the audience as they present us with a selection of songs from their repertoire with both older (such as 'Tiger' and 'Stealing your thunder') as well as some from their last album 'Flying Dutchmen' ('The butcher's knife', 'Lecherous', 'Flying Dutchmen'). They also play a cover song from the famous late artist Herman Brood 'Never be clever'. Nothing glamour & glitter with the boys from VANDERBUYST, but straight up rock music – I like!
Setlist

01. Intro
02. Shakira
03. Flying Dutchman
04. Tiger
05. Butcher's knife
06. Stealin' Y thunder
07. Lecherous
08. 2 last forever
09. Never be clever
10. Black n blue
11. Pillar to post
Rating

Music: 8
Performance: 7
Sound: 8
Light: 6
Total: 7.3 / 10
Steel Panther

Steel Panther is a Los Angeles, California based glam metal parody band founded by former LA Guns vocalist Ralph Saenz (Michael Starr). Originally formed as METAL SKOOL and METAL SHOP they're known for their energetic live show, the longest running metal show on the Sunset Strip. On stage, the band both pays tribute to and lampoons the heyday of 80's glam metal. The band's between-song comedy includes jests at conflict between band members, discussions of drugs, sex, and improvised humour with the crowd. The band released their first album 'Feel the Steel' in 2009, followed by their sophomore effort 'Balls Out' in 2011. After the release of a live DVD 'British Invasion' in 2012, STEEL PANTHER started working on their third studio album. In 2014, 'All you can Eat' came out. STEEL PANTHER is Michael Starr (lead vocals), Satchel (lead guitar), Lexxi Foxx (bass) and Stix Zadina (drums).
www.steelpantherrocks.com
/
www.facebook.com/steelpantherkicksass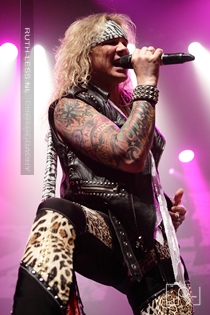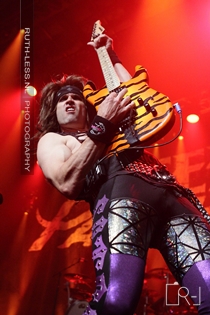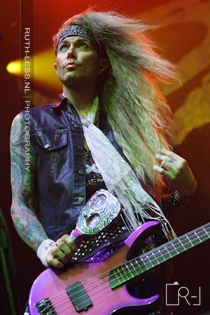 Music & Performance

After IRON MAIDEN's 'Number of the beast', Stix easily slumbers onto the stage and takes place behind the drums and not long after – BAM – GLAMROCK is ON as Michael Starr, Satchel and Lexxi Fox hit the stage. They take off with 'Pussywhipped' from their new album 'All you can eat'. The PANTHER's dressing style of characteristic glitter tights, ripped shirts and colourful bandana's turned out to be an inspiration for several visitors in the audience, but no one can beat those four glitter boys on stage. After 'Tomorrow night', the band takes some time to say hi to the audience and show off their best dirty Dutch talk. Although an act, STEEL PANTHER is so convincing that the parody part can be called into question.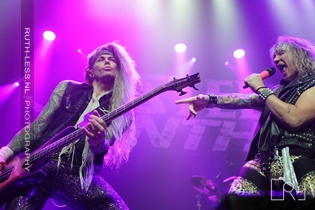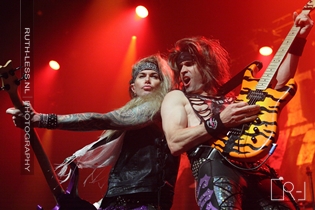 One thing's sure though: everybody's having a great time; whether it's with a sheepish smile or loudly singing along with those filthy lyrics. This evening's set list is of course built up around their new album, but the older songs such as 'Eyes of a panther' and 'Girl from Oklahoma' are certainly not forgotten. What you gotta love about this band is that they only have two settings: OFF and _FULL_ON. Between the japes and dirty jokes about the audience (and fellow band members), it should be noted that their show is not only solid and well-orchestrated: Starr, Lexxi, Stix and Satchel are also excellent musicians. In between the songs, the band takes some time to introduce each other with lots of cruel and dirty jokes before pointing their arrows at the audience again.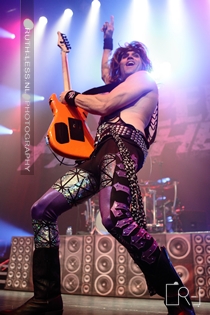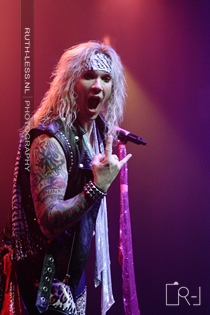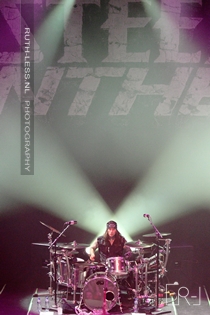 As the show continues, the audience gets more and more excited: they jump, sing and shout, tops come of and inflatable guitars are thrown in the air. And then it's time to get some pussy – ehm I mean girls - on stage. Scarcely dressed teenagers fill the stage as STEEL PANTHER plays '17 girls in a row'. Star, Stix, Lexxi and Satchel are having a blast: doesn't every man secretly want to be in a band like this?? After the famous 'Death to all but metal', STEEL PANTHER leaves the stage. But not for long. The PANTHERS have two more songs for us. After the "ballad" 'Community Property' it's time to shine and glam for one last song with 'Party all Day, Fuck all night'. I see wigs and bandana's all around me, a penguins surfs the crowd and all sing along with this final theme. Say all you want about STEEL PANTHERS but nobody beats that glam. And they most definitely know how to put up a show!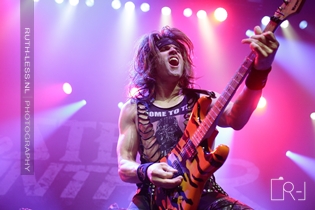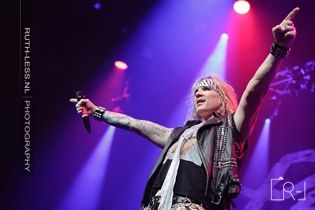 Setlist

01. Pussywhipped
02. Tomorrow Night
03. Asian Hooker
04. Just Like Tiger Woods
05. Eyes of a Panther
06. Gangbang at the Old Folks Home
07.If I Was the King
08. (Guitar Solo)
09. Turn Out the Lights
10. Party Like Tomorrow Is the End of the World
11. Girl From Oklahoma
12. The Burden of Being Wonderful
13. 17 Girls in a Row
14. Gloryhole
15. Death to All but Metal
---
16. Community Property
17. Party All Day (Fuck All Night)
Rating

Music: 8
Performance: 10
Sound: 9
Light: 10
Total: 9.3 / 10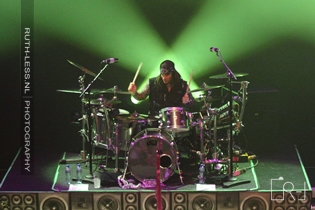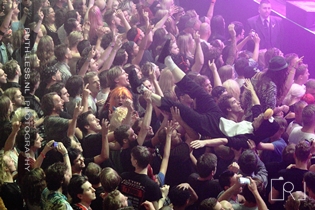 All pictures by Ruth Mampuys (
www.ruth-less.nl
)