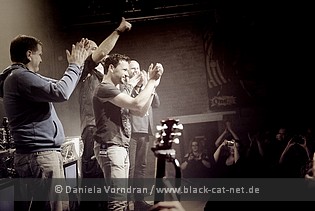 Kulttempel, Oberhausen, Germany
10th October 2014
Rotersand & Sono – "A Night with Rotersand & Sono"

It's been a while that you could see ROTERSAND perform at a concert that was not happening at a festival. And now it was even more enjoyable that the start of the tour gig took place in the intimate atmosphere of the Kulttempel Oberhausen with a capacity of 600- 700 people. This was a double-headliner tour and each night, another one of both bands was headlining. In Oberhausen, SONO were opening the evening…
Sono

More than 10 years ago, precisely in 2000, three guys from Hamburg decided to found the band. Each one of them is coming already from the music business as songwriter, producer, sound engineer, DJ, etc. and these experiences flow in this project. Their music is a mixture between Pop, Synth Pop, House and Electronic music and so it is no wonder that they performed already at all kind of events from the Love Parade to diverse Gothic festivals. With their last album release in 2009, SONO has launched six albums, including a live album. So I guess it is about time that a new album will be released.
http://www.sono.fm
/
https://www.facebook.com/sonofm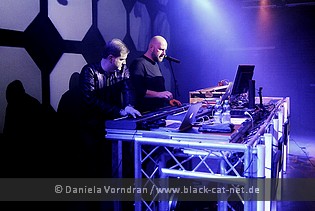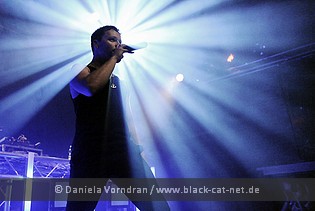 Music & Performance

I have to admit that I haven't heard a song of this band before and as I liked to be surprised on this evening I didn't check YouTube or the like. Though the venue was not filled yet, there were apparently a lot of people who were happy to see SONO perform, as many of them danced to the songs and screamed of joy. Despite the problems with the microphone, which had to be replaced, at the second song, singer Lennart took it with humour. As Florian and Martin were standing in the back while playing the keyboards, behind a construction of steel framework with light bars, it was on Lennart to make the show. And he did this job energetically and obviously enjoyed performing on this evening. Every now and then, when dancing on stage, he made a martial arts kick until his trousers ripped which gave some of us, who could see it, including Martin and Florian, a good laugh.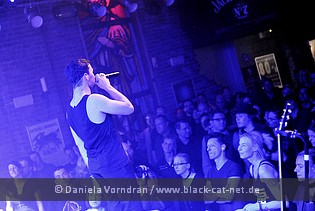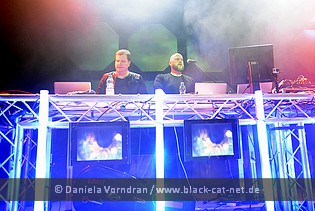 Well, even this was commented by the singer with humour but of course he didn't do this kicking movement anymore. Definitely a very entertaining opening act of the evening.
Setlist
00. Intro
01. Flames get higher
02. A new cage
03. 2000 guns
04. All those city lights
05. Always something missing
06. The brightest star
07. Keep control
08. Supersonic
09. Open the door
10. Naked
11. What you do
12. Better
13. Blame
---
14. Perfect harmony
Rating
Music: 7
Performance: 7
Sound: 9
Lights: 7
Total: 7.5 / 10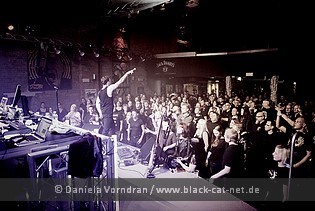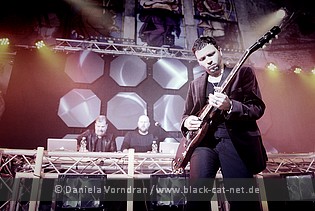 Rotersand

As Roter Sand is a famous lighthouse in the North Sea you might think that the members of the band are also coming from the northern part of Germany. But quite funny the founders of the band are coming from the heart of the Ruhr region. In 2002 The singer Rascal Nikov and Gunter Gerl brought this band to life. In the same year, DJ and producer Krischan J. E. Wesenberg joined the band. Soon their songs could be heard on all dance floors of the Independent/ Gothic clubs and their albums reached frequently high positions in the Alternative German Charts (DAC), as well as the Nordic and Dutch Alternative Charts. ROTERSAND also toured alongside with ASSEMBLAGE 23, COVENANT and VNV NATION. Their sound can be described as Electro/ Future Pop. Up to now they have released four albums and ten singles/ EPs. Due to some health problems the band had to cancel several concerts in 2013 and their last shows were mainly at festivals. This year they could be seen at the E-Tropolis in Oberhausen albeit as duo consisting of Rascal and Krischan.
http://rotersand.net
/
https://www.facebook.com/rotersand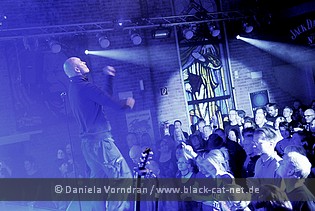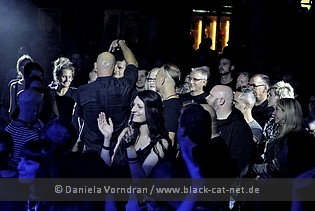 Music & Performance

When the guys of SONO left the stage, many of us thought that there will be a rebuilding time as it is usual at concerts. And so when Krischan appeared on stage and went to his working place in the back of the stage we thought that he is checking out if everything works or plays the DJ until everything is fixed. Thus lots of people headed for the bar or outside for a cigarette. But suddenly Rascal appeared as well on stage with a spotlight in his hand, beaming into the audience, and we all were caught by surprise as the show started immediately with 'Merging Oceans'. Meanwhile the venue was filled with more people although it was not sold out. But the positive side effect was that everyone had enough space to dance and this was needed of course as ROTERSAND started a big party where Rascal interacted continuously with the audience and every now and then insisted on joining the crowd while singing.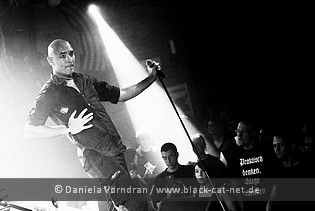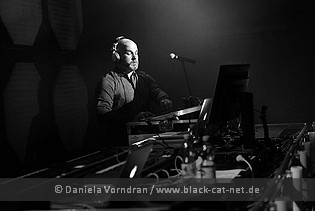 When entering the stage Rascal was wearing a track suit top, but as it got warm after the first song, he took it off and to my dismay I discovered that he was wearing the same shirt he had on at his performance at the E-Tropolis festival, which is torn under his armpits. Oh well.... My friend suggested that this might be his fortune shirt and that is why he is wearing it at concerts. Between the songs he stated that he is really happy that the tour started in this venue as he lived in this region before he moved to Hamburg. Also being on tour again instead of only having shows at festivals is something he is very excited about. With a good mixture of great songs from their four albums they were surely on the safe side but at least they presented us their new song 'Electric elephant' of the upcoming album. A quite new experience for me was to see Rascal playing guitar (concert and electric guitar) while singing.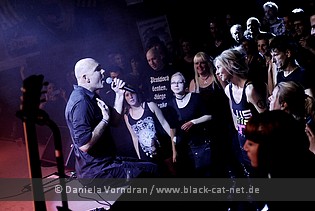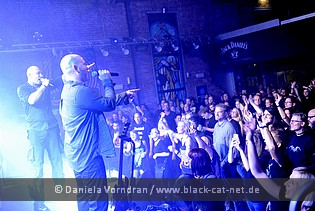 Also nice was that Krischan came to the front to sing the second vocal part at 'War on Error' as well as at 'Exterminate, Annihilate, Destroy'. The fantastic show ended after one encore.
Setlist
01. Merging oceans
02. Lost
03. Dare to live
04. Waiting to be born
05. Electric Elephant
06. One level down
07. First Time
08. Almost violent
09. Bastard screaming
10. Electronic World Transmission
11. War on Error
---
12. I cry
13. Exterminate, Annihilate, Destroy
Rating

Music: 9
Performance: 9
Sound: 9
Light: 7
Total: 8.5 / 10
After the concerts the fans had the chance to meet the bands at the merchandise stand for a little chat and getting an autograph.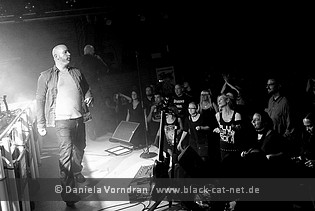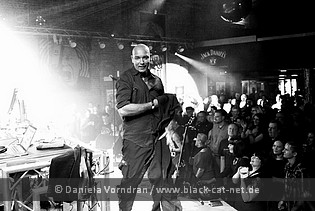 All pictures by Daniela Vorndran (
http://www.vorndranphotography.com
/
http://www.facebook.com/blackcatnet
)