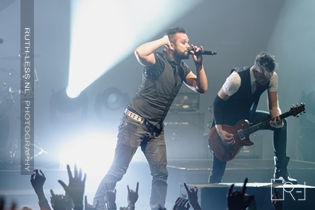 013, Tilburg, The Netherlands
18th October 2014
Skillet, SeriouS

With a catchy rock / nu-metal sound and a serious spiritual and social message, SKILLET has settled their name in the US, while in Europe their fan base is growing steadily. The group was founded in 1996 in Memphis and has over the years released several successful albums and performed numerous stages all over the world. Their 2012 album 'Awake' got platinum in the States with a possible runner up in 2013 with their latest album 'Rise'. SKILLET visited the Netherlands before, taking the stage at Fortarock festival and supporting NICKELBACK. Tonight they headline their first show at a sold out 013 in Tilburg.
SeriouS

SERIOUS is a rock band from the Netherlands with a sound that they describe as "cinematic rock with an industrial twist". On March 13th 2014, SERIOUS released their debut album 'Aware' on Mass Multiverse Records. The album was mixed and mastered by Oscar Holleman, acclaimed producer/ engineer/ mixer for WITHIN TEMPTATION, AYREON, GOREFEST, EPICA and KOVACS and others. The soundscapes and keyboards on the debut album were all performed by Joost van den Broek, known from After Forever and nowadays producer for EPICA, STREAM OF PASSION, NEMESEA, REVAMP and MY PROPANE. By launching two video clips to accompany the album tracks 'Circle of lies' and 'As I Am', the band has put itself on the map, generating over 60,000 views in a short time. The week after 'Aware' was released in the BeNeLux it entered the iTunes Rock Chart at #7 and got an 8.5 (out of 10) rating at Holland's biggest Rock and Metal magazine Aardschok.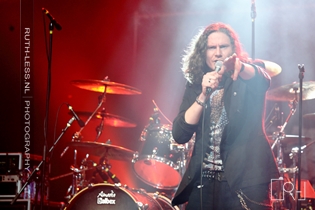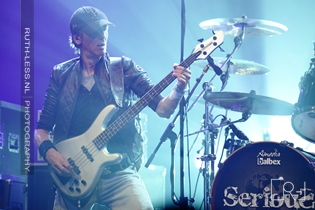 This fall they support THREE DAYS GRACE and SKILLET. SERIOUS is Jonathan Hoevertsz (vocals), Nick Polman (guitars), Vincent Zaalberg (guitars), Jan Bijlsma (bass) and Robert Spaninks (drums).
www.facebook.com/seriousofficial
/
www.seriousofficial.com
Music & Performance

With tonight's show being sold out already a week ago, the venue was packed early on (and so was the parking lot). It's never funny when you just managed your way through the crowd as that 3rd song ends – no photo pit for me for the support act. Instead, I make my way back into the hall to catch a few and enjoy the show. SERIOUS is beaming with energy as they throw all they have at the crowd. The band is confident on stage and the musicians definitely know their parts. Most of their set list consists of their own work from debut album 'Aware', except for DEPECHE MODE cover 'People are People'. Though it's clear that the audience only came here tonight for only one band, they are moderately enthusiastic and lead singer Jonathan manages to get them clapping along during several songs.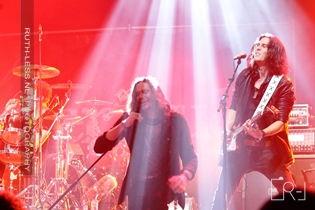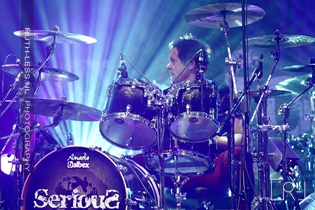 SERIOUS' music serves bite-sized rock music with heavy guitars and clean vocals. Though his vocals sound great in the lower ranges, reaching out to higher or more varied complex notes seems a challenge for Hoevertsz. Much is compensated by the bands devotion and enthusiasm on stage though, great energy and interaction with the audience: their live performance gets a thumbs up!
Rating

Music: 7
Performance: 8
Sound: 7
Light: 8
Total: 7.5 / 10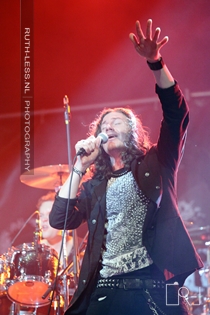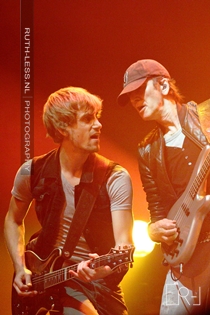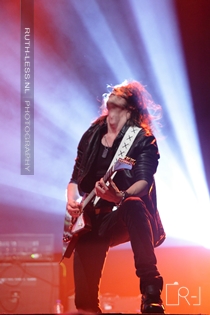 Skillet

SKILLET is a Christian rock band formed in Memphis, Tennessee in 1996. The band was originally a side project of members of bands SERAPH and URGENT CRY. The two bands met through touring, but those bands disbanded soon after, resulting in a collaboration project called SKILLET. Soon after, they received interest from Christian record label ForeFront Records. In 1996 SKILLET released a self-titled debut. It was well-received, and the trio continued to write new material as they toured the United States. SKILLET went through several line-up changes early in their career, leaving founder John Cooper as the only original member remaining in the band. By 2014, the band has released eight albums, receiving Grammy nominations for 'Collide' (2003) and 'Comatose' (2006). Their 2012 album 'Awake' has been certified Platinum and debuted on No. 2 on the Billboard 200, with 'Comatose' certified Gold by RIAA. They have sold over 2 million albums in the U.S. and are known for a relentless touring schedule, which garnered them a top five ranking in the Hardest Working Bands of 2011 by Songkick.com. SKILLET is John Cooper (lead vocals, bass), Korey Cooper (Rhythm guitar, keyboard, backing vocals), Seth Morrison (Lead guitar), Jen Ledger (drums, backing vocals, co-lead vocals). On tour, the band is enforced with two more members taking care of some extra string power: Tate Olsen (cello) and Jonathan Chu (violin).
www.skillet.com
/
www.facebook.com/skillet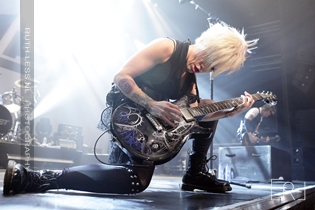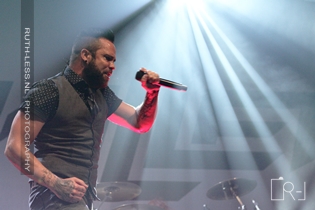 Music & Performance

Tonight's audience varies from 12-year old boys and girls to 60-year old bearded rockers but they have one thing in common: being SKILLET fans. That much becomes clear from the excited cheers as Jonathan and Tate appear on stage to announce the band with some violin & cello power. Next, the roof comes off as John, Korey, Seth and Jen hit the stage and take off with 'Whispers in the dark' from their 2006 album 'Comatose'. SKILLET is all energy on stage and it doesn't take long for the crowd to get those hands up in the air. Tonight's set list goes back and forth through their repertoire, with 'Forsaken' from the album 'Collide' that is almost 10 years old to 'Sick of it' from their latest accomplishment 'Rise'. John is a pleasant host who talks us through the show, introducing songs and their underlying messages and – quite Americano – assures the crowd over and over how much the band loves them.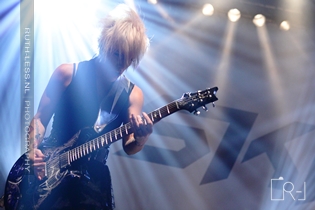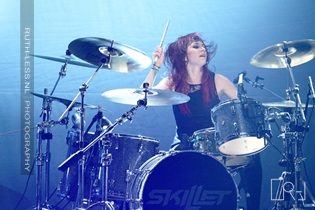 His vocals, by the way, strongly and positively remind me of PAPA ROACH Jacoby. As the show continues, it becomes clear that whatever song from whatever album on their long list SKILLET plays; it is catchy and easy to sing along with. It is notable that none of the musicians is on the background, they all put up their own show while still performing as a team. The string duo, consisting of Tate and Jonathan, are a welcome addition to the band as they make their appearance on the stage every now and then. Jen shows some impressive skills on the drums, but she can definitely sing too. About halfway through the set, she leaves her drum kit for the acoustic intermission 'Yours to Hold'. After 'Better than Drugs' John introduces the band and gives guitarist Seth and drummer Jen some space to show off their skills. Time flies and after the long awaited song 'Monster' (finally played after the audience had been screaming for it basically after each song) the band says their goodbyes. A proper rock show cannot end without an encore of course. Soon after leaving the stage, SKILLET returns for a little finale with 'Rebirthing'.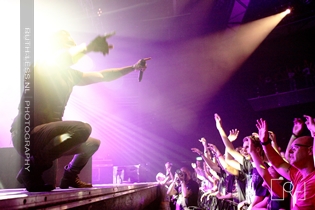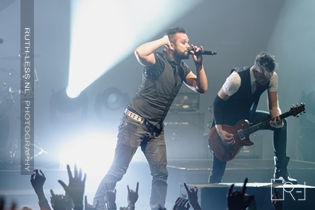 Personally, I like my rock music a bit more spicy and raw, but it is impossible not to enjoy a show like this. With such a long track record, it is no surprise that SKILLET's show is rock solid. What is notable though, is that they play their live show with an enthusiasm and energy as if it's their first big show – keep it up!
Setlist

01. Whispers in the dark
02. Forsaken
03. Sick of It
04. Not gonna Die
05. Hero
06. Awake and alive
07. Savior
08. Those Nights
09. Rise
10. Collide
11. The Last Night
12. Yours to Hold
13. Better than Drugs
14. Comatose
15. My Obsession
16. Monster
---
17. Rebirthing
Rating

Music: 8
Performance: 9
Sound: 8
Light: 9
Total: 8.5 / 10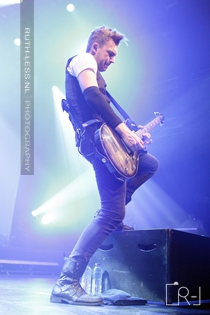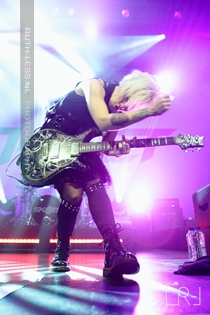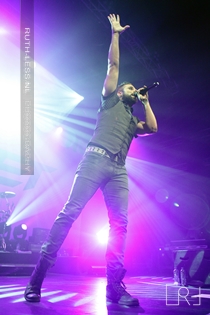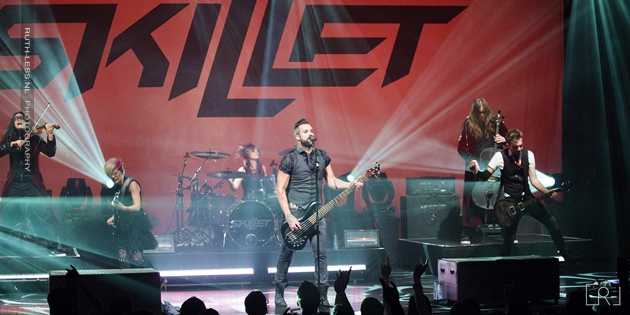 All pictures by Ruth Mampuys (
www.ruth-less.nl
)
See also (all categories):