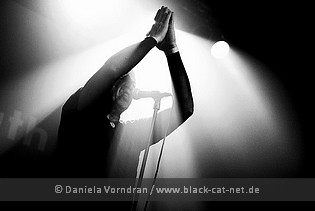 FZW, Dortmund, Germany
9th October 2014
Rational Youth & Psyche plus local support Echo West

With RATIONAL YOUTH and PSYCHE, a perfect Canadian Synth Pop package has gone on tour this autumn, completed by a local support band for the respective shows. While RATIONAL YOUTH have a 30+ years career behind them, their concert history included only one single gig in Germany so far! So this is actually their first full tour of Germany, something truly not to be missed for all Synth lovers!
Echo West
Hailing from Dortmund itself, the local opening act ECHO WEST couldn't be more local, so to speak. But with six albums and two singles in their discography and a good standing in the Minimal and Dark Wave scene, Adrian Köhler and Dirk T. Klein aka ECHO WEST are surely no nobodies. Starting with the yet unreleased 'False Illusions' in front of a club which still had to fill up the duo presented their cold, analogue synth sound which is clearly influenced by 1980s Post-Punk and New Wave.
http://www.echo-west.de
/
http://www.facebook.com/echo.west.9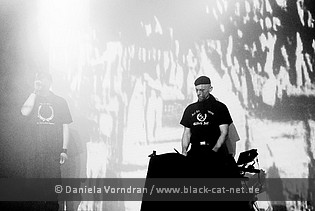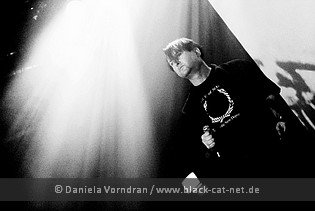 Music & Performance
Probably being aware that two people performing on stage isn't exactly a spectacle, ECHO WEST supported their show by special video projections on the big screen behind them. Surely a plus! Musically, ECHO WEST were focussing on their last album 'Pagan City Gods' with songs like 'Are We City Humans', 'Traumaland' or the final song of the set, the catchy 'Tanz den Untergang', but they also played stuff from their side project SILENT SIGNALS. While ECHO WEST's style is clearly darker and more experimental than the two headlining acts, their performance was still a great start of the night.
Setlist
01. False Illusions
02. Are We City Humans
03. Some Thought Us Dead
04. Traumaland
05. No Surrender
06. Not Alone (Silent Signals)
07. Tanz den Untergang
Rating
Music: 7
Performance: 7
Sound: 7
Light: 7
Total: 7 / 10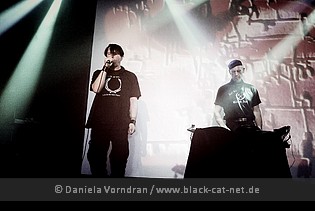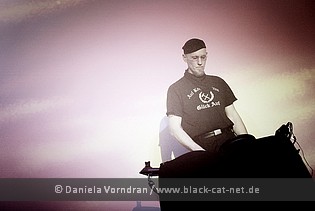 Psyche

Darrin Huss' PSYCHE is a legend in itself, though one that seems to be constantly underrated. But when you see PSYCHE live on stage it is a good reminder that the Synth Pop duo has quite a few hits under their belt and were a rather big name of the Synth & New Wave scene in the late 1980s and early 1990s. Their video clips even made it into MTV's playlist back then, and hearing classic PSYCHE songs as 'Eternal', 'Misery' or 'Uncivilized' live again reminds you that PSYCHE is head and shoulders above most of their peers.
http://www.psyche-hq.de
/
http://www.facebook.com/Psyche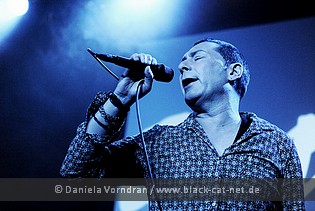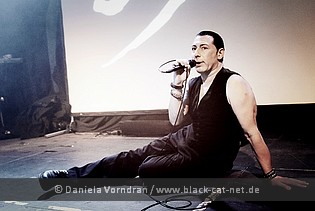 Music & Performance
In Dortmund you had to wait a while for such a cognition, though, as the sound quality was simply dreadful for the first one or two songs, unfortunately. The booming bass simply slaughtered all the lovely details of PSYCHE's luscious Synth Pop. But as soon as the sound engineer worked that out the full glory of PSYCHE unfolded, in particular thanks to Darrin Huss' showmanship. Watching a keyboarder pressing keys is something I've seen a million times before and nothing that would get me overly excited, but watching the little Canadian fellow prancing on stage, somewhere between diva and best buddy for tonight, is just great. Always having a smile for his fans and never forgetting to get the first few rows of the crowd involved, he clearly enjoyed himself on stage and proved his qualities as an entertainer.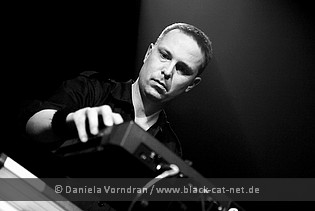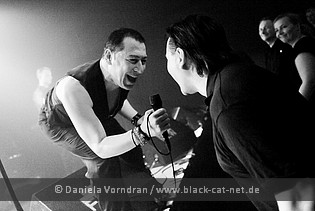 PSYCHE has always had a soft spot for cover versions, so their formidable take on JOY DIVISION's 'Disorder' and the indispensable 'Goodbye Horses' made it into the setlist of the night. The groovy dance anthem 'Unveiling The Secret' finished the main set but as the crowd's thirst was not satisfied yet the duo came back to perform the 1986 hit 'Prisoner To Desire' to end a lovely performance on a high.
Setlist

01. Secret Angel
02. The Saint Became A Lush
03. Sanctuary
04. Brain Collapse
05. Eternal
06. 15 Minutes
07. The Outsider
08. Misery
09. Disorder
10. Uncivilized
11. Tears
12. Goodbye Horses
13. Unveiling The Secret
---
14. Prisoner To Desire
Rating

Music: 8
Performance: 9
Sound: 7
Light: 7
Total: 7.8 / 10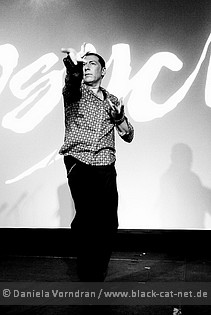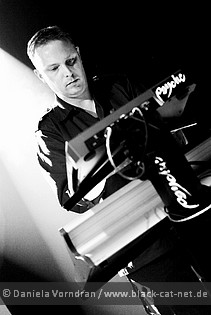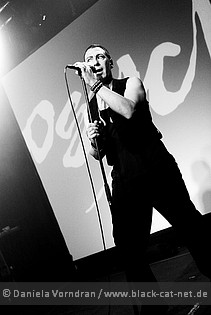 Rational Youth

When the first wave of Synth Pop with heroes as OMD, SOFT CELL, HUMAN LEAGUE or early DEPECHE MODE crossed over the big pond, RATIONAL YOUTH were the first Canadian band to accomplish chart success with pure electronic music. Influenced by the pioneering KRAFTWERK and starting out as quartet, RATIONAL YOUTH's debut album 'Cold War Nightlife' still stands out as one of the best Synth albums of the early 1980s. Unfortunately RATIONAL YOUTH went on indefinite hiatus in 1986 but increasing interest in their music by a young generation, especially in Scandinavia, promoted a reunion in the late 1990s. RATIONAL YOUTH are big in Sweden, although they didn't make too much of an impact outside North America during their first incarnation. This year the band around singer and keyboarder Tracy Howe finally managed to book a tour in Germany which proved to raise enough interest in this part of mainland Europe. Admittedly the FZW club in Dortmund wasn't exactly packed but considering that RATIONAL YOUTH and PSYCHE also played shows in the relatively nearby cities of Bielefeld and Cologne in the same week that wasn't too surprising, probably.
http://www.rationalyouth.org/
/
http://www.facebook.com/RationalYouthMusic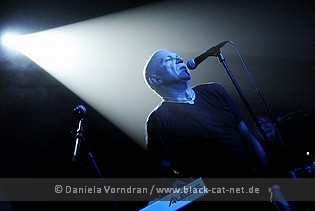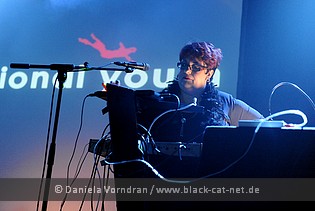 Music & Performance
Touring Scandinavia as a five-piece some while ago, the German tour saw RATIONAL YOUTH shrunk to a duo, although Howe once claimed that he wouldn't "want to do a two-guys-with-laptops thing anymore". Perhaps the financial risk of touring with a full band on previously untested territory has fostered this move. Instead of bringing long-time collaborators Bill Vorn or Kevin Komoda on the road, Howe's wife Gaenor completed the line-up. The team of two started the show with 'I Want To See The Light' and 'Coboloid Race', the two tracks of RATIONAL YOUTH's very first 7" single from 1981, subsequently switching over to a couple of songs from the 1999 album 'To the Goddess Electricity'. Gaenor Howe's most prominent contribution to the performance were flashy LED lights on her finger rings and a few keyboard lines here and there, while her husband Tracy focussed on the vocals and a few synth extras on the keyboards in front of him. To be honest, I'd have preferred a full line-up, especially as we got three synth duos in a row this night, although I can understand RATIONAL YOUTH's decision to tour with reduced personal.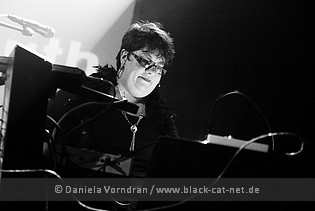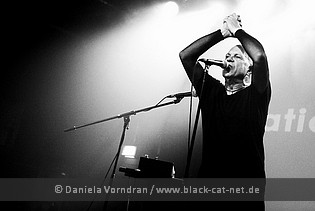 However, the charm and fascination of RATIONAL YOUTH's music did not suffer from that and the catchy Synth Pop of tracks like 'City Of Night' or 'Close To Nature' got most people at the FZW club dancing – even those who came to see PSYCHE and who had no idea who RATIONAL YOUTH are. A personal fave was the darker groove of 'Dancing On The Berlin Wall'! The old gem 'Saturdays In Silesia', in my book one of the best dance songs from the early 1980s, closed the set and left the crowd hungry for more. And for the encore RATIONAL YOUTH had something very special in store! Joined by PSYCHE's Darrin Huss they performed the two songs from their collaborative 7" single which is about to be released on Artoffact Records. Besides the track 'Underrated' there was also the hilarious and fully electronic cover version of AC/DC's 'Thunderstruck', which probably raised an eyebrow here and there but which was in the end just plain good fun.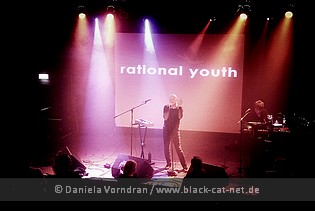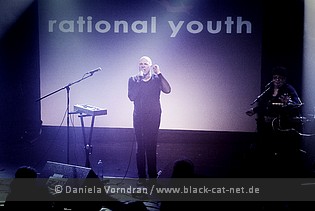 On their Facebook site RATIONAL YOUTH report that they get quite some hate mail from AC/DC fans for this "sacrilege" but the attendees of the Dortmund show proved to be much less narrow-minded and had a big party for the last time of the night.
Setlist
01. I Want To See The Light
02. Coboloid Race
03. Everything is Vapour
04. Pink Pills, Orange Pills
05. Close To Nature
06. Beware The Fly
07. Ring The Bells
08. In Your Eyes
09. Energie
10. Dancing On The Berlin Wall
11. City Of Night
12. Saturdays In Silesia
---
13. Underrated (feat. Darrin Huss)
14. Thunderstruck (feat. Darrin Huss)
Rating

Music: 8
Performance: 7
Sound: 7
Light: 7
Total: 7.3 / 10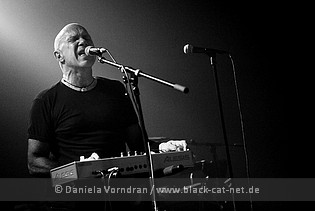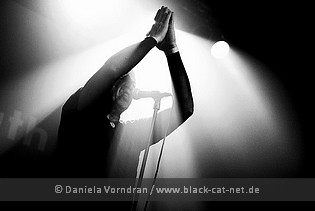 All pictures by Daniela Vorndran (
http://www.vorndranphotography.com
/
http://www.facebook.com/blackcatnet
)
See also (all categories):