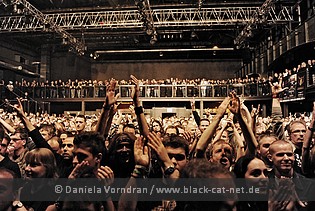 Turbinenhalle, Oberhausen, Germany
1st November 2014
Saxon, Skid Row & Halcyon Way

Just recently I read that I should get the opportunity to see SKID ROW one of my all-time faves and in my honest opinion the best "hair metal" band in existence. To get these guys on tour in a package with the mighty SAXON and American prog metal band HALCYON WAY means the head-banging community is in for a treat...
Halcyon Way

HALCYON WAY was formed in 2001 in Atlanta, Georgia and plays classic prog metal. The band toured with the likes of HELLOWEEN, STRAPPING YOUNG LAD, SYMPHONY X, FOZZY, KAMELOT, DEATH ANGEL, DORO PESCH and many, many more, so its suffice to say these guys know the road. HALCYON WAY has three albums out at the time of this review. HALCYON WAY is Steve Braun (vocals), Jon Bodan (lead guitar, backing vocals, death vocals), Ernie Topran (drums) Max Eve (rhythm guitar, backing vocals) and Skyler Moore (bass guitar, death vocals).
http://www.halcyonway.com
/
https://www.facebook.com/halcyonway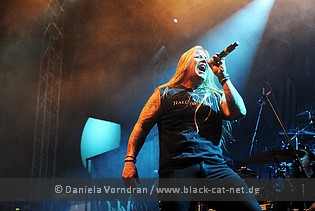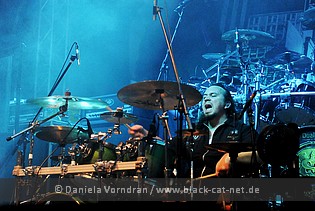 Music & Performance

This Atlanta based prog metal outfit starts their set really well with 'Conquer', the first of a six song set including 'On Black Wings' and 'Desecration Day'. These guys mix classic prog metal with death metal growls which I find rather distracting and not fitting into the bands main concept. Vocalist Steve Braun does a nice job and sometimes reminds me of TNT's Tony Harnell. Maybe if they stop to use two vocalists they will become a better live experience, sound-wise the band rules and they sure know their instruments but the aforementioned death metal growls in between just gets on my nerves.
Setlist
01. Conquer
02. On Black Wings
03. Web of Lies
04. Hatred Is My Cause
05. Save Your Tears
06. Desecration Day
Rating

Music: 6
Performance: 6
Sound: 6
Light: 6
Total: 6 / 10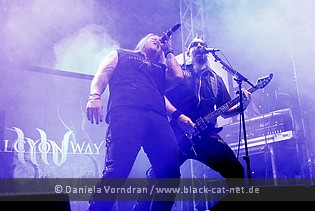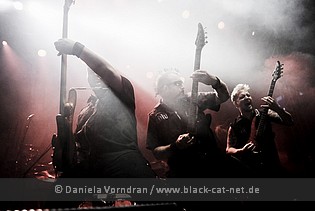 Skid Row

To tell any young or old head banger who's SKID ROW is a futile mission, just about everyone in their right metallic mind should know that the guys around "Snake" Sabo and Rachel Bolan are the best sleaze band that ever graced this earth. SKID ROW was formed in 1987 and the y had their biggest successes in the late eighties to mid-nineties. Former singer Sebastian Bach is a legend among vocalists and remains one of the best vocalist of all times (at least in my opinion). The band recorded three albums with Bach before deciding to split. The reunion came in 1999 but with new vocalist Johnny Solinger and new drummer Phil Varone, they recorded four records since. SKID ROW today consists of Johnny Solinger (vocals), Scotti Hill (guitar), Rachel Bolan (bass), Snake Sabo (guitar) and Rob Hammersmith (drums).
http://www.skidrow.com
/
https://www.facebook.com/OfficialSkidRow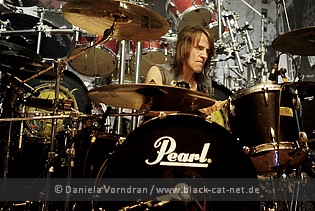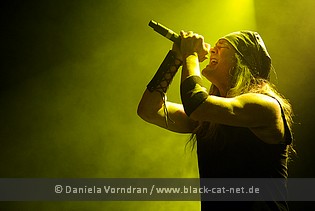 Music & Performance

The atmosphere in the hall begins to boil as SKID ROW enter the stage, although it is all too clear that the bulk is here for SAXON. The band plays very solid even if Solinger can't hold a candle against former singer Sebastian Bach. The band even plays my favourites '18 and Life' and 'Youth Gone Wild' but Solinger and the man responsible for the sound in the hall are able to slaughter those songs to an extend that even I as a hard-core fan decide to leave for a cigarette in the smokers corner outside. I was really looking forward to seeing this once epic band but I don't think that I ever want to again.
Setlist

01. Let's Go
02. Piece of Me
03. Big Guns
04. 18 and Life
05. Thick Is the Skin
06. Psycho Therapy
07. Monkey Business
08. We Are the Damned
09. Slave to the Grind
10. Youth Gone Wild
Rating

Music: 7
Performance: 7
Sound: 7
Light: 7
Total: 7 / 10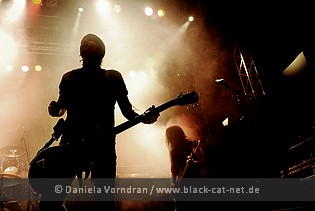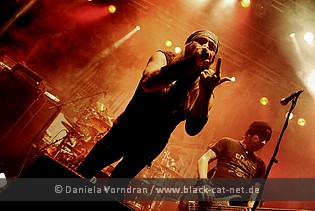 Saxon

The legendary band SAXON was formed 1976 in Barnsley, England by vocalist Peter "Biff" Byford Paul Quinn, Graham Oliver (both on guitar), Steve Dawson (bass) and Pete Gill (drums). SAXON are pioneers of the New Wave of British Heavy Metal that spawned bands such as IRON MAIDEN, DEF LEPPARD, ANGEL WITCH, PRAYING MANTIS, SAMSON, TYGERS OF PAN TANG, HOLOCAUST or DIAMOND HEAD. The band released twenty albums since their formation and they still tour and play. Today's line-up is Biff Byford (vocals), Nibbs Carter (bass), Nigel Glockler (drums), Paul Quinn (guitar) and Doug Scarratt (guitar).
http://saxon747.com
/
https://www.facebook.com/saxon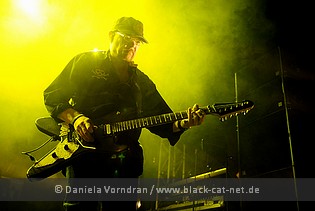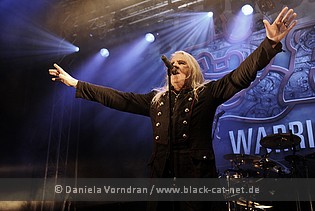 Music & Performance

One thing gets clear very fast as Biff's guys appear on stage: the band everybody has been waiting for is finally here. Biff has a very good day vocal-wise and the band plays uber-tight. The set list is a big best of spanning SAXON`s long and successful career, containing all time-faves like 'Heavy Metal Thunder', 'Wheels of Steel' and 'Denim and Leather'. The crowd's reaction to the performance and the played material is frenetic and very enthusiastic. Not one SAXON fan in the venue is left unsatisfied. Just the sound could have been a little better, I'd say.
Setlist

01. Motorcycle Man
02. Sacrifice
03. Power and the Glory
04. Heavy Metal Thunder
05. Lionheart
06. Strong Arm of the Law
07. Suzie Hold On
08. Never Surrender
09. The Eagle Has Landed
10. Demon Sweeney Todd
11. The Great White Buffalo
12. 747 (Strangers in the Night)
13. Forever Free
14. Broken Heroes
15. Chasing the Bullet
16. 20,000 Ft
17. Solid Ball of Rock
18. Princess of the Night
---
19. Wheels of Steel
20. Crusader
---
21. Denim and Leather
Rating

Music: 7
Performance: 7
Sound: 7
Light: 7
Total: 7 / 10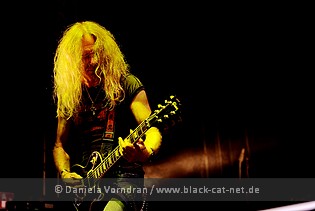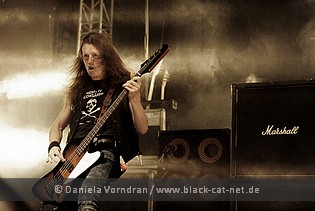 All pictures by Daniela Vorndran (
http://www.vorndranphotography.com
/
http://www.facebook.com/blackcatnet
)