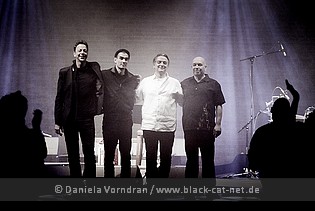 Christuskirche, Bochum, Germany
16th November 2014
Peter Heppner – Acoustic

There is only one Trinity that makes me want to visit a church and this is the Trinity of As: Architecture, Arts and acoustic concerts. On this evening there was not much to admire regarding the first two As – being in a Protestant church (with a capacity of approximately 800 people) the furnishing was meagre, but I finally had the pleasure to see and hear PETER HEPPNER perform and thus enjoy the excellent acoustic of this venue. For the singer himself it was the first time to give an acoustic concert and so it was no wonder that he was quite nervous before he entered the stage, especially as he had caught a cold some days ago. The show was nearly sold out.
The compelling vocals of the German singer / songwriter crawls inside your ear and wanders deeper into your heart. From 1987 to 2007 he gained a growing prominence with the Synth Pop duo WOLFSHEIM. The band disbanded then. In 2005 he started his solo project and until today he released two albums which both entered successfully the charts in the German speaking countries. Furthermore he collaborated successfully with several musicians like SCHILLER, PAUL VAN DYK, GOETHES ERBEN, JOACHIM WITT to mention only a few. The lyrics of the songs are in English as well as in German language.
http://www.peterheppner.de
/
https://www.facebook.com/peterheppneroffiziell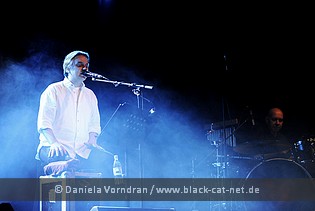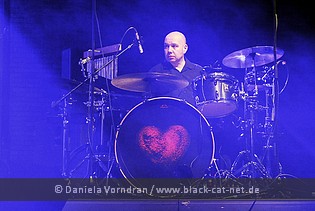 Music & Performance

When we entered the venue and took our seats, there was still enough time to take a look at the stage setting, consisting of a grand piano, a guitar, a drum set, a barstool with a microphone tripod and of course the music stand in front of it. Performing with a music stand is a kind of trademark of PETER HEPPNER. Also on this acoustic tour the singer is supported by his approved live band with Dirk Riegner on the piano, Carsten Klatte playing guitar and Achim Färber behind the drum set. The show started with an instrumental intro on the piano then the other band members entered the stage and took their seats and finally PETER HEPPNER appeared and was greeted with a loud applause. At the first song you could hear that Peter had a cold as his voice was a bit husky but by no later than the third song his vocal chords were warm and you could hear nothing of the nasty cold. The setlist contained a great mixture of songs in German and English language, songs of the WOLFSHEIM repertoire, songs of his collaborations with other musicians as well as songs of his solo project of course. Each song was rewarded with a thunderous applause.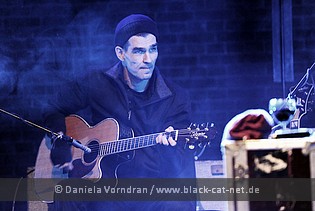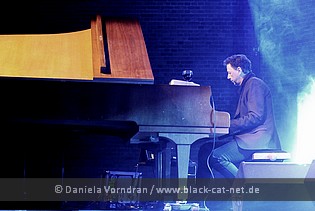 After 'Being me', Peter was dearly in need of a cigarette and as he lit up one it was commented by the audience with laughter and clapping. As the first songs were a bit slow he announced the next song to have more drive or else it would be unbearable. And of course 'Heroin she said' brought a bit more up tempo into the set but nevertheless such a concert is not about much action on stage, even more as Peter was not leaving his seat while performing. It is carried by the distinctive vocals underlined by the carpet of sound. I really enjoyed the way the band performed: very subtle and unobtrusive but perfectly punctuating the singer. And of course the acoustic performance offers an opportunity to present well known songs in a complete other garment. As I have heard later there were many people having their goose bump moments to some of the songs. I got mine at the performance of 'Wir sind wir' (We are we). After 18 songs the concert ended but the fans would not let PETER HEPPNER leave without an encore. The second song of it was 'The sparrows and the nightingales' presented in a very unusual way that reminded me of 'Long hot summer' from THE STYLE COUNCIL.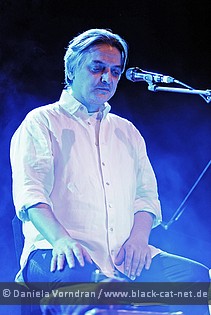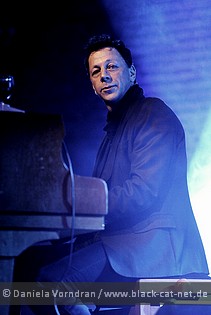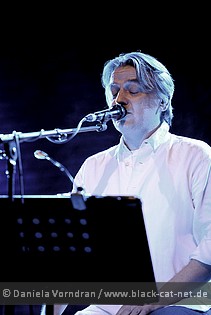 Well, this more funky soul style interpretation was not everyone's cup of tea but personally I liked it. And as one encore was still not enough, the shouts for more were loud and so we got a funny presentation of MARLENE DIETRICH's song 'Ich weiß nicht zu wem ich gehöre' (I don't know to whom I belong) which brought a big smile on all our faces when we left the venue. Some fans, who didn't have to hurry home immediately, had the chance to get a photo or an autograph of PETER HEPPNER and his band. Unfortunately there was no merchandise stand which is a no go in my eyes as people like to buy CDs, T-shirts or other stuff after a concert and having a signed CD is such a nice memory of a great concert evening.
Setlist

01. And I (WOLFSHEIM)
02. Care for you (WOLFSHEIM)
03. God smoked
04. Meine Welt
05. Being me
06. Noch nicht soweit
07. Heroin she said (WOLFSHEIM)
08. Wherever
09. Annie (WOLFSHEIM)
10. Twelve
11. Künstliche Welten (WOLFSHEIM)
12. Easy
13. Deserve to be alone
14. This time (WOLFSHEIM)
15. Die Flut
16. Cry tonight
17. Wir sind wir
18. Kein Zurück (WOLFSHEIM)
---
19. Leben… I feel you
20. The sparrows and the nightingales (WOLFSHEIM)
---
21. Ich weiß nicht zu wem ich gehöre (MARLENE DIETRICH cover)
Rating

Music: 10
Performance: 7
Sound: 10
Light: 7
Total: 8.5 / 10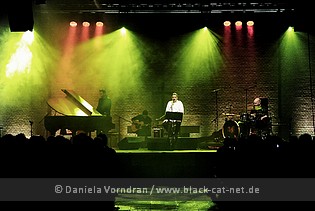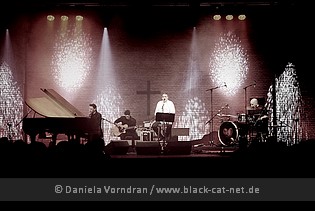 All pictures by Daniela Vorndran (
http://www.vorndranphotography.com
/
http://www.facebook.com/blackcatnet
)