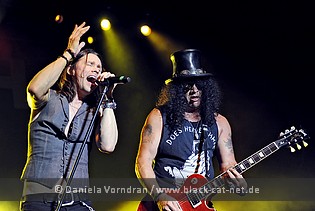 Palladium, Cologne, Germany
23rd November 2014
Slash featuring Myles Kennedy & The Conspirators, Support: Monster Truck

SLASH is a name that didn't need an introduction if you lived during late 80s and early 90s – GUNS N'ROSES was blasting out from radios and stereos; it wasn't just the many girls who were in love with Axl Rose and/or SLASH they seemed to hit it off with a large audience. He's bringing out second solo album featuring vocalist Myles Kennedy (ALTER BRIDGE) and THE CONSPIRATORS. The album is called 'World On Fire' and was out in September 2014. After his US tour, the artist came to Germany for only two shows. So it was expected that both shows were sold-out and the Cologne Palladium was really packed, already when support act MONSTER TRUCK entered the stage.
Monster Truck

Canadian Band MONSTER TRUCK released two EPs, followed by their debut album 'Furiosity' on Dine Alone Records on May 28th, 2013MONSTER TRUCK won the Juno Award in 2013 as "Breakthrough Group of the Year". In the same year, they played at Download Festival and supported VISTA CHINO on their European tour. In 2014, the band opened for BILLY TALENT on their 'Dead Silence' tour and were support for ALICE IN CHAINS on their Canada/United States North American tour. MONSTER TRUCK is lead singer and bassist Jon Harvey, guitarist Jeremy Widerman, keyboardist Brandon Bliss and drummer Steve Kiely.
http://www.ilovemonstertruck.com
/
https://www.facebook.com/ilovemonstertruck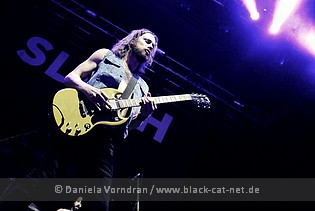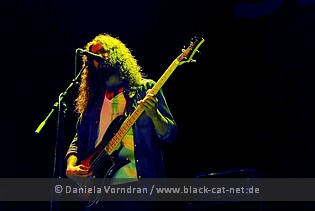 Music & Performance

MONSTER TRUCK entered the stage in time and with their successful debut album, they already reached the hearts of the classic rock crowd. To be honest, what the band delivers on their 'Furiosity' album, pushed them into the top league. I.e. the song 'Old Train', being part of the Cologne set too, is based on Southern / Sleaze Rock riffs and accompanied by Hammond sounds, reminding a bit of DEEP PURPLE or LED ZEPPELIN. There was not much of a "show", just guitarist Jeremy is swirling across the stage. But the music convinced big time, pushing powerful through the speakers. The band really convinced with music and likable appearance. And much to the joy of many attendees, the band had some free CDs with them that were spread later on within the audience.
Setlist

01. Sylt
02. The Lion
03. Old Train
04. Worse / Better
05. Sweet Mountain River
06. For the Sun
07. Don't Tell Me How to Live
08. Righteous Smoke
Rating

Music: 8
Performance: 7
Sound: 7
Light: 7
Total: 7.3 / 10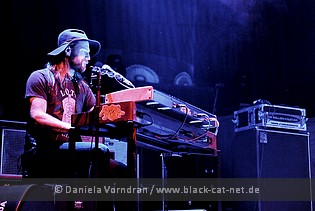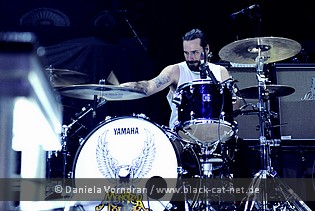 Slash featuring Myles Kennedy & The Conspirators

Rock icon Saul Hudson, better known as SLASH, has not been putting his feet up since his days of glory with legendary rock band GUNS 'N ROSES. Ever since, he has been actively involved in several bands such as SNAKEPIT and all-star group VELVET REVOLVER. SLASH's characteristic guitar riffs form the basis of a perfect recipe for everlasting rock songs. Only few people can manage to establish themselves with their nickname - SLASH is definitely amongst them. Even though he is mostly known for being the lead-guitarist of GUNS 'N' ROSES, he also participated in lots of side projects over the years and achieved a good reputation for his guitar work. In 2010, with lots of guest musicians on his side, he finally released his first, real solo record, called simply 'Slash', featuring musicians such as Ozzy Osbourne or Lemmy Kilmister but also Fergie from THE BLACK EYED PEAS. September 2014 saw the release of his second solo album, 'World On Fire', featuring vocalist Myles Kennedy (ALTER BRIDGE) and THE CONSPIRATORS. Also during his new tour, the line-up is the same like on the last album with Slash (Guitar), Myles Kennedy (Vocals, Guitar), Todd Kerns (Bass, Vocals), Brent Fitz (Drums) and touring member Frank Sidoris (Guitar).
http://www.slashparadise.com
/
https://www.facebook.com/SlashParadise
/
https://www.facebook.com/pages/Slash-featuring-Myles-Kennedy-and-The-Conspirators/172614256185100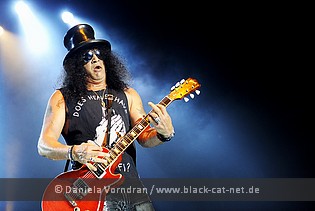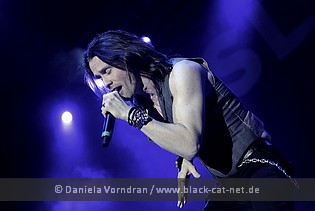 Music & Performance

You want SLASH? You get SLASH. And just like you are used to with top hat, big sunglasses and of course his Les Paul guitar. He and his company were celebrated last Sunday by 4,000 people in a sold-out venue. The program itself is surely not very varying. The setlist is based on the new album 'World On Fire' and Myles Kennedy is delivering a great vocal performance. For ' Doctor Alibi' and the GUNS'N ROSES song 'Out Ta Get Me', bassist Todd Kerns is taking over lead vocals. The band is delivering Hard Rock and of course, there are a lot of SLASH's guitar solos, at times alienated by Wah-Wah effects. Once added to a list of the best guitar players of all times, SLASH is of course star of the evening. But singer Myles Kennedy, front man of ALTER BRIDGE, was nearly on a par, very vivid and close to the audience, even though he surely is not the best singer in the world. Also the accompanying THE CONSPIRATORS delivered a great show. Anyone turned out as great musician. The audience was excited! Towards the final of a perfect show, SLASH was unpacking the classics, the old gems from VELVET REVOLVER and GUNS'N ROSES times. With 'Slither', the band left the stage, but one song was still missing and demanded by many, the GUNS'N ROSES gem 'Paradise City' which was finally ending the show.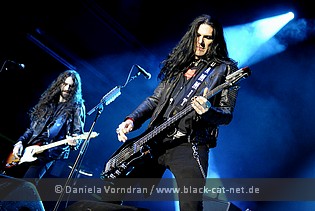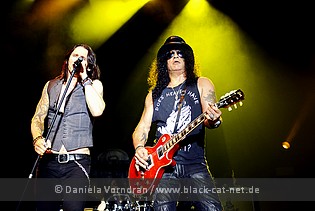 The very last riffs of the evening were played blind when SLASH was holding the guitar behind his head. Probably, a guitar hero like he is does not even need a singer or accompanying band. But I think the audience was thankful for songs with vocals and with lots of solos, they were proven SLASH's virtuosity. At the end, he screams to the audience "I thank any single one of you…". And we thank him and his band for this show!
Setlist

01. You're a Lie
02. Nightrain (Guns N' Roses cover)
03. Standing in the Sun
04. Avalon
05. Back from Cali (Slash cover)
06. Wicked Stone
07. You Could Be Mine (Guns N' Roses cover)
08. Ghost (Slash cover)
09. Doctor Alibi (Slash cover) (Todd Kerns on lead vocals)
10. Out Ta Get Me (Guns N' Roses cover) (Todd Kerns on lead vocals)
11. 30 Years to Life
12. Beneath the Savage Sun
13. Mr. Brownstone (Guns N' Roses cover)
14. Rocket Queen (Guns N' Roses cover)
15. Bent to Fly
16. World on Fire
17. Anastasia
18. Sweet Child O' Mine (Guns N' Roses cover)
19. Slither (Velvet Revolver cover)
---
20. Paradise City (Guns N' Roses cover)
Rating

Music: 9
Performance: 8
Sound: 8
Light: 9
Total: 8.8 / 10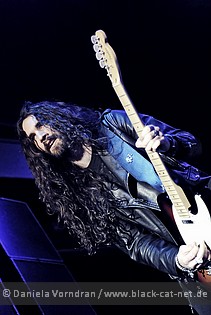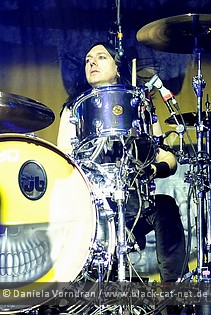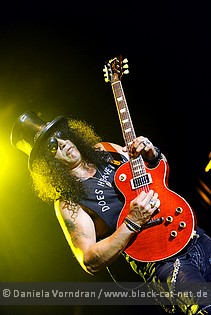 All pictures by Daniela Vorndran (
http://www.vorndranphotography.com
/
http://www.facebook.com/blackcatnet
)
See also (all categories):