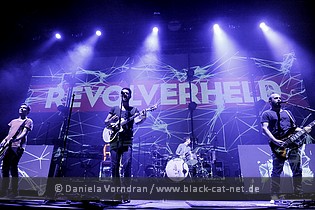 RuhrCongress, Bochum, Germany
14th December 2014
Revolverheld & Julian Le Play

The final show of the current REVOLVERHELD tour was taking place in Bochum. And there was a huge demand for the band, resulting in a sold-out venue. The hall was packed and later on, the band would be excited about this success. They were already playing in Bochum several times before, at the Riff or the Zeche, much smaller venues. As support, REVOLVERHELD brought Austrian artist JULIAN LE PLAY.
Julian Le Play

Already with his birth name, Julian Heidrich was in Austrian TV as participant of the Kiddy Contest. In 2010, he was taking part at the casting show "Heroes of Tomorrow" and made it to position seven. In 2011, he started as JULIAN LE PLAY with the production of his first studio album 'Soweit Sonar', being released in 2012. In his home country Austria he won several awards and his "Soweit Sonar Tour" was leading him though Austrian clubs in spring 2013. His second album 'Melodrom' was out in 2014 and has been released also in Germany. It entered Austrian charts on position three. Following the release was another tour, this time including Austria, Germany and Switzerland. Summer 2014 saw him and his band touring with JAMES BLUNT and REVOLVERHELD.
http://www.julianleplay.com
/
https://www.facebook.com/julianleplaymusic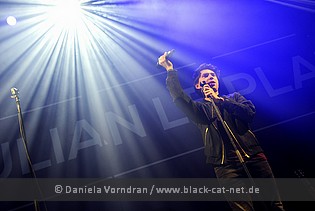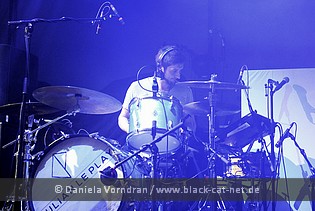 Music & Performance

It was short before eight when the lights went down and JULIAN LE PLAY entered the stage together with his supporting band. The singer / songwriter was welcomed friendly by the Bochum audience and seemed impressed by the huge crowd. Between his songs, taken form his both released albums mainly, he told shorter or longer stories. In fact, for my taste, he talked too much. One of the stories was about how he met the guys of REVOLVERHELD and how he was finally invited as support for this tour. The setlist also included a cover version of MIA.'s song 'Tanz der Moleküle'. Even though I found the show rather unentertaining, I was anyway impressed by the good lightshow he had. Not very common for a support act. All in all, the show was well received by the audience and at the end, he got lots of applause.
Setlist

01. Soweit Sonar
02. Blue Jeans
03. Wir Haben Noch Das Ganze Leben
04. Phönix / Der Wolf
05. Tanz der Moleküle (MIA. cover)
06. Rollercoaster
07. Mein Anker
Rating

Music: 6
Performance: 6
Sound: 7
Light: 8
Total: 6.5 / 10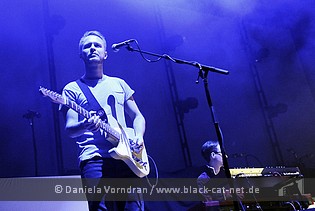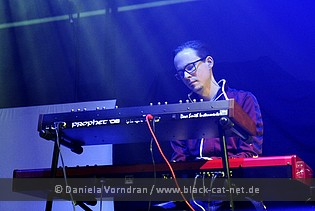 Revolverheld

GERMAN Rock band REVOLVERHELD was founded in Hamburg in winter 2002 under the name MANGA. In 2004, they changed their name into TSUNAMIKILLER and after the Tsunami end of 2004, the changed it again into REVOLVERHELD. REVOLVERHELD are always on the move, for more than a decade now. In the past, they had Top Ten entries with all albums, Gold and Platinum awards, Echo nominations and several awards on their sleeves. But besides all those statistics, the guys conquered the hearts of their fans with songs like 'Freunde Bleiben', 'Spinner' or 'Halt Dich An Mir Fest'. REVOLVERHELD always were where a band belongs, at the stages, close to their fans. After hundreds of live concerts they count as one of the most rousing and best live bands in Germany. Now, the quartet finished its fourth studio album 'Immer in Bewegung', released in September 2013. The album's first single 'Das kann uns keiner nehmen' is once more a fascinating hymn, just in best REVOLVERHELD manner. After several shows in spring 2014, the band added several more dates to their tour schedule. REVOLVERHELD is Johannes Strate(guitar, vocals), Kristoffer Hünecke (guitar, vocals), Niels Grötsch (guitar, vocals) and Jakob Sinn (drums).
http://www.revolverheld.de
/
https://www.facebook.com/Revolverheld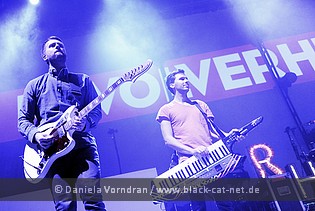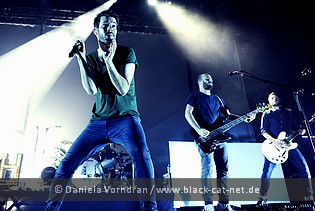 Music & Performance

Not even thirty minutes after the supporting act, REVOLVERHELD entered the stage, accompanied by rhythmical clapping from their fans and starting their concert with 'Immer in Bewegung', the title track of the new album and the tour. In their welcoming speech, singer and guitarist Johannes Strate told that the band played in Bochum numerous times and how they remember playing in small venues Riff or Zeche and how impressed they are of the huge amount of people gathering in front of the stage now, it must be ten times the crowd fitting into the Zeche. Loud cheers applauded him. But still, the last show for REVOLVERHELD this year was taking place in kind of familiar atmosphere. Soon after the start, the band received a little present from the audience – a St Nicholas puppet with a little letter. First, the present did not reach the stage, but a friendly photographer was handing it to Johannes who was smiling and placed it onto the drum set, not after Jakob gave the puppet a few hugs. After a few faster songs, short before Christmas, there was also time for a little unplugged session and some Christmas carols together with the audience. And anyone was loudly joining into the chant. After the Christmas interlude, also the hit 'Spinner' was presented as acoustic version.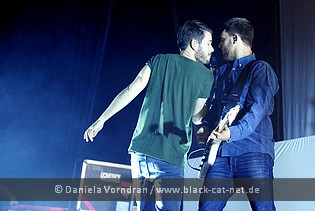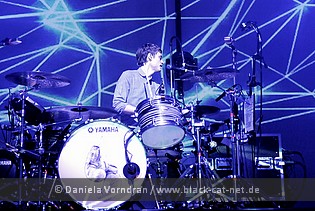 Sure, REVOLVERHELD were playing now at a big hall, but still the band is close to the audience. In Bochum, they get a few kids onto stage. And they share some Christmassy sweets with the audience. More presents are coming up in form of the hits of the band, like 'Halt dich an mir fest' or 'Ich lass für dich das Licht an'. The audience accompanied the band throughout the whole show with their chants. The audience is excited, showing much admiration when lightening the hall with the lamps of their mobile phones or, like in good old times, with their lighters. Besides the music and the audience, also the light show deserves some attention. There were several video animations projected to a huge screen in the back. And for several songs, there were live pictures directly shown. So also people far in the back could see what was going on on stage. After almost two hours, the guys left the stage and came back for three encores, the very last song was one of their best-known ones, 'Freunde bleiben'. And also this final concert for the band in 2014 was a huge success. I wonder if we soon see the band even playing stadium gigs…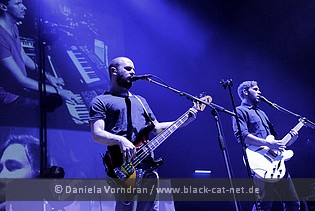 Setlist

01. Intro
02. Immer in Bewegung
03. Mein Leben ist Super
04. Ich werd' die Welt verändern
05. Bands deiner Jugend
06. Hinter der Elbe New York
07. Das kann uns keiner nehmen
08. Sommer in Schweden
09. Christmas carols (unplugged + guests)
10. Spinner (unplugged + guests)
11. Worte die bleiben
12. Neu anfangen
13. Halt dich an mir fest
14. Ich werde nie erwachsen
15. Die Welt steht still
16. Ich lass für dich das Licht an
17. Darf ich Bitten
---
18. Deine Nähe tut mir weh
19. Lass uns gehen
20. Freunde bleiben
Rating

Music: 8
Performance: 9
Sound: 8
Light: 9
Total: 8.5 / 10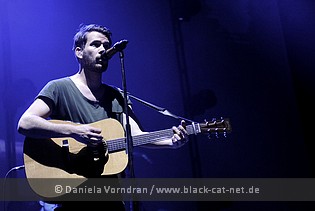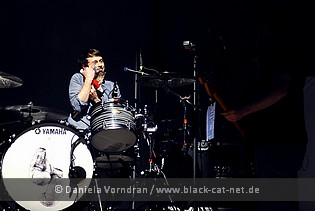 All pictures by Daniela Vorndran (
http://www.vorndranphotography.com
/
http://www.facebook.com/blackcatnet
)