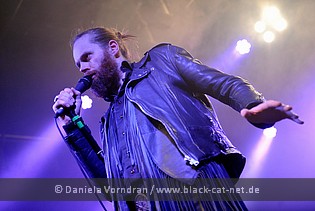 Zeche, Bochum, Germany
2nd February 2015
Sólstafir & Nordic Giants

What would fit more but a cold and icy winter day when Icelandic SÓLSTAFIR were playing in Bochum? Their music may be best described as a dense mixture of Black and Pagan Metal, arranged in a progressive way and with a certain crossover, Rock'n'Roll attitude. As support, they brought NORDIC GIANTS and let me already tell you I was more than impressed by their show…
Nordic Giants

NORDIC GIANTS are kind of mystery. There is not much to read about the instrumental post-rock band, calling their style "Claustrophobic Cinema Clatter", and mainly focusing on their live performances. The band is signed to Kscope Records and released a couple of EPs/ albums. The double album 'Build Seas Dismantle Suns' was out in November 2014. The band comes with a special live performance, dressed in feathers and shrouded in a ubiquitous fog, using videos to underline their show. The award-winning short films are real pieces of art. "Multi-screen visuals, powerful strobes and exquisitely timed accompaniment create a whole that is far greater than the sum of its parts." The duo NORDIC GIANTS consists of Loki (keys, synth, loops, trumpet) and Roka Skuld (cymbals and skins, bowed guitar, loops and samples).
http://www.nordicgiants.co.uk
/
https://www.facebook.com/nordicgiants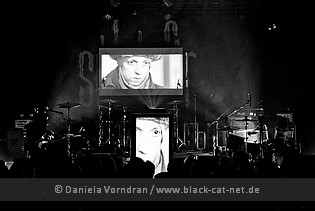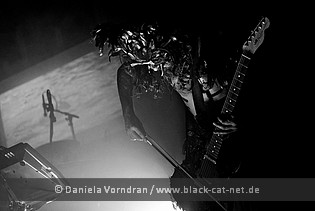 Music & Performance

I did not know what awaits me when NORDIC GIANTS entered the stage. And let me tell you I was completely blown away. It was not only the music catching me, it was more the complete performance of this two feathered creatures accompanied with extraordinary short films you were drowning in. As I read in their bio, their live show is "a visceral experience that goes beyond the normal descriptors. Each mind-blowing performance involves a chosen few short films, which are soundtracked live with atmospheric soundscapes." And well, this perfectly sums it up. Those two mythical creatures indeed create a special experience where bowed guitar and piano are combined on a rousing way, based on climactic and thunderous drums that deeply stick in your head. The show was mainly instrumental, but never boring. Only occasionally there were vocals since the band collaborates with different singers. Though, the vocals came from backing tape. Not much more to say, you have to experience yourself. And I won't describe any single film since they are so special, you have to see them personally. And now, I think I have to buy me their releases!
Setlist

01. Intro (film - "Lunar" by Tyson Wade Johnston)
02. Mechanical Minds (film - "The Gift" by Carl Erik Rinsch)
03. The Seed (film - "Death of an Insect" by Hannes Vartiainen and Pekka Veikkolainen)
04. Through a Lens Darkly (film - "The Last Breath" by David Jackson)
05. Néoténie (film - "Reload" by Jodeb)
06. Together (film - "Pencilhead" by Pencilhead.me)
07. Little Bird (film - "Solipsist" by Andrew Thomas Huang)
08. Outro (film - "The Last Breath" final scene)
Rating

Music: 9
Performance: 10
Sound: 8
Light: 9
Total: 9 / 10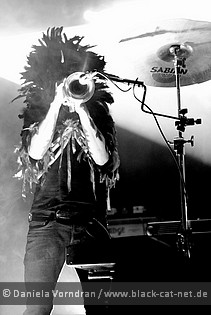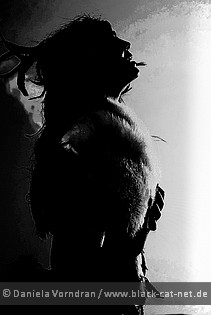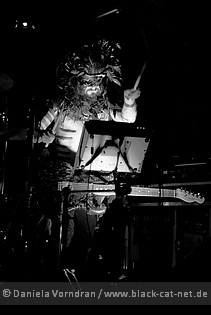 Sólstafir

Icelandic Metal band SÓLSTAFIR, whose name means crepuscular rays in English, formed in 1995. In the same year, the band recorded first demos. From 1999, the band worked on their debut album, 'Í Blóði og Anda', which finally was released in 2002. After a few more demos, the second album 'Masterpiece of Bitterness' was released 2005 through Spinefarm Records. Everywhere, the album got fantastic reviews and the band made a name for themselves with powerful live performances. The band's latest album, 'Svartir Sandar', was released in October 2011 via Season of Mist label, entering even Icelandic charts on position 7. The single 'Fjara' even made it to position 1. Let's go to the background of their latest, that is fourth, album 'Ótta' (released in August 2014), though there are some clues in the cover already – the indifferent serenity in the seeming infiniteness of the sea and yet weather piercing and sculpting turmoil into the fabric of its being, together with its tidal suggestion behind an old man who is God-looking, all in black and white – doesn't it all suggest something to do with time?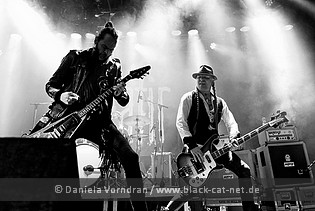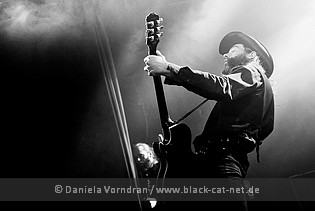 Indeed:
"the song titles of 'Ótta' form a concept based on an old Icelandic system of time keeping similar to the monastic hours called 'Eykt' ('eight'). The 24 hour day was divided into 8 parts of 3 hours each. The album starts at midnight, the beginning of 'Lágnætti' ('low night'), continues through each Eyktir of the day and ends with 'Náttmál' ('night time') from 21:00 to 0:00."
SÓLSTAFIR consists of Svavar "Svabbi" Austmann (bass), Guðmundur Óli Pálmason (drums), Sæþór Maríus "Pjúddi" Sæþórsson (guitar) and Aðalbjörn "Addi" Tryggvason (guitar, vocals). Drummer Gummi was not taking part on the current tour due to personal reasons. But SÓLSTAFIR found great replacement in Karl Petur Smith who had already played with such acts as Rusty Anderson, Jason Falkner and Bubbi Morthens.
http://www.solstafir.net
/
https://www.facebook.com/solstafirice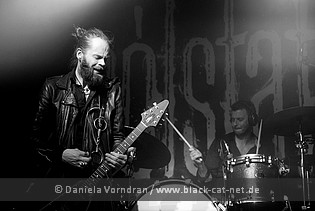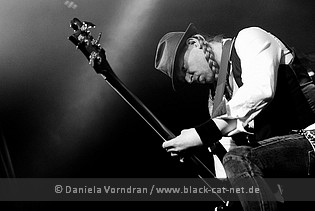 Music & Performance

Well, it was really a hard job for SÓLSTAFIR now to impress me after such a support act. But since SÓLSTAFIR never seem to fail, they delivered a great show, despite some little technical issues. But more of that later. It was nearly 21:30, when the Icelandic guys finally entered the stage along to their intro 'Náttfari'. The names of the four guys from Reykjavik are as unspeakable as the titles of some of their songs, even though second song of the evening, 'Köld' from the same titled 2009 album, is a rather easy one. Soon, the quartet went flat out and served strained instrumental fodder, decorated here and there by the chant of Mister Tryggvason. Therewith, the band immediately casted a spell over the audience and earned plenty of applause. The stage illumination now changed from cool blue to warm red, not causing any mimic change in the face of Sæþór – maybe he was just too busy treating his instrument and keeping the plectrum in his mouth. As Addi during the show mentioned, they were having fun… even though the face of Pjúddi always seems to stay motionless.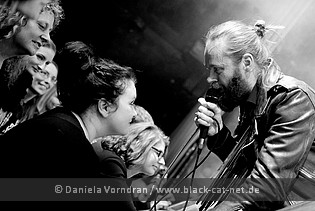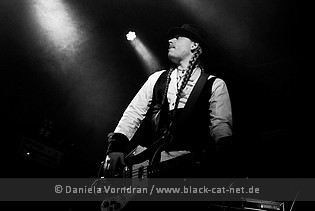 But then in the middle of the set, there was the mentioned technical issue when Karl stated he had killed the snare drum. So he was leaving the stage to take care for replacement and Addi was meanwhile talking a little to the audience. Later he laughed that we not only got a concert but also a sound check… for free. Sure, you felt that he was not really happy about the technical issue since it took one more song to get the snare sounding right, but nevertheless the musical landscapes the band built sounded great. It was towards the end of the set, when great Fjara' was received with a lot of excitement, pressing every possible Metal, Pagan, Post and Psychedelic-Rock button before the set already reached the last song of the evening, 'Goddess of the Ages'. About ninety minutes had passed when the last sounds were fading and the band came together for a final bow. When they left, loud cheers for an encore were rising.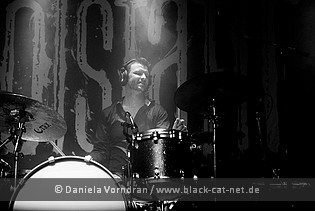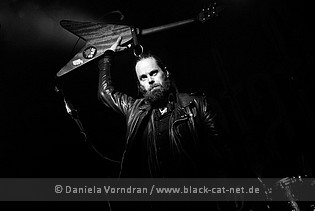 The band returned, but not for playing more. Instead, they thankfully waved and bowed again and left the audience for good, deeply impressed by an extraordinary musical experience of two fantastic bands sharing the stage tonight.
Setlist

01. Intro: Náttfari
02. Köld
03. Lágnætti
04. Rismál
05. Ótta
06. Þín Orð
07. Dagmál
08. Svartir Sandar
09. Djákninn
10. Fjara
11. Goddess of the Ages
Rating

Music: 9
Performance: 9
Sound: 8
Light: 9
Total: 8.8 / 10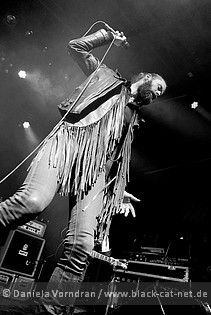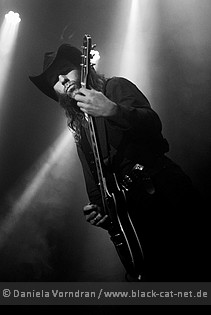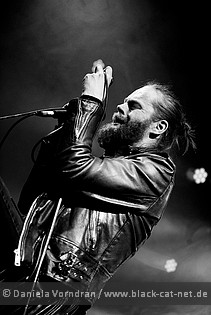 All pictures by Daniela Vorndran (
http://www.vorndranphotography.com
/
http://www.facebook.com/blackcatnet
)