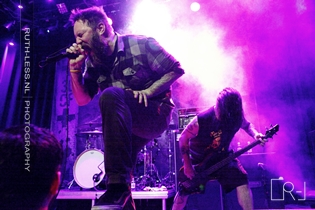 Dynamo, Eindhoven, The Netherlands
20th February 2015
36 Crazyfists & All Hail the Yeti

At the start of 2015, the bearded men of 36 CRAZYFISTS tour Europe to promote their new album 'Time & Trauma'. The four-piece started out in 1994 in Anchorage, Alaska and have released seven albums since then, from which 'Rest inside the Flames' is best known. It has been a bit quiet the last few years, but now 36 CRAZYFISTS are back on track! For this tour, they bring American Metalcore band ALL HAIL THE YETI as support.
All Hail the Yeti

ALL HAIL THE YETI is a Metalcore band from LA, California, founded by Canadian vocalist and tattoo artist Connor Garritty, and guitarist K.J Duval. After starting out in 2006 they soon gathered a local following. An EP titled 'Trees On Fire With Songs OF Blood' was released in 2010, followed by many shows with amongst others TIMES OF GRACE, SOULFLY, FEAR FACTORY, and SUICIDE SILENCE. Next, ALL HAIL THE YETI entered the studio to record their debut full length, with producers Tommy Decker and Mike Sarkisyan in late 2011. According to their bio, AHTY are "drowned in whiskey, campfire smoke, and blues of the ugliest kind" with their songs touching upon a broad range of topics such as death, life, love, love lost, the paranormal, crypto zoology, mythical creatures, partying… ALL HAIL THE YETI is Connor Garritty (vocals), Nicholas Diltz (bass), Ryan "Junior" Kittlitz (drums) and Alan Stokes (guitar).
www.allhailtheyeti.com
/
www.facebook.com/officialallhailtheyeti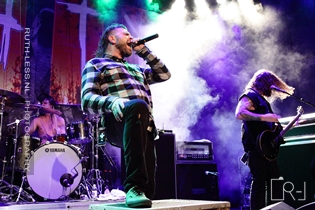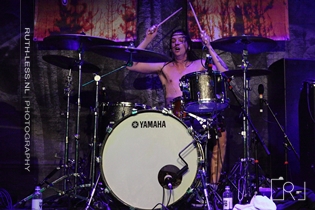 Music & Performance

With only two bands at Dynamo this evening, bands started a bit later than scheduled. The venue is filling up but not sold out, which leaves enough room to move around in front of the stage. ALL HAIL THE YETI kick off with 'Deep Creek', the first song from their album and I am pleasantly surprised. Right from the start they put up a convincing show, giving the audience no time for a warming up. They proceed with 'When the sky falls' and (probably) a new song called 'Sun'. The vocal combination of AHTY is striking. Aside from the brutal grunts of front man Connor, we get vocal empowerment from guitarist Alan and bass player Nicholas. No whiny squeaky Emo singing, but proper powerful male vocals that really add to their sound. And more importantly: their vocals stay strong in a live setting as well. Their music is brutal, mean and in your face, although some songs also have a bit of a stoner rock feel to me. AHTY continue with mostly songs from their 2012 album with 'After the Great Fire' and 'Bloodguilt'.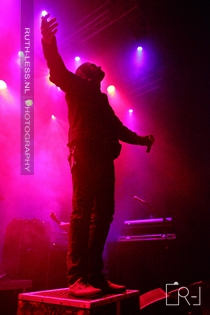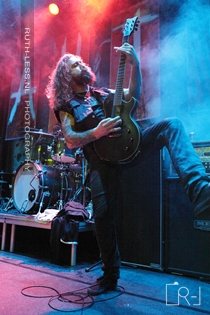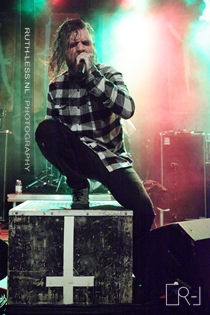 The audience hardly gets a move on and the men on stage seem somewhat puzzled by that (No worries, typical Dutch crowd attitude at the start of an evening). ALL HAIL THE YETI simply continue with more pounding kicks and raging riffs and before I knew it, their show comes to an end with 'The art of Mourning'. It doesn't happen very often that a band I hear for the first time really sticks in my head but ALL HAIL THE YETI: you definitely got my vote!
Setlist

01. Deep Creek
02. When the Sky Falls
03. Sun
04. Negating
05. Suicide Woods
06. After the Great Fire
07. Bloodguilt
08. Night
09. The art of Mourning
Rating

Music: 9
Performance: 8
Sound: 8
Light: 7
Total: 8 / 10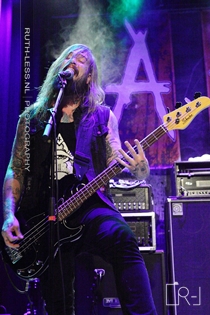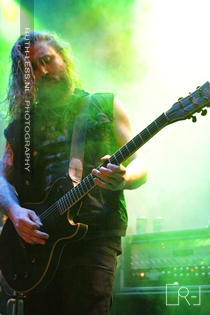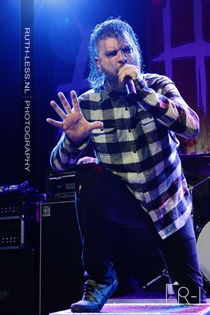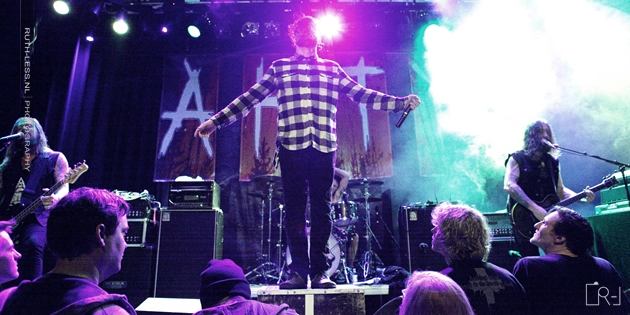 36 Crazyfists

36 CRAZYFISTS are a Metalcore/ Nu-Metal band from Anchorage, Alaska, formed in 1994. The band's name comes from an old Kung-Fu movie featuring Jackie Chan titled 'Jackie Chan and the 36 Crazy Fists'. Since forming 18 years ago, 36CF released seven records through three different labels, toured with bands such as ALICE IN CHAINS, ATREYU, KILLSWITCH ENGAGE, CCHIMAIRA, DIECAST, GOD FORBID, WALLS OF JERICHO, and POISON THE WELL but also knew tragedy. They lost band members to everything from the usual band in-fighting to fatal car crashes. 36CF released their first EP 'Boss Buckle' on cassette in 1995. Stylistically back then it was groove/ heavy metal with a bit of Rapcore. In 1997, the band released their second EP 'Suffer Tree', on cassette. Later that year they released their full-length debut CD 'In the Skin'.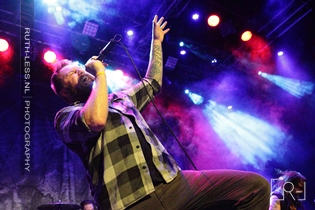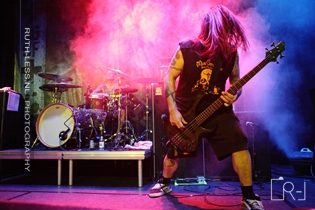 Their major label debut 'Bitterness the Star' took the band in their current Metalcore direction. Their second album 'A Snow Capped Romance' was released in 2004, followed two years later by 'Rest Inside The Flames'. 'The Tide and it's Takers' was released in 2008 and 'Colisions and Castaways' in 2010. 36 CRAZYFISTS name METALLICA, DEFTONES and ONLY LIVING WITNESSES as their inspiration. Their sound is raw and groovy with mostly cryptic lyrics from the heart of vocalist Brock. Their seventh studio album 'Time and Trauma' was released on February 17th, 2015 via Spinefarm Records. 36 CRAZYFISTS are Brock Lindow (vocals), Steve Holt (guitars), Mick Whitney (bass) and Kyle Baltus (drums).
http://36crazyfists.net/
/
www.facebook.com/36crazyfists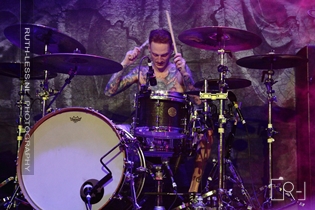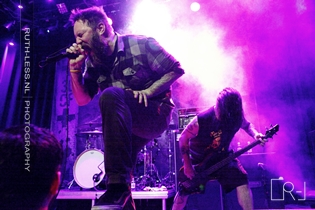 Music & Performance

Last time I saw these guys was in 2007 in the Melkweg (Milkyway) in Amsterdam and I still have very good memories of that evening. Eight years and three albums later, I am pretty stoked to see them hit the stage again and of course, I'm excited to hear the new album. 'Time and Trauma' was only released at the beginning of this week and 36CF start their show with the first song called 'Vanish'. Hardly a surprise, it's not until we hear the first notes of a much older song ('At The End Of August') that the crowd gets a move on, singing along with Brock. 36CF simply excel in combining catchy riffs with a dynamic song structure that rolls around ominously, builds up and explodes with massive energy. Brock's vocals are in great shape, producing vicious screams on another old song titled 'I'll Go Until My Heart Stops'.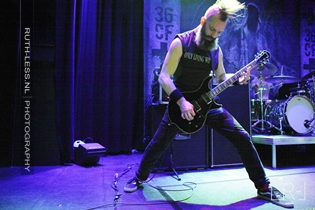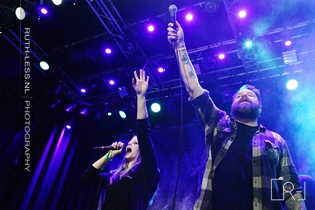 The men of 36CF eagerly go through their set list and it's obvious that they enjoy being on stage again. As a relative newcomer to the band, drummer Kyle fits in great, already being mocked a little by his fellow band members for his skinny presence. He hits the drums though like there's no tomorrow! We go a little back and forth through their discography with 'Bloodwork' from their 2004 album 'A Snow Capped Romance', to 'We Gave it Hell' from 'The Tide and its Takers' (2008) and 'Midnight Swim' from 2006 in between. Fortunately we also get an introduction to the new album with amongst others 'Also Am I', 'Sorrow Sings', 'Swing the Noose' and title track 'Time and Trauma'. Near the end Brock invites someone from the crowd on stage. Surprisingly, a girl climbs on stage and does a proper job singing along with him. The atmosphere is great, both the crowd and the band are excited to be here this evening.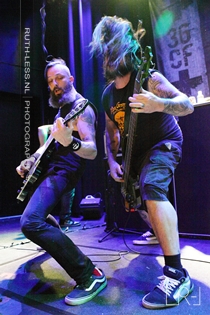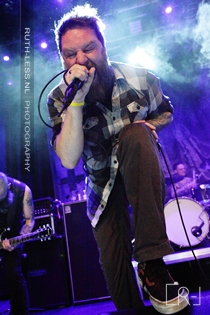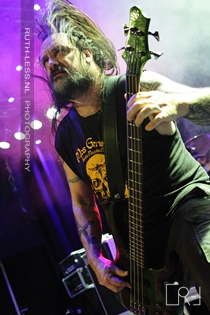 But all good things come to an end and after a short break, 36CF return with some 'golden oldies' from their repertoire: 'Destroy the Map', Circle the Drain' and finally 'Slit Wrist Theory' with that catchy guitar riff that repeats in my head over and over. I drive home with a big smile on my face and two new CDs in my backpack.
Setlist

01. Vanish
02. At the End of August
03. Whitewater
04. I'll Go Until My Heart Stops
05. The Heart and the Shape
06. Also Am I
07. We Gave it Hell
08. On any given night
09. Translator
10. Bloodwork
11. Midnight swim
12. Reviver
13. Sorrow sings
14. Swing the noose
15. Time and trauma
---
16. Destroy the map
17. Circle the drain
18. Slit wrist theory
Rating

Music: 9
Performance: 8
Sound: 8
Light: 7
Total: 8 / 10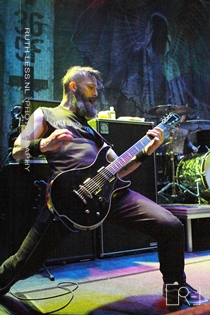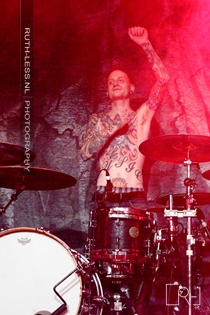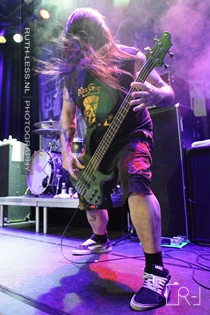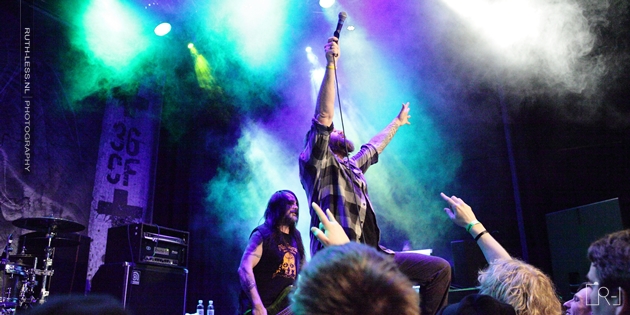 All pictures by Ruth Mampuys (
www.ruth-less.nl
)