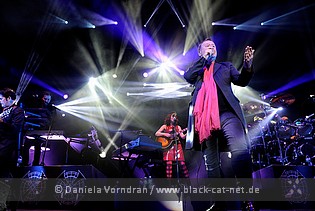 E-Werk, Cologne, Germany
24th February 2015
Simple Minds

On short notice the venue where the show should take place was changed. Instead of the Palladium the concert happened in the location vis- à- vis – the E-Werk with a capacity of 2,000 people. With the new album 'Big Music', the 80s heroes were touring again and fans celebrated their show in Cologne.
At the end of 1977 Jim Kerr and Charlie Burchill founded SIMPLE MINDS right after they disbanded their former Punk band JONNY AND THE SELF ABUSERS. The lyrics of DAVID BOWIE's 'Jean Genie' were the inspiration for the band's name. Of course it is hard to give only a short overview about a band's history that spans a musical career of more than 30 years. Up to now they have released 16 studio albums, 9 compilations (if you count 'Themes' 1- 4 as one), a live album and 35 singles/ EPs. Many singles entered the charts in the UK, Europe and the US and thus it is surely one of the most successful Scottish bands. Furthermore SIMPLE MINDS is renowned for being an amazing live band, and it is one of the most busily worldwide touring bands for sure, performing in usually sold out venues.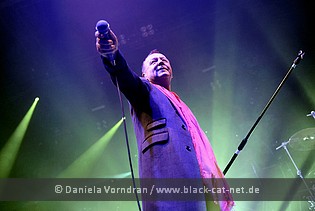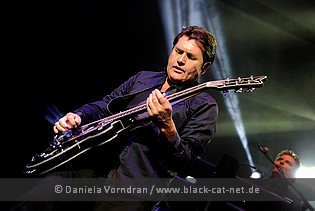 Naming ROXY MUSIC, DAVID BOWIE, LOU REED, or German Electronic bands like NEU!, KRAFTWERK, as well as the British Industrial Funk band CABARET VOLTAIRE as inspiration, it created its own style of Electronic/ Trance/ Rock/ Pop sound. SIMPLE MINDS is also known for its social engagement with its appearance at the Live Aid concert in 1985 and performing in 1988 amongst many other bands and musicians to celebrate the 70th birthday of Nelson Mandela and speaking out against the Apartheid system. The distinctive vocals of the front man Jim Kerr, Charlie Burchill's guitar sound, Mel Gaynor's drum play, as well as the quite typical bass guitar sound, now played by Ged Grimes, makes SIMPLE MINDS so unique. Of course the band had its ups and downs with some changes of band members as well, but it made it to survive as band that still enjoys performing. The line- up is: Jim Kerr (vocals), Charlie Burchill (guitar), Mel Gaynor (drums), Andy Gillespie (keyboards), Ged Grimes (bass and backing vocals) and for the live shows Sarah Brown (backing vocals and tambourine). The actual album 'Big music' was launched in October 2014.
http://www.simpleminds.com
/
https://www.facebook.com/simpleminds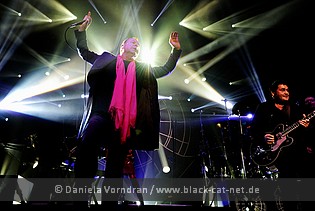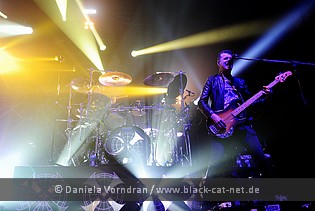 Music & Performance

Like last year, there was no supporting act as once again the setlist was quite long with a break of 15 minutes in between. Therefore we were entertained with some music from the 80's. Right in time at eight, the guys appeared on stage and took their positions. This time they brought an extra support on stage: Catherine AD who played keyboard, guitar and did also the backing vocals. She also worked on the current album with the guys but has her own musical career. Just check her out at Facebook
HERE
. Jim looked handsome as always, dressed in black with a long jacket and a pink shawl. Always dancing, walking from one side of the stage to the other, waving to the audience, smiling and giving here and there a fan a wink while singing. Surely he is a kind of stage hog but in such an endearing way – not in a self-regarding manner but more like a perfect humble gentleman. In between the songs he introduced the other band members who then had the chance to perform a little solo. Jim himself showed up with a good vocal performance. But I dearly missed Sarah Brown as I was very fond of her voice when I heard her singing last year for the first time. So I just wondered if she was ill.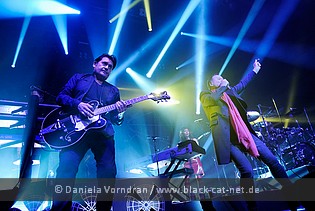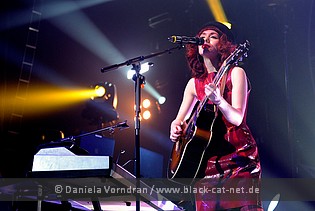 Anyway I was very pleased to hear that the setlist was so different to the one of last year. Also there were two songs of the very early days - 'Real life' and 'I travel' in the first part - which made me quite happy, though I noticed that some people looked at me bewildered while I was partying hard to these songs. Apparently some discovered the band later when they became more mainstream although most of the audience were at my age or older. But of course there were some younger fans, too. Jim wanted to hold a little speech but was interrupted by an enthusiastic fan shouting on top of his lungs "Simple Minds, Simple Minds, Simple Minds!". But Jim told him to calm down as this will be a long show and he won't last. Apart from the excellent mixture of songs of different decades the guys had another surprise in store with an acoustic performance of 'American/ Home' with Charlie, Ged and Katherine AD at their acoustic guitars. Goose bumps moments guaranteed. Everyone was singing along. Just wow! Some sparklers would have rounded up the atmosphere at this moment. Catherine had her solo part as well when she sang 'Dolphins' and played the keyboard while the guys left the stage only to return for the second half of this song and piece by piece setting in. The song was a bit contemplative and as to start the party again 'Waterfront' followed and then 'Don't you'.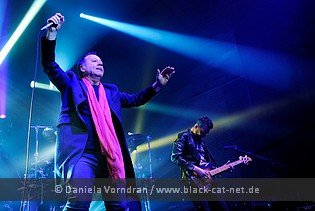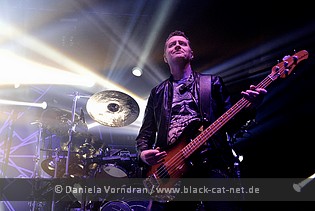 Well actually the latter is definitely not a song I appreciate much but when you hear everyone singing to it, Jim turning the microphone to the audience, I just couldn't help and thus I found myself singing this song as well. Then all left the stage for the break. After 15 minutes finally the gorgeous Sarah Brown entered the stage singing a medley of 'Book of brilliant things' and 'East at Easter'. On this night she wore a fab bronze metallic shimmering dress and her "lion's mane" seems to stress her powerful voice. Then Jim, having changed his black jacket with a tartan pattern one, and the guys re-entered the stage and the second part of the show went on which contained also a fantastic mixture of old and new songs – lots of songs to sing along to of course. 'Sanctify' was the last song, but already when the band started to leave the stage, the audience shouted for an encore and got one including an excellent interpretation of THE DOORS' song 'Riders on the storm' including a keyboard solo of Andy in the style of THE DOORS. And then a diverting - despite the long setlist - evening ended.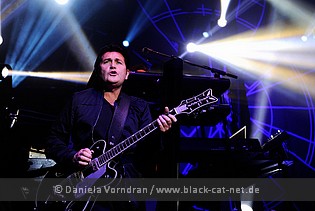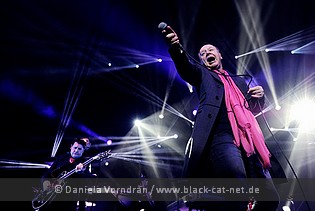 Setlist

01. Intro /Let the day begin (THE CALL cover)
02. Blindfolded
03. Stars will lead the way
04. New gold dream (81-82-83-84)
05. American – Home medley (acoustic)
06. Real life
07. Honest town
08. I travel
09. Rivers of ice
10. Dolphins
11. Waterfront
12. Don't you
--- 15 Minutes break ---
13. Intro / Book of brilliant things / East at Easter medley
14. Once upon a time
15. All the things she said
16. Let there be love
17. Let it all come down
18. Someone somewhere in summertime
19. Midnight walking
20. Big music
21. Sanctify
---
22. Spirited away
23. Riders on the storm (THE DOORS cover)
24. Alive and kicking
Rating

Music: 10
Performance: 10
Sound: 9
Light: 10
Total: 9.8 / 10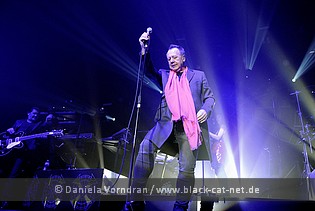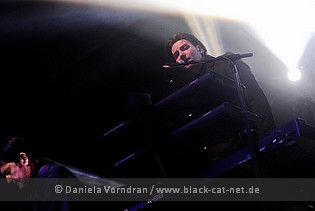 All pictures by Daniela Vorndran (
http://www.vorndranphotography.com
/
http://www.facebook.com/blackcatnet
)