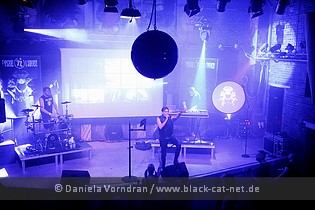 Kulttempel, Oberhausen, Germany
22nd January 2016
Tyske Ludder & Vomito Negro

The Kulttempel in Oberhausen is not just host to some great EBM/ Industrial club nights (e.g. "Matter/ Antimatter") but also place for some great live acts from this scene. Recently, acts like ABSOLUTE BODY CONTROL, LEATHER STRIP and [:SITD:] made a stop here, and on a cold January night, TYSKE LUDDER with specials guests VOMITO NEGRO played a one-off gig here.
Vomito Negro
It was one of the winter nights where the streets were rather empty and many people decided to stay home, even though it was a Friday night. The German media issued warnings of black ice and things got a little hysterical, even though it was clear that the Ruhr Valley was relatively safe. However, many people decided to stay home that night and so the attendance at the Kulttempel in Oberhausen was unfortunately really low. Which is a shame since such a legend as VOMITO NEGRO was to open the concert night, and it seemed that many fans primarily came to see Gin Devo's venture. That's not much of a surprise as VOMITO NEGRO has quite some legacy and was one of the pioneering Belgian acts which created what we know today as Electronic Body Music, together with FRONT 242, THE KLINIK, A SPLIT SECOND and others. Granted, VOMITO NEGRO never had the success FRONT 242 had, for example. But at least VOMITO NEGRO released a few new pretty strong albums over the last few years. New music! Do you hear this, FRONT 242?
http://www.vomitonegro.com
/
http://www.facebook.com/vomitonegro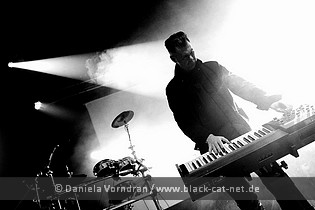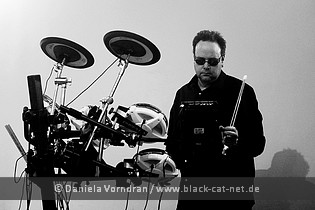 Music & Performance

However, after some waiting time, Gin Devo and his live collaborator Sven Kadanza entered the stage to start with the instrumental track 'Time'. Kadanza took care of the e-drums and percussions in the back while Devo created some atmospheric sounds on the synth in front of him. This intro was pretty much the only time when Devo made elaborate use of the prominently placed synth as he switched to the microphone for most of the time. VOMITO NEGRO continued with the title track of their debut album from 1987, 'Dare', and made their way through an impressive setlist which covered all of the band's 33 year long career. The show itself was a little less impressive at first as the sound wasn't optimal and the volume a little too low to let the music fully unfold its impact. Also Gin Devo had to undergo surgery a few days before the gig, and while it was nothing to worry about and a simple routine intervention he seemed to be a little less active on stage. However, a few songs into the show (and with the volume control up a little bit) the dark, beat-heavy electronic sound of VOMITO NEGRO came to full effect.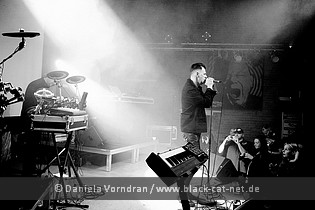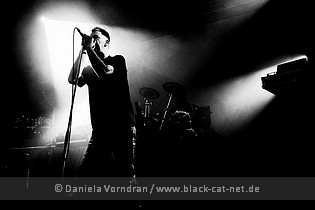 'Feel the Heat' was a particular fave of mine and old songs as 'No Hope No Fear' and more recent songs as 'Fighting The Force' proved that VOMITO NEGRO do not just dwell on past glories but still produce relevant and quality music in the 21st century. The last VOMITO NEGRO album 'Death Sun' is from 2014, so it is about time for a new one. But on the other hand Gin Devo has a number of projects and the next release will be the album 'The Garden of Evil', which will be released in the next few weeks.
Setlist

01. Time
02. Dare
03. Dance With Death
04. Enemy Of The State
05. Obsession
06. In Silent Places
07. White Lights
08. Burning Man
09. Fighting The Force
10. Tape X
11. The Needle
12. No Hope No Fear
13. Black Power
14. Feel the Heat
15. Blood Sweat and Tears
Rating

Music: 8
Performance: 7
Sound: 7
Light: 7
Total: 7.3 / 10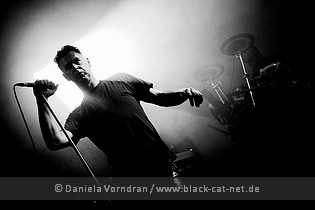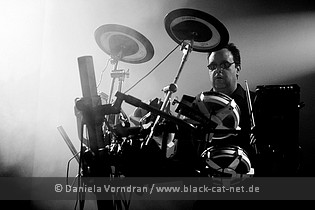 Tyske Ludder

There may be some people who are not aware of it but TYSKE LUDDER look back on a pretty long history, as well. Their heading towards their 25th anniversary although the electro band from the very North of Germany might be viewed by some as a more recent band. The career of TYSKE LUDDER is divided into two stages: In the 1990s TYSKE LUDDER produced two albums,'Bombt die Mörder' (1994) and 'Dalmarnock' (1995), plus the 'Creutzfeld' EP and rarely performed live, even though the live shows have been an eminent part of the band's concept. Many years of inactivity followed until the musicians decided to work on new material in 2004. The second era of TYSKE LUDDER proved to be much more prolific than the first stage, with four new albums, three EPs, re-releases of their old albums and a lot more live gigs. The latest release is the critically acclaimed album 'Evolution', which hit the shelves last October. TYSKE LUDDER is Claus Albers (vocals), Olaf A. Reimers (keyboards), Jay Taylor (drums) and Rålf Homann (percussion & drums).
http://www.tyske-ludder.de
/
https://www.facebook.com/tyskeludder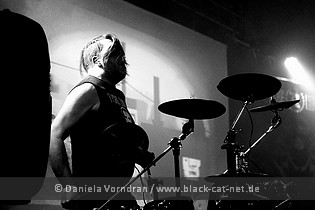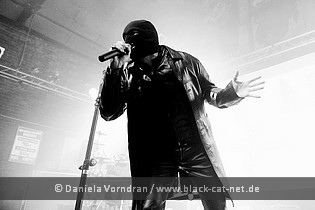 Music & Performance

"A well developed, extensive show, after all!" was my first thought when TYSKE LUDDER rocked the stage after the rather minimal set-up of VOMITO NEGRO. The stage was draped with TYSKE LUDDER banners, there were video screens everywhere and last but not least a lot of energy on stage! The band was absolutely unimpressed by the low attendance of the show and simply fired an uncompromising ten-song set at those who turned up despite the winter weather and icy roads. Minimalism is apparently not quite TYSKE LUDDER's mission, and quiet moments neither. Everything about TYSKE LUDDER is just "in-yer-face", perhaps sometimes even a bit too much. What I really like about TYSKE LUDDER is that they do have a political attitude and they certainly leave no doubt about it. The sharp lyrics are just as much "in-yer-face" as the music, which is a blend of old school EBM with stomping Harsh Electro, dancy Techno elements and testosterone-driven, noisy Industrial. Of course the gig focussed on the latest album 'Evolution' but there were also some TYSKE LUDDER classics as 'Canossa' or 'Eugenix'.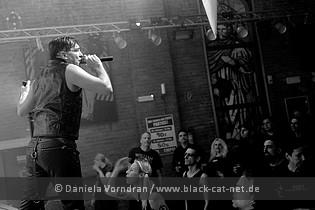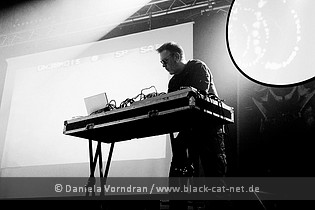 The addition of drummer Jay Taylor added to the TYSKE LUDDER live experience, and the guy also enjoyed zipping around the stage during his breaks which was rather hilarious. That TYSKE LUDDER have a sense of humour was also proven by their cover version of 'Ohlala', originally by Belgian Wave Rock legend T.C MATIC, which TYSKE LUDDER turned into an Electro Pop smasher mercilessly combined with Claus Albers' snarling, raspy growls. TYSKE LUDDER are surely not afraid to go over the top, and when it works it's gonna be one of their finest moments. Well, 'Ohlala' does work! Tracks like 'Meskalin' or 'Bambule' also worked, the relentless live assault of TYSKE LUDDER really allowed no break until they finished the main set with their classic club hit 'Panzer'. TYSKE LUDDER came back for a two-song encore including 'Androgyner Held' and 'Monotonie' before they gave way for the after-show DJs and while some might have missed sadly some material from their debut album 'Bombt die Mörder' but sometimes it is simply better to keep it short and intense.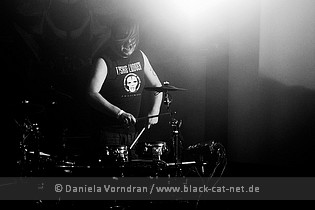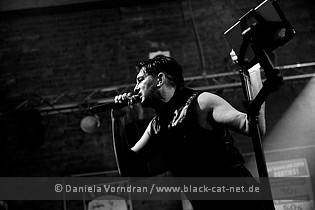 Let's hope there will be more people at the show next time TYSKE LUDDER plays in this area – scheduling a summer gig might do the trick!
Setlist
01. Pactum
02. Canossa
03. Narziss
04. Eugenix
05. Hierophilie
06. Bambule
07. Ohlalala
08. Crack
09. Bastard
10. Meskalin
11. Panzer
---
12. Androgyner Held
13. Monotonie
Rating

Music: 7
Performance: 9
Sound: 9
Light: 8
Total: 8.3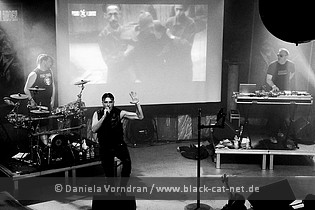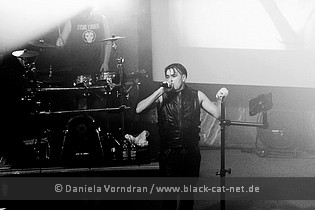 All pictures by Daniela Vorndran (
http://www.vorndranphotography.com
/
http://www.facebook.com/blackcatnet
)