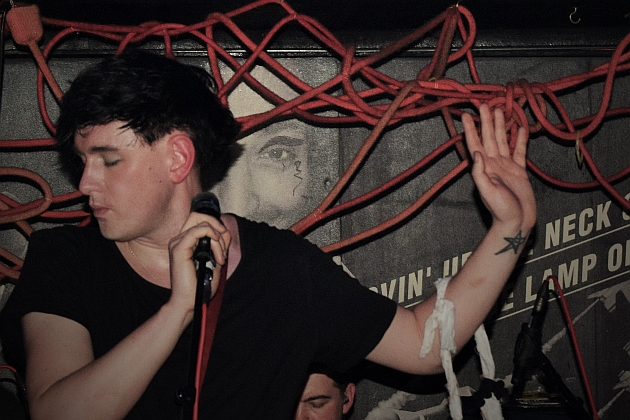 Hotel Shanghai, Essen, Germany
14th April 2016
Patrick Wolf and Calpernia Addams

It's been three and a half years since PATRICK WOLF graced the grounds of Hotel Shanghai for the last time – back then as a DJ. Hotel Shanghai has a beautiful, hip, and colourful interior and is actually a club but since Wolf is friends with the owner of the club, it was decided that he would play his Ruhr area show in the club. The venue holds up to approximately 300 people and has two grounds – the lower one is for dancing and the upper one is a sort of balcony and designed for hanging out while still being able to see what's going on at the party. It filled up rather quickly with devoted fans and unfortunately, some of them were rude enough to just consider what would be a good view for them. Seldom have I experienced so little respect for one another at a concert.
Calpernia Addams
At 9pm, as planned, CALPERNIA ADDAMS, a LGBTI activist and close friend to PATRICK WOLF who has recently started making her own music, entered the stage and delivered some of what she called "church songs" only with her peculiar instrument that I don't know the name of (it had strings on it) in her hand. In-between songs she talked of her impressive life – at the army, about love, about what really matters – and even though she is quite a famous person she remained humble, adorable and a sweet delight who was belittling her talent. I could have gone hours listening to her and even though her performance had more of a symbolic value and there are certainly things she can improve musically, it was a good first tour showing "I'm here" and "You should watch out for more". Definitely a personal highlight. Unfortunately, already at CALPERNIA's performance there was no light at all – but the red club light fit her music and performance so it didn't strike out as such a bad thing. IAMX have recently become infamous for their light show which puts the focus on the audience – but there was no such thing at the Patrick Wolf show.
http://www.calpernia.com
/
https://www.facebook.com/calpernia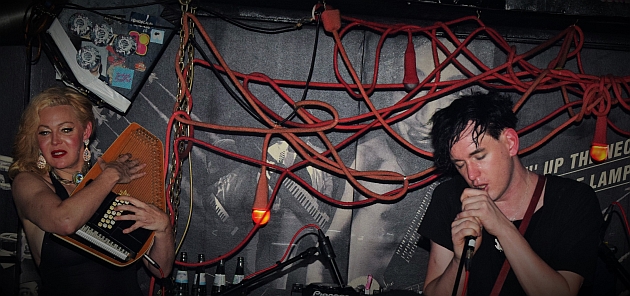 Patrick Wolf

PATRICK WOLF entered the stage with his band consisting of a bass player, drummer and guitar player at around 9.45pm. Where I was standing, a couple decided to pull the asshole move and stand right in front of my friends and some other people and even after asking them to stand behind us since they were tall enough they would not move but actually find it funny. Bad vibes would continue throughout the show. The multi-talented Brit began his show with a slow, haunting version of 'The Bachelor' in which he extols his fate of being forever a bachelor (which proved to be, of course, not true). The song is actually more upbeat so a lot of fans were not sure how to move to the new version – this would continue to be a problem throughout the whole show. I was actually really excited to see a non-folk show of his but the blues that seems to be the major influence on his new work was not what I was hoping for. However, it was not bad and proved once again what a diverse artist he is. It would have been more wise, though, to release new material before actually going on tour even though only one or two new songs were performed.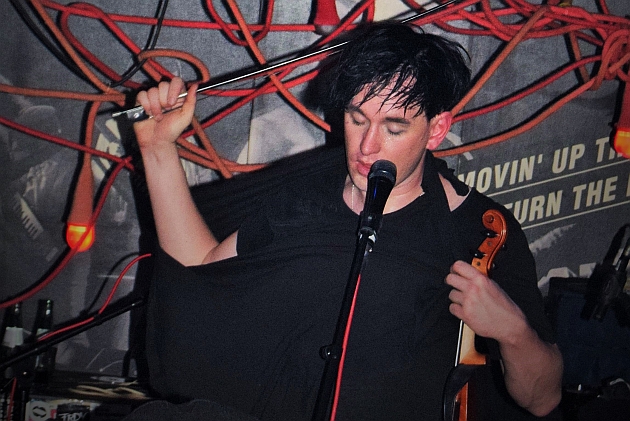 The setlist was a good mix of mostly old songs, and also some that have not been played live a lot before, but at some point, my attention really started to drift away and I blame it mainly on the lack of lights which would put the focus on the artist or crowd. Thus, it all seemed like one long song and unfortunately I must admit that after some time I was really hoping for the end of the show. It was more like a garage concert which would have been cool with 20 people but not with 150 or more. Wolf used the in-between songs time to tell some anecdotes about the songs, how they came into being and what they mean to him – always a beautiful moment at his shows where one really feels the connectivity with the artist. At the end of the show, CALPERNIA ADDAMS joined the show and the two outstanding artists harmonised perfectly and both of them left with happily smiling faces. Things got a bit crazy at the end of the show and the staff wrongly believed that people were about to hunt Wolf down – some people just had to use the bath room and unfortunately, the backstage was in-between.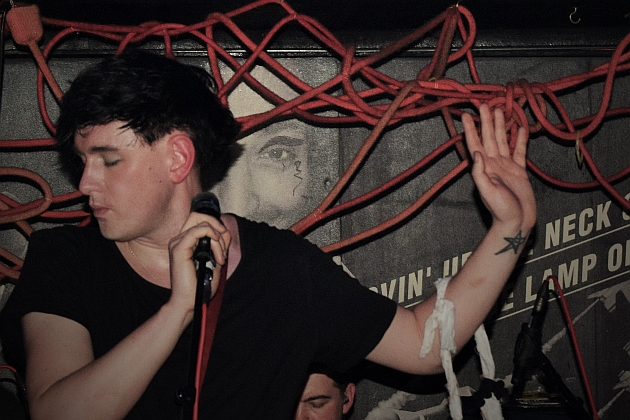 In conclusion, the show was unfortunately not convincing. PATRICK WOLF IS an incredibly talented artist but the choice of the venue was catastrophic and the unfriendly and partly drunk staff made the experience even worse. Some of the fans were also really rude which is rather sad considering how much Patrick Wolf stands for mutual respect. Hotel Shanghai might be an awesome club for partying (the interior is strikingly gorgeous) but it definitely failed as a concert venue.
http://www.patrickwolf.com
/
https://www.facebook.com/patrickwolf
Rating

Music: 6
Performance: 7
Sound: 7
Light: 0
Total: 6 / 10
All pictures by Franziska Göbel