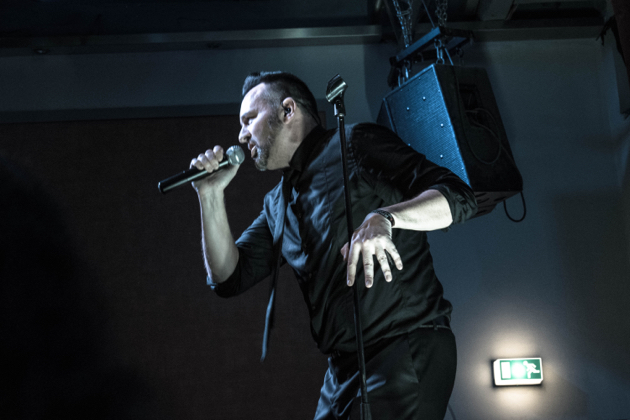 Studio 108 @ Bahnhof Langendreer, Bochum, Germany
17th September 2016
Rroyce - "Karoshi" Album Release Show

"Karoshi" is Japanese and refers to the job-related death, which is usually caused by fatal stress. RROYCE (Casi - vocals, Kay - keys, Al - guitar) connect their second album with this term, whose release was celebrated together with the start of the tour of the same name in Studio 108 of the so-called "culture railway station" Langendreer / Bochum. The Dortmund citizens had a special idea for the entrance: There was an intake with specially made ribbons which are otherwise only known from festivals. The further course of the evening was less related to the terms of stress or death. Rather, it was marked by the surprise, friendship, solidarity and amusement
Surprise

" RROYCE support themselves ... Because they can!"
In advance there was the mysteriously spoke of support and, in fact, RROYCE supported themselves and used their older songs to get the audience in the right mood for the main show for nearly 75 minutes.
Friendship & Affinity

RROYCE have a close relationship to their fans, friends and companions and even bring them to support their performance on stage. The so-called " RROYCE inventory" marked Thomas Thun gave this a short vocal insert. Meanwhile, especially travelled from Israel, Oren Amran (SynthesizeMe) was responsible for the background music between the sets and at the after-show party.
Quintessence

Bands usually create their set lists by mixing their fresh material in the tried and trusted. RROYCE preferred to use the second half of the evening for the presentation of the new album. Though many fans knew the songs only from the album teaser, there was at no time the atmosphere of hearing something completely unfamiliar. 'Karoshi' again managed to mix contemporary wave / electro / synth-pop and therefore Casi, Kay & Al were easily able to mingle the presentation, performance and their audience into an entertaining evening.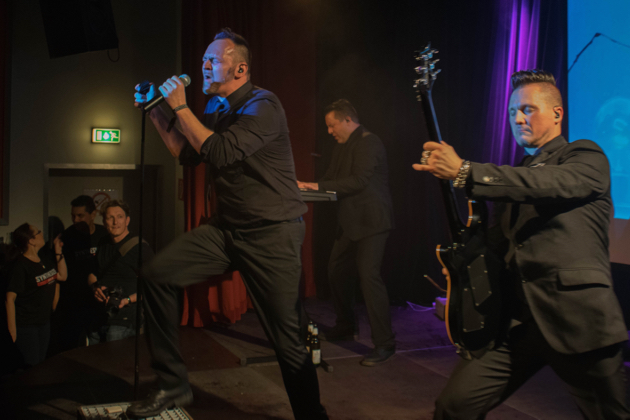 My bottom line

A concert in which the ambience, the people, music and the band - so the whole package - left a completely positive impression on me. It isn´t comparable to listening to a CD at home at all. It was an entertaining, pleasant und successful evening. I can´t help but recommending a visit to a concert of that band: RROYCE.
Setlist "Supporting Set"

01. Over and Over
02. Hide Behind
03. …but you lied
04. Malacoda
05. Thank you I'm scared
06. Nimmermehr
07. Fat Man Dancing
08. Bohemian Life
09. The one
10. Run Run Run
11. Sky is the limit
Setlist "Karoshi Set"

01. The Principle of Grace
02. Who Needs
03. (it smells like) War
04. The Dying of your Pride
05. Siamese Dreaming
06. Pyroclastic Flow
07. Running with the Sheep
08. One, Two, Three, Four
09. I Like it, when you lie
10. You don`t belong here
11. Secrets `bout the others
Next Karoshi Tour 2016 Shows

30.09. - Munich - Garage Deluxe
01.10. - Erfurt - Club From Hell
02:10. - Magdeburg - Benefiz for Kids
07:10. - Oberhausen – Kulttempel - Benefiz 4.0
29.10. - Augsburg – Rockfabrik
05:11. - Braunschweig - B58
19:11. - Mönchengladbach – Kultube
03:12. - Iserlohn – Dechenhöhle
More about RROYCE:
http://www.rroyce.de
/
https://www.facebook.com/RROYCE.official
Gallery

Written by HzweiG, Translation by Nina Wieseler
All pictures by HzweiG