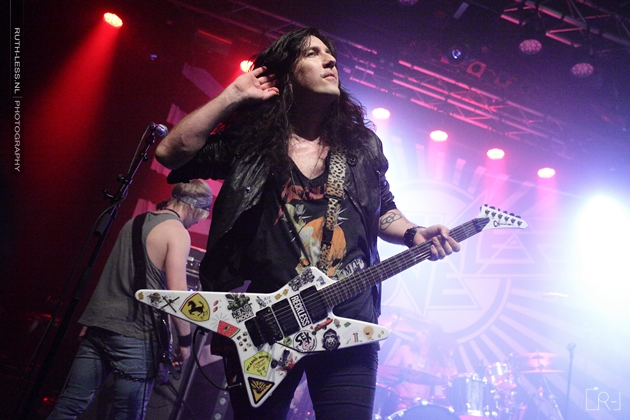 Tivoli de Helling, Utrecht, The Netherlands
21st November 2016
Reckless Love, The Treatment

RECKLESS LOVE from Finland started out as a GUNS N'ROSES cover band. In the absence of success, they decided to do a little music writing themselves which turned out quite well. Nowadays, they are considered one of the frontrunners in the Glam Metal scene. Tonight's warm up is taken care of by THE TREATMENT from the UK.
The Treatment

THE TREATMENT is an English Hard Rock band formed in Cambridge in 2008. After playing Sonisphere Festival, the way was up for THE TREATMENT and they toured as support with ALICE COOPER, STEEL PANTHER and THIN LIZZY. Bigger stages and tours followed, leading the band to Download Festival and Ozzfest, touring with MÖTLEY CRÜE and STATUS QUO in 2013. In 2015, THE TREATMENT had several changes in line-up and after a relatively quiet time, THE TREATMENT started playing shows again. THE TREATMENT is Tagore Grey (guitar, backing vocals), Dhani Mansworth (drums), Rick Newman (bass), Tao Grey (guitar) and Mitchel Emms (vocals).
https://www.facebook.com/TheTreatmentOfficial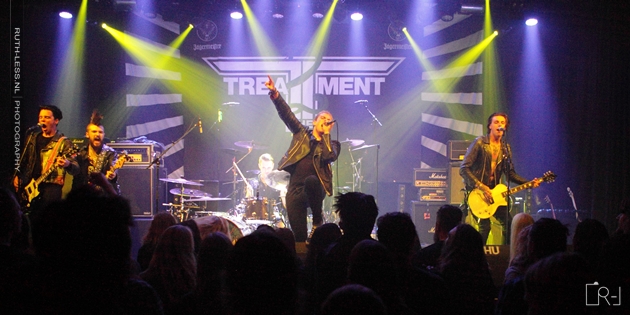 Music & Performance

THE TREATMENT don't really care about the day of the week and neither do they mind the limited space on the stage at Tivoli De Helling. It takes a little time for the growing crowd to get onto the same level of energy as the band, but their enthusiasm is contagious as they play a varied set list from their repertoire. Starting with their debut album 'this might hurt' from 2011 they play 'The Doctor' followed by a selection of songs from their latest album 'Generation Me' such as 'Bloodsucker' and 'Cry Tough'. Excellent vocals from singer Mitchel Emms and alike instrumental support, backing vocals and a lot of energy and facial expression from Tagore, Dhani, Rick and Tao. The best cure for a rainy Monday evening: how about some proper hard rock from the UK?
Setlist (incomplete)

The Doctor
Emergency
We Are Beautiful
Bloodsucker
Cry Tough
Generation Me
Shake the Mountain
Reckless Love

RECKLESS LOVE is a Finnish metal band, founded 2001 in Kuopio, Finland. In 2010, they released their self-titled debut album, which reached number 13 in the Finnish charts. Their second album 'Animal Attraction' followed soon after and ended up in the top 10 of the Finnish charts. In 2013, their third studio album 'Spirit' came out and after some years of silence, the band released two singles in 2016. 'Keep it up all night' and 'Monster'. Their newest album 'InVader' was released this March, on the opening night of their European tour. RECKLESS LOVE is Olli Herman (vocals), Hessu Maxx (drums), Pepe Reckless (guitar) and Jalle Verne (Bass).
www.recklesslove.com
/
www.facebook.com/RecklessLove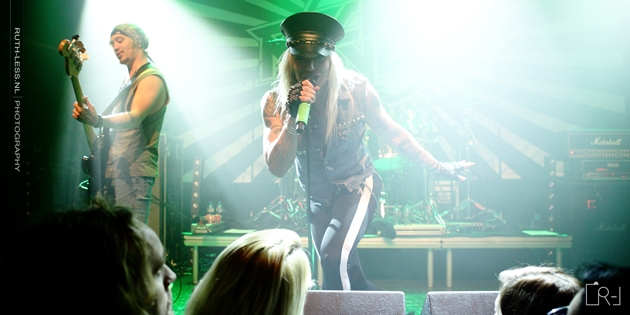 Music & Performance

And then it's up to the Finns to continue this very timely pre-weekend party. Olli, Pepe, Hessu and Jalle surely made an effort to look their best and they get a warm welcome from the crowd that came out this evening. RECKLESS LOVE starts off with amongst others 'Monster' from their latest work 'Invader' and 'Beautiful Bomb' from their 2010 debut album. As the audience sings along with their easy to digest bite-sized hard rock, Olli performs a few impressive karate kicks on stage and makes sure he looks immaculate at the same time. Hard to miss, RECKLESS LOVE has quite a resemblance with the glam rockers of STEEL PANTHER, except for the unparalleled rudeness of their American counterpart. Olli easily talks his way through the set list, trying to pronounce 'Utrecht' and contributing the song 'Scandinavian Girls' to the female Dutch in the audience.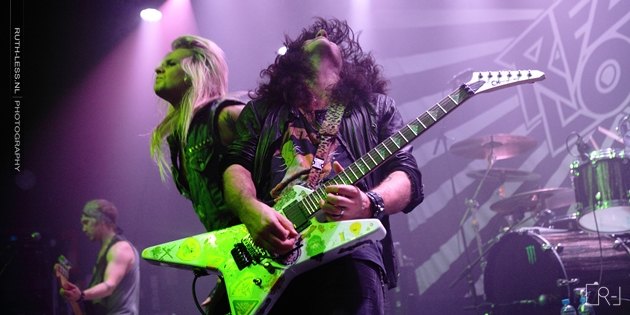 We get hats, we get moves and the shirts come off, all accompanied by a dose of 80s hard rock as it should be: guilty pleasure. Too bad it's just only Monday evening still…
Setlist (incomplete)

Monster
Beautiful Bomb
Edge of Our Dream
Scandinavian Girls
Born to Break Your Heart
Back to Paradise
Romance
On the Radio
---
We are the weekend
Hot
All pictures by Ruth Mampuys (
www.ruth-less.nl
)